Throwback Thursday: strategy in 1990
For our 25th anniversary, we're travelling through time. Banned ads and illegal marketing were the talk of the '90s.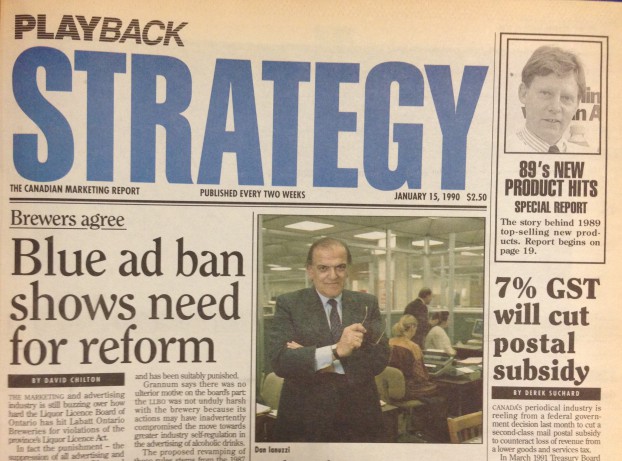 For strategy's 25th anniversary, we're travelling back through time, flipping through the pages of old issues to highlight some big news you may have forgotten, trends you wish you'd had a crystal ball to predict and marketing issues that never seem to change. Check back next Thursday to pick up some valuable insights into Canadian marketing history. This week, we tackle 1990. 
The award for most brand mentions: Labatt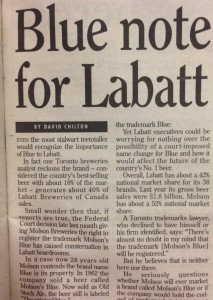 You couldn't go two weeks without getting some sort of mention of Labatt, which had been going through some changes that year. In fact, many of our old issues contained a couple of articles on the beer brand.
Blue note for Labatt July 2, 1990
"Even the most stalwart teetotaller would recognize the importance of Blue to Labatt… Small wonder then that, if reports are true, the Federal Court decision late last month giving Molson Breweries the right to register the trademark Molson's Blue has caused consternation in Labatt boardrooms."
Other big news included a TV blitz in April, the purchase of a media agency in August, poaching a Molson creative in July, a rebranding of Labatt's IPA and too many account changes to count. It also faced some legal woes with an ad ban when the Liquor Control Board of Ontario found Blue to be in violation of the rules, rallying brewers and broadcasters alike to its side. Blue was banned from advertising between Jan. 4 and April 2 that year, and slapped with a $400,000 donation to alcohol and drug abuse programs for contravening the Liquor Licence Act by giving away cases of beer and rebates to Ontario bar operators. Here's just a sample of regulations from the '90s. That was just the start of the biggest trend that year.
The issue everyone was talking about
Naughty marketers or activist government?
Perhaps advertisers were particularly naughty, the public offended or the government over-zealous, but advertisers were dinged a lot in 1990 for bad marketing.

Tobacco industry hit with stricter rules
Jan. 29, 1990
"The tobacco industry has been hit by new stricter rules on product packaging and labelling only months after Ottawa imposed the first changes under the Tobacco Products Control Act."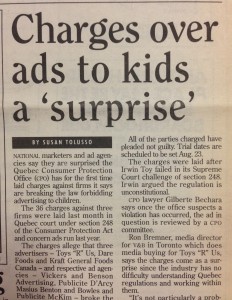 Charges over ads to kids a 'surprise' July 30, 1990
"National marketers and ad agencies say they are surprised the Quebec Consumer Protection Office has for the first time laid charges against firms it says are breaking the law forbidding advertising to children. The 36 charges against three firms were laid last month… [alleging] three advertisers – Toys "R" Us, Dare Foods and Kraft General Foods Canada – and respective agencies Vickers and Benson Advertising, Publicite D'Arcy Masius Benton and Bowles and Publicite McKim broke the Quebec law."
TTC pulls 'sexist' Molson ad July 30, 1990
"A Molson Breweries beer ad has been ordered removed from TTC property on the grounds it contravenes guidelines for acceptable advertising…The ad depicting a woman in a halter top was found to be 'sexually exploitative' by senior TTC management."
Feds launch review of consumer market Dec. 3, 1990
"The Minister of Consumer and Corporate Affairs has ordered a sweeping review of the Canadian market, its suppliers, consumers, laws, practices and policies that may mean more influence for those who buy rather than those who sell."
In fact, in our Dec. 11, 1990 editorial, we wrote: "The trend towards using advertising as a scapegoat, though certainly not new, appears to be increasing and it is dangerous – both because of the damage it can do to a legitimate industry and its tendency to mask and override what are highly complex social issues. The most recent call for an…alcoholic beverage ad ban emerged out of an inquest into the death of a 15-year-old Toronto boy who died last May as a result of drinking a large amount of beer and tequila. The many influences and interconnected value systems that may have played a part in this tragedy should be held equally accountable, not advertising alone."
Media shops on the rise
Central and separate media shops were on the rise, with companies like Cossette naming media "synergists," or agencies like Grey and MacLaren: Lintas creating their own media subsidiary.

Media 'mega-buyer' arrives Jan. 29, 1990
"A top Canadian ad agency's new media-buying subsidiary being touted as a 'mega-buying force' may shake up the way advertisers and the media do business."
Top headlines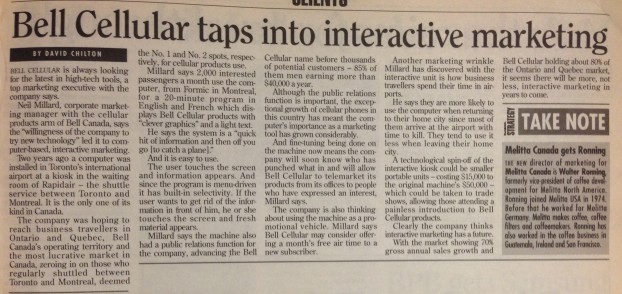 Bell Cellular taps into interactive marketing Feb. 12, 1990
"Two years ago, a computer was installed in Toronto's international airport at a kiosk in the waiting room…It is the only one of its kind in Canada…2,000 passengers a month use the computer for a 20-minute program which displays Bell Cellular products with 'clever graphics' and a light text."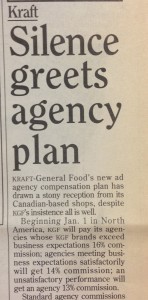 Leading issue of marketers is smart consumers: study Sept. 10, 1990
"The importance of customer service and increasing knowledgeability of consumers have emerged as the outstanding issues facing marketers in the 1990s… according to a study by Gallup Canada and Toronto-based Promanad Communication."
Kraft: Silence greets agency plan Nov. 5, 1990
"Kraft-General Food's new ad agency compensation plan has drawn a stony reception from its Canadian-based shops, despite KGF's insistence all is well."
The plan was to pay agencies who exceed brand expectation 16% commission. Those who meet expectations would get 14% commission, while those who underperformed would get 13% commission – versus the industry standard of 15%.
Creative Report Card
Finally, because everyone loves lists, take a gander at the top creative agencies, brands and creatives who graced strategy's annual Creative Report Card. See if you can spot any names still playing big today.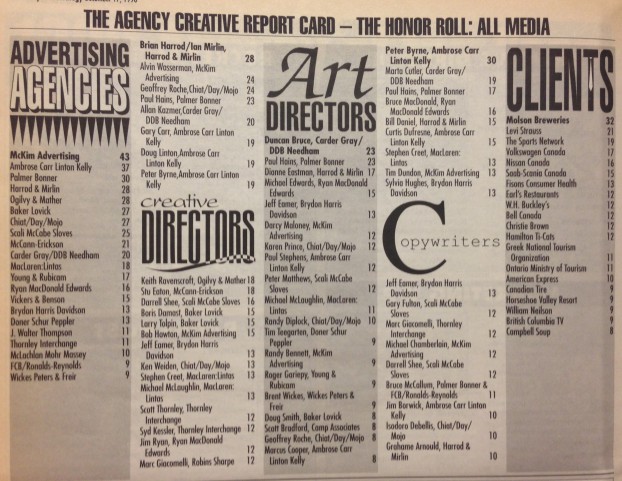 Missed last week? Check out the top headlines from 1989.