YouTube's post-Cannes people's choice 'awards'
Which of these top-viewed ads of the past year also nabbed a Lion? Not nearly as many as you might think.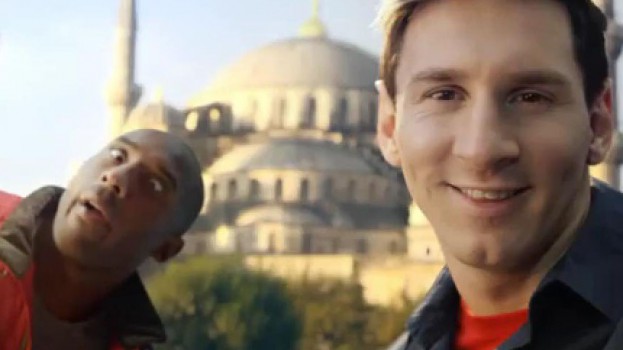 The best ads of the past year, as voted by the juries at Cannes, have been crowned and their creators feted.
But did the same ads fare as well in the court of public opinion? YouTube has released its YouTube Ads Leaderboard Cannes 2014, ranking the top-viewed global ads on the site between March 1, 2013 and April 30, 2014, providing a sort of people's choice "awards" for video creative. Interestingly, just five of these videos picked up hardware at Cannes, with the top two most-watched vids during the time period (Turkish Airlines,"Kobe vs. Messi: The Selfie Shootout" and "YouTube's Rewind: What does 2013 say?") both shut out at the Palais.
Among the top 10 listed below, every ad was at least one-minute long, YouTube says. Average view time for the ads was 1:29 and they were viewed a total of 620 million times.
"Everyone is talking about ads as content, but the winners of the annual Cannes YouTube Ads Leaderboard are doing it," Tara Walpert Levy, managing director of ads marketing at Google, said in a statement. "The focus of the winning ads ranges from sport to love to epic stunts, but all show deep authenticity and audience engagement. The winning ads range from one to almost six minutes in length and the average view duration is 1:29 which means these brands are building fans, not just amassing viewers."
To be included in the list, the videos had to be at least 10 seconds and have an 80% completion rate (that is, some ads might have higher view counts, but this only counted the ads that were viewed four-fifths of the way through), then filters them to make sure they're an ad.
10. Cornetto: Keyfi Yolunda, Aşkı Sonunda
Agency: MOFILM
Media agency: Mindshare
Views: 30,945,000+
Cannes: Silver Branded Content and Entertainment Lion
9. Save the Children: Most shocking second a day video
Agency: Don't Panic
Views: 31,618,000+
Cannes: Gold Cyber Lion
8. Google: Google Zeitgeist/Here's to 2013
Agency: Adam & Eve DDB
Media agency: PHD & Essence
Views: 31,532,000+
Cannes: zilch
7. Pantene: Labels Against Women I #ShineStrong Pantene
Agency: BBDO Guerrero Ortega
Media agency: Mediacom Philippines
Views: 46,429,000+
Cannes: Bronze Cyber Lion
6. Nike Football: Winner Stays
Agency: Wieden + Kennedy
Media agency: Mindshare Portland
Views: 81,885,000+
Cannes: nil
5. Budweiser: Superbowl XLVIII commercial – "Puppy Love"
Agency: Anomaly
Media agency: Busch Media Group
Views: 50,942,000+
Cannes: zip
4. Volvo Trucks: The Epic Split featuring Van Damme
Agency: Forsman & Bodenfors
Media agency: Vizeum
View: 73,410,000+
Cannes: Grand Prix in Film, Gold in Cyber and Film Craft, three Silvers in Film Craft, Silver in PR, Bronze in Film Craft. As part of Volvo's "Live Test" series, it also nabbed Grand Prix in Cyber, two Gold in Cyber, Gold in Titanium & Integrated, Promo & Activation, and PR, two Silvers in Media, Silver in Promo & Activation, Bronze in Direct
3. Wren: First Kiss
Agency: Unknown
Media agency: Unknown
Views: 84,853,000+
Cannes: Gold in Film and Bronze in Film Craft
2. YouTube: YouTube Rewind: What does 2013 say?
Agency: Portal A
Media agency: Essence Digital
Views: 97,941,000+
Cannes: nadda
1. Turkish Airlines: Kobe vs. Messi: The Selfie Shootout
Agency: Crispin Porter + Bogusky
Views: 137,923,000+
Cannes: goose eggs