KBS+ Toronto and Capital C merge
Led by Nick Dean (pictured left), the shop will keep the KBS+ name, as Cap C founder Tony Chapman steps aside.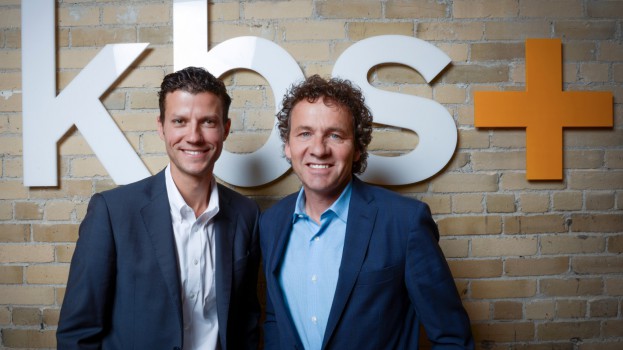 KBS+ Toronto is expanding through a merger with fellow MDC Partners agency Capital C.
As per the agreement coming into effect July 1, Capital C's business and staff come under the KBS+ umbrella, led by president Nick Dean while the creative team will be led by Matt Hassell, who joined the company late last year.
Tony Chapman is handing over the reins to Dean and walking away from the agency he founded 25 years ago. Fellow Cap C execs Jason West, former managing director, client services, and Rick Chiarelli, former managing director, growth and innovation, are assuming new titles within KBS+ (EVP client services and VP growth, respectively), while Gary Watson, former CCO at Capital C, will not join the new company.
Staff at both agencies were informed of the changes this morning.
Dean and Hassell say the merger adds complementary services, such as shopper marketing, event activation and social media capabilities, to KBS+.
"They have what I consider a very strong creative department there and I think it complements my vision," says Hassell. "Over my career I've had time to work with Cap C in different capacities, at different agencies in the past, where they've brought shopper marketing, or social or some other piece to the puzzle, and I've always been impressed with the level of insight they have been able to bring to the table. That is going to be a real benefit to us."
Today's announcement started coming together nearly three years ago, Chapman says, when MDC Partners acquired a majority stake in his agency. Chapman and Dean began talking then about opportunities for a shared-services model. Late last year Chapman took a step back from day-to-day operations at Capital C and about nine months ago, KBS+ moved into the fourth floor of 340 King St. E, one floor below Capital C, to create "efficiencies," Chapman says.
"About a year ago I said to the guys at MDC and Nick, 'I think it's time for the next generation to take this over,'" Chapman says. "So we spent the last year orchestrating what I'd like to think is a soft landing."
Under the new arrangement, the account services and creative departments are likely to all sit on the fourth floor. Chapman says he will still be available to help the team at KBS+, but he will focus on new opportunities, including working with the Awake Chocolate team, of which he is a part-owner, as well as an online mentoring business he's launched with Karyn Gordon from Strategic Coach, and Branded Content Television, which he founded with Carmen Lago.
Other than Watson's departure, Dean says there will be few changes as a result of the merger. Between the two offices, there are 124 staff members.
"Currently, we are obviously operating on separate floors," Dean says. "Very quickly, the teams will all be located together."
Dean adds client feedback had been positive.
"The Capital C brand itself has pretty good recognition in the marketplace so people are keen on what we can offer."