Toronto Argos tackle the 'man up' mentality
The PSA for White Ribbon calls on youth to take small actions to end violence against women.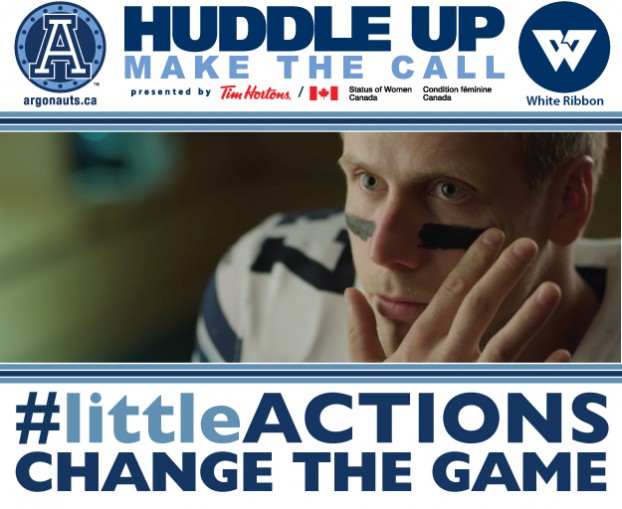 Before they ever set foot on the field, football players need to focus on the little things they can do to help their team win.
And this CFL season, as part of a new campaign with non-profit White Ribbon, the football players for the Toronto Argonauts are asking men and boys to think about the small actions they can take to end violence against women.
The campaign, featuring a PSA by Public, includes a call to action for people to "change the game," with the hashtag #littleActions.
It's part of the two organizations' larger, three-year "Huddle Up & Make the Call" campaign, launched in September in partnership with Status of Women Canada and Tim Hortons, which sees players visit high schools and other parts of the community to address gender-based violence. 

The work with the Argos seeks to "tackle the root of the issue…where the ideas of how men and women are supposed to act come from," says Shai Kohen, project manager for White Ribbon.
Some of the positive little actions they're encouraging people to take include: not telling friends to "man up" when they're feeling down, calling out friends who whistle at women while passing them on the street and showing their daughters that men treat women with respect through both actions and words.
The idea came out of a focus group, put together by White Ribbon, of the PSA's target audience – 12 students from around the GTA who had experience with gender-based discrimination in one form or another, says Caleigh Farrell, account manager at Public. That initial work with the target audience provided "real, tangible experiences that really did help us to create a PSA that we felt would resonate back with that audience," she says.
"It was very powerful sitting in a room with [the students] and discussing gender-based discrimination," says Farrell, adding that term covers a wide spectrum – from bullying and assault to less obvious things, such as a male youth telling another to "man up" or "grow a pair."
"They all had very tangible experiences, typically with bullying or feeling that they did not live up to their stereotypes [or] gender role," she adds, "whether that was because an individual didn't play on the football team and he preferred TV shows that might be classified as girly or a young girl who didn't feel she was the stereotypical standard of beauty."
The students felt most PSAs show only the "extremes" of gender-based discrimination, Kohen says, and wanted to know what they could do to make a difference.
"The kids in the focus group asked what are the little things we can do to start making these changes?" Kohen says. "Oftentimes we say, 'make that big change,' which can be daunting."
However, the organization wanted an ad that could address the students' issues, while raising awareness to the Argos' in-school efforts, which was also relevant to the in-stadium audience.
The video features Argos Andre Durie, Matt Black, James Yurichuk and Tyler Holmes, while Argos alum Chuck Winters performed the voiceover.  The spot lives on the team's and charity's YouTube pages and will also air at every Argos home game on the Rogers Centre's video display. Supporting in-stadium creative includes digital banners that will appear on the large screen, ribbon board and ad board.