Throwback Thursday: strategy in 1997
For our 25th anniversary, we're travelling through time. In '97, advertisers fought for tobacco cos and Cossette Media was born.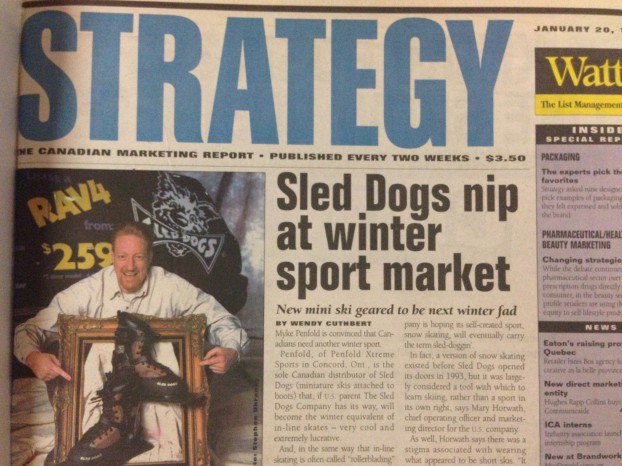 For strategy's 25th anniversary, we're travelling back in time, flipping through the pages of old issues to highlight some big news you may have forgotten, trends you wish you'd had a crystal ball to predict and marketing issues that never seem to change. Check back next Thursday to pick up some valuable insights into Canadian marketing history. This week, we tackle 1997.
Headlines you might remember: The new players edition
Two "virtual banks" to open this year Jan. 20, 1997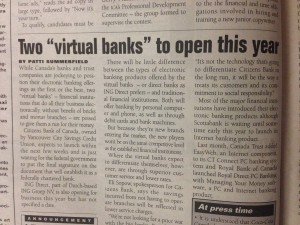 "While Canada's banks and trust companies are jockeying to position their electronic banking offerings as the first or the best, two 'virtual banks' – financial institutions that do all their business electronically, without the benefit of bricks and mortar branches – are poised to give them a run for their money."
And give them a run for their money they did. In 1997, no-frills financial services companies Citizens Bank of Canada (owned by Vancouver City Savings Credit Union) and ING Direct (recently rebranded as Tangerine) both opened their "virtual" doors. The banks continue to have a strong presence in the market today and have, over the years, launched a handful of boutique-style stores in major Canadian cities.
Battle of the books: New Indigo large-format chain to take on Chapters Aug. 4, 1997
"…a marketing war is about to break out over Canada's billion-and-a-half dollar retail book market with the opening of the first Indigo bookstore in August." Well, the pair would merge in 2001, and would later suffer from even greater competition from Amazon, leading way to the dreaded "showroom effect."
Coors sets up shop in Canada April 28, 1997
"Coors Brewing Company of Golden, Colo. is setting up a new operation called Coors Canada to handle sales, marketing and management of the Coors brand in this country."
Coors Light at the time was the number one light beer brand in Canada, but its products saw strong sales mostly in Alberta, Ontario and B.C., with other areas fairly weak. The move, which initially saw the employment of 25 Canadians, was intended to grow its volume and presence across other Canadian territories.
Battle of the butts: The brouhaha over tobacco advertising
The year 1997 saw a blow to the tobacco industry, with the Tobacco Act (otherwise known as Bill C-71) being passed in order to regulate the sale and production of tobacco products. The bill had a ripple effect on the ad industry, with tobacco companies being restricted in how they advertise their products, which led to major upheaval from the ICA and OAAC (Outdoor Advertising Association of Canada).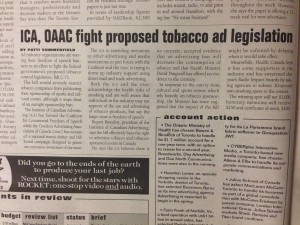 ICA, OAAC fight proposed tobacco ad legislation Feb. 17, 1997
"Ad industry organizations are waving their freedom of speech banner in an effort to fight the federal government's proposed tobacco control legislation, Bill C-71.
"The bill would severely restrict tobacco companies from publicizing their sponsorship of sports and cultural events, although it stops short of an outright sponsorship ban."
OAAC threatens to sue if tobacco bill not changed March 17, 1997
"The Outdoor Advertising Association of Canada has decided it's time to stop being Mr. Nice Guy."
"Earlier this month, the 40-member association sent a letter to the Prime Minister's office promising to sue if Bill C-71 was ever found unconstitutional."
Sun to accept tobacco ads March 31, 1997
"The Toronto Sun publishing corporation has announced it has decided to accept cigarette advertising in all of its newspapers.
"The Toronto daily cites financial reasons and the fact that 'cigarettes are a legal product' argument for the decision."
While the Sun continued to accept cigarette ads, many other publications in Canada, such as the Vancouver Sun, Ottawa Citizen, Montreal Gazette and The Globe and Mail, volunteered to withhold their ad space from tobacco companies.
Cartoons get contracts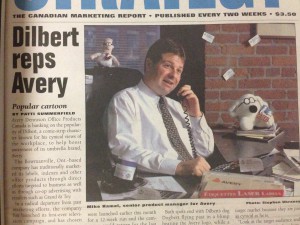 Dilbert reps Avery Feb. 17, 1997
"Avery Dennison Office Products Canada is banking on the popularity of Dilbert, a comic-strip character known for his cynical views of the workplace, to help boost awareness of its umbrella brand, Avery."
Baskin-Robbins calls on Snoopy Aug. 18, 1997
While competitor Dairy Queen had long used cartoon character Dennis the Menace in its advertising, "Snoopy and the Peanuts gang are now hawking ice cream to Canadians thanks to an international licensing agreement between Baskin-Robbins Canada and United Media."
Agency news
Vancouver agency business stagnant March 3, 1997
Michael Shandwick, a writer and independent consultant for agencies and clients, found through research that the "number of clients in the region has remained relatively stable for the last five years, but that they are reducing their spending on traditional advertising through ad agencies in favour of doing business with graphics firms."
His hypothesis was that because graphics agencies, at the time, were "light years ahead" of creative shops in terms of technology development and implementation, clients were leaning toward them for their website and multimedia projects. This client shift inevitably paved the way for traditional creative agencies to beef up their tech offerings and eventually launch their own digital divisions.
Cossette gets separate media company April 14, 1997
"In a bid to raise the profile of its media planning and buying services, Cossette Communication Marketing has spun its existing media department into a separate media company, Cossette Media.
"Lauren Richards, Cossette's vice president, media director, will head up the new company…"
AAPQ: Spec pitches down May 12, 1997
"Results from a recent survey of about 20 member agencies of the Association of Quebec Advertising Agencies (AAPQ) indicates a decisive 78% reduction in the cost of speculative creative pitches during 1996…"
"The average cost per presentation for association members dropped to $24,000 last year compared to $109,000 in 1995."
The study cited an educational campaign with advertisers as the result of the big drop in cost.
Ogilvy & Mather Direct gets new moniker July 21, 1997
"Ogilvy & Mather Direct has changed its name to OgilvyOne Worldwide  to reflect the company's one-to-one marketing approach."
Pressing all the right (hot) buttons
Molson ad raises eyebrows June 9, 1997
"Molson Breweries takes beer advertising into new territory with the June 7 launch of the first beer commercial to feature a lesbian kiss – but then pulls the punch by leaving the creative open-ended."
The creative essentially depicted a three-way romance, with a bartender handing a bottle of Molson Dry to a beautiful woman in a bar, and locking eyes before he tries to make his move. That's when another woman walks in and they lock lips, after which the three exchange a look that could be interpreted to mean that man has a chance with the both of them.
Approval pending on Molson kiss June 23, 1997
"Molson Breweries is awaiting approval for 'Worth a Dry,' a potentially controversial Molson Dry commercial…" The decision was expected to come following a Liquor License Board of Ontario meeting in June.
Molson kiss approved Aug. 4, 1997
The kiss ad was approved, "but due to scheduling of other brand advertising, Molson Breweries will likely not run the spot until later this year."
Bad timing, dumb luck
Weight Watchers suspends Fergie spots Sept. 15, 1997
TV spots with the Duchess of York, Sarah Ferguson, were pulled out of respect for Britain's Royal Family. One direct mail campaign that ran was followed by an official apology, as it featured the Duchess and a tagline that read, "It's harder than outrunning the paparazzi!" to demonstrate the difficulties of losing and keeping off extra weight.
Sponsors drop Paparazzi Sept. 29, 1997
Volkswagen and retail pharmacy chain Groupe Jean Coutu withdrew from their sponsorships of the show because of "hostile public opinion toward sensation-chasing photographers, particularly in light of their alleged role in the high-speed chase which culminated in the crash that killed Diana, Princess of Wales."
Finally, because everyone loves lists, take a gander at the top creative agencies, brands and creatives who graced strategy's annual Creative Report Card. See if you can spot any names still playing big today.
Want more strategy Throwback? Catch up on the headlines from 1989, 1990, 1991, 1992, 1993, 1994, 1995 and 1996.