Taking a cue from consumer wearables
How Nike+ FuelBand and Fitbit inspire tech that enables paraplegics to walk and the blind to see.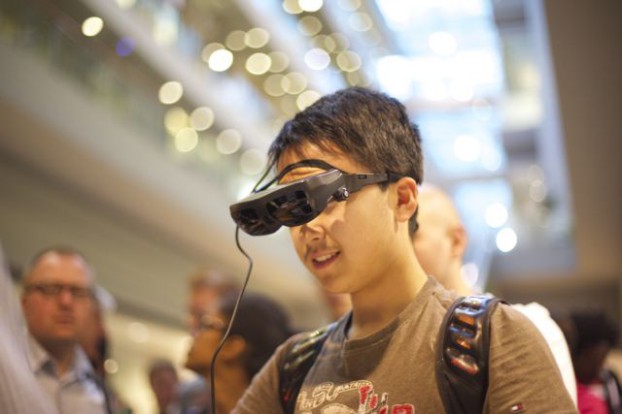 An attractive young woman walks up to the stage at the Mars Centre in Toronto, wearing what looks to be an Oculus Rift headset. She gingerly steps over to the podium, making sure not to bump into any objects.

To an outsider, it may appear that she's interacting with some form of virtual reality in front of a live audience. She's not. When you've been legally blind your whole life, you'd prefer to spend your time navigating the physical world, which she's able to do now, thanks to the eyeglasses she's wearing by eSight Eyewear.

The digital glasses, created by the Ottawa-based technology company and which enable the visually impaired to see, may look like a carbon copy of the mainstream Oculus Rift, but that's not necessarily a negative thing. According to the owners of tech companies, like eSight, that presented at Wednesday evening's We Are Wearables meet-up, consumer wearables today are actually inspiring those in health care, from their design to their technology.

"It helps people to understand what we are when I say, 'We're the Fitbit for wheelchairs,'" says David Mravyan, co-founder and CEO of Sensimat, noting that the mass adoption and social acceptance of consumer products like Fitbit are helping to drive awareness of companies like his, which develops intelligent pressure management tools to help disabled patients monitor their movement in wheelchairs.

"For us, if you look at the heart of the system we have, it's identical. You have signals being sent to a phone, and you're sending it to a management system. The key difference is the market is so much different – there's a massive market for the Fitbit compared to the three million for wheelchair users in North America," he says, adding that consumer wearables are also driving the improvement of the technology, from the battery life to the sensors.

"I can then piggyback on those improvements and put them back into the technology that I'm developing for my specific purpose."

Michael Vaughan, co-founder and product designer at Lynxio, a company that creates digital knee braces to help a person heal (by way of managing their progress and sending the data to a person's physiotherapist), says products like Nike+ FuelBand are inspiring design aesthetics for the wearables in the health-care category.

"With knee braces [today], they're ugly and annoying, nobody wants to wear them, they visually throw off your body… [But Nike and others have] created slick products and apps, [and] you're starting to see them inspire creative user interface design for the category," he adds.

The event explored other innovative companies in the space that are helping people to augment their physical bodies, like the ARKE Exoskeleton by Bionik Laboratories (which enables paraplegics and other wheelchair-bound individuals to walk) and Sensassure (which creates a disposable incontinence tool that provides continuous monitoring of adult briefs). Both companies also gave short presentations at the event space in Toronto.