Who wants to be an astronaut?
Future Shop wants university students to "shop for the future" in this year's back-to-school campaign.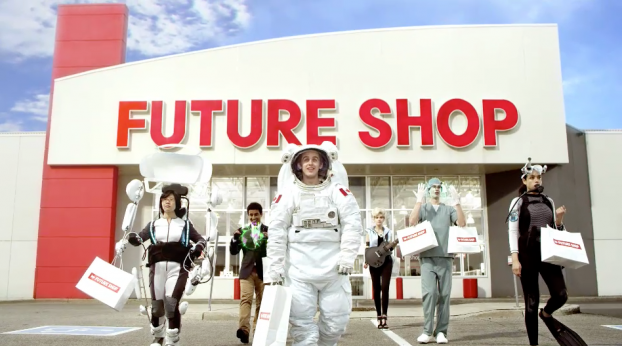 Who says your dreams are out of this world?
Future Shop believes students should shoot for the stars and to do so, they should shop for products (at its stores, naturally) that will help them become future astronauts, physicists, and land other high-achieving professions.
"You're not shopping for back to school," says the voiceover in the retailer's new 15-second pre-roll spot, created by John St. and placed by Media Experts, as a young man exits a Future Shop store clad in astronaut gear and gazing epically up into the sky. "You're shopping for your future."
"The insight that John St. came back with is the idea that when you're shopping for back to school, you're not just shopping for success in that year at school, you're also shopping for success for your future," says James Pelletier, director, brand marketing for Future Shop.
Hence the tagline, which is also a play on the retailer's name, "Future Shopping."
Typically, the retailer doesn't draw a distinction as to who it targets during the peak shopping period, and will tailor its marketing to pique the interest of a range of demographics, from high school students to university freshman to proud parents, says Pelletier.
However, after reviewing brand and ad tracking research from previous years' campaigns and learnings from the shop's internal consumer insights team (which manages a group of 10,000 tech-loving Canadian customers, who provide insight via surveys through its Future Shop Listens program), Pelletier says the brand decided to hone in on the university crowd this year.
"That [demo] is really the centre of the bulls-eye target, with the concentric rings that expand outside to include a larger group of students, both older and younger, and obviously their parents," he adds, noting that while the creative is more geared to the post-secondary school audience, the media placement runs the gamut, from TV to digital to OOH to radio, with a few media purchases specific to the uni crowd, such as ads in restobars and transit shelters.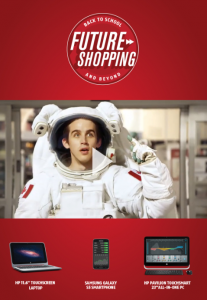 There's also a PR push to get students thinking about Future Shop for its BTS purchases, says Elliott Chun, communications manager at Future Shop, who has worked with Citizen Relations to bring Canadian futurist, Trevor Haldenby, into the fold to make predictions as to which jobs will be in demand come 2020 (examples include a foodologist and a personal transmedia consultant). The big thinker will write blog posts about his predictions during the weeks leading up to the end of the campaign on Sept. 5, and the brand is reaching out to customers, asking them to make their own predictions via Facebook and Twitter.

Also, Pelletier points out that on the heels of the launch of its back-to-school campaign comes the introduction of the Geek Squad to all Future Shop stores in Canada. The 20-year-old Geek Squad, which started as a subsidiary of Best Buy, provides customers in-home, online and over-the-phone services, which include repairs and home installation.

The service arrived Aug. 1, with all Future Shop stores now offering it to its customers, says Pelletier, adding that the brand took the opportunity to promote the Geek Squad in its back-to-school messaging on flyers, its website, emails and online display advertising.