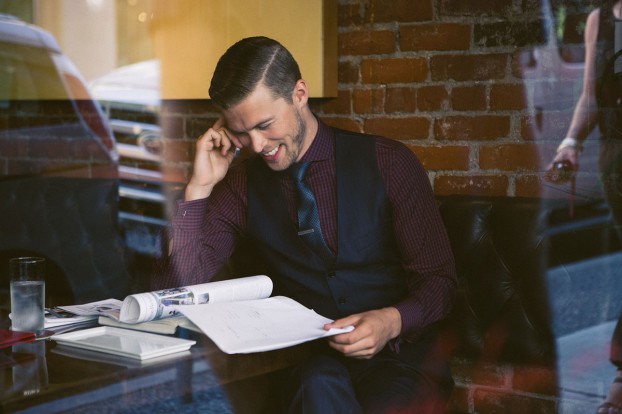 Who said brick-and-mortar retailers were doomed? Certainly not Vancouver-based Indochino, a once online-only men's retailer that specializes in bespoke suits. In fact, it's banking on its longevity with a new permanent location in Toronto, launched this month.
The eight-year-old company has evolved its business model over the past few years from a desktop-only offering to a mobile-friendly one, says co-founder and CEO Kyle Vucko. Then in 2011, the company started a travelling tailor program, sending staff into different cities for pop-up events to measure people for suits.
"We were hearing from guys, 'We want to see and feel the fabrics, connect with you more personally, get extra styling help,'" says Vucko, on the decision to start a roving tailor. (Of course, the concept of measuring oneself can also appear daunting to some guys, and so having someone else with training do the measurement for them doesn't hurt either).
"The pop-up stores were great from a sales perspective," he adds. "But we realized there was a lot of opportunity to help guys manage their clothing for a longer period of time."
Though he says they help men build out their wardrobes digitally, the more permanent location will allow the team to ask deeper questions than it could online, creating a stronger rapport between the customer and the store.
Bricks-and-mortar stores, especially big box stores, have struggled in recent years to deal with the onslaught of cheaper-online wares. Companies like Sears, Best Buy and Indigo have tried to bolster their online presence while slashing bricks-and-mortar overhead costs, even shutting down locations. This has been especially prominent in the U.S., where companies have had to contend against stronger e-tailer presences, including the Amazon powerhouse, whereas the Canadian online shopping market hasn't been as well developed, sheltering some retailers.
Though bricks-and-mortar locations have to contend with higher costs, (including space rental and staff), Vucko says it's a worthwhile investment.
"The economics make a ton of sense," he says. "You're able to offer a higher or broader level of service, which, generally speaking, leads to higher average orders, better customer satisfaction [and] better lifetime loyalty."
IBM, in its annual 5×5 report (five predictions for the next five years) found that e-tailers would be overtaken by bricks-and-mortar offerings, especially those with digital-first attitudes that help seamlessly blend the online and offline experience.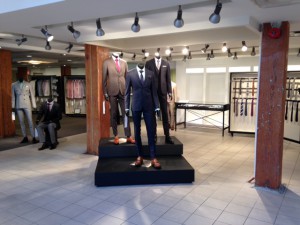 The new Toronto location is the brand's second permanent fixture, with the first being in Vancouver, which operates out of the retailer's headquarters (it was a test-and-learn, under-the-radar facility, he says). More permanent showrooms are definitely a big part of the brand's future, he adds. "The intention is to have multiple locations by the end of the year," he says.
He remained mum on future locations, though a quick glance on the brand's website revealed it is opening a showroom in New York on Sept. 10 in SoHo, and is currently hunting for a showroom manager for San Francisco.
The company chose Toronto for its first expansion point because it's the second largest market for the brand (New York, being the first), with a wide base of consumers already shopping online, despite never hosting a travelling tailor in the city (Vucko says travelling tailors often precede sales bumps in cities they're hosted in). "It's very ironic – we had the hardest time finding a location in Toronto," he says. "It took us over two years, and now it's our first out-of-home market."
To promote the new location, the brand will focus heavily on digital ads and social media, though Vucko says a more permanent location also gives them the opportunity to explore previously unavailable marketing opps, such as events or private fitting functions.
Top image courtesy of Indochino's fall campaign.