Hockey Canada's road trip down memory lane
With a synthetic ice rink to get folks skating this summer, the non-profit celebrates its 100th birthday.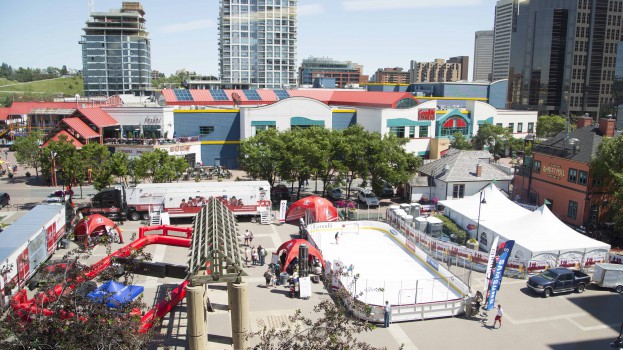 It's been 100 years since the birth of Canada's national amateur hockey association and through the years there has been plenty to celebrate – from the '72 Summit Series, to junior national championships and Olympic Gold medals.

But the country's demographics have also changed over that time, notes Dean McIntosh, director, marketing services at Hockey Canada, so his organization has to raise its game to stay of mind with a new generation of Canadians.

"There was a day and age when you could put a sign up [to play hockey] at the corner of your community and say, 'Sign up is on Saturday at the legion,' and people would come," McIntosh says. "We recognize that people have many more choices now when it comes to sports and other activities outside sports and we need to do a better job of communicating the values of the game."

You might say the non-profit is putting its best lineup on the ice for this 2014-15 season to capitalize on its historic moment. It has drawn up a game plan across multiple platforms to communicate the values of the game and reach new groups, including young girls and immigrants to the country.

At the heart of the year-long campaign is a 20,000 square-foot interactive hockey experience "Century Tour." It launched Canada Day and will continue to tour the country until the end of the 2014-15 hockey season in May, McIntosh says, visiting 100 communities in 330 days. The tour, which includes a small synthetic ice rink so people can lace up their skates in the middle of the summer, and an interactive museum inside of a transport truck, rolled into Toronto this past weekend for the duration of the Canadian National Exhibition.

Telus is sponsoring a family fun zone as part of the experience, Canadian Tire is running a Hero of Play program to recognize people behind the scenes who contribute to the success of hockey in Canada (tying into its "We All Play For Canada" initiative), while Samsung is behind coaching clinics and providing the technology for the tour. Anti-abuse non-profit the Respect Group and Canadian Heritage are also partners.

Creative content is handled by Hockey Canada's in-house team and it worked with InMarket and Palmer Audio on the experiential.

Beyond the tour, Hockey Canada is reaching out to educators, introducing lesson plans for kindergarten to Grade 6 across seven subject areas – including math, science and language arts – that teachers can access online to teach to their class, including math problems like, "If there are this many fans in the stands, how many seats are empty?"

"We know approximately 10% of kids in Canada between the ages of five and 17 play hockey, so in a class of 25 kids, roughly three of them play hockey and 22 of them don't," McIntosh says. "We want to have a program that adds hockey into the classroom."

Hockey Canada also partnered with CTV daytime talk show The Social, with the hosts wearing 100th anniversary jerseys, in a play to connect with more moms and encourage more girls to sign up.

"We know our female hockey registration is growing," McIntosh says, noting that there are 90,000 girls registered to play hockey today compared with 6,000 in 1994, though that number is still a small percentage of the about 470,000 registered players. "We know there are a lot more young girls playing the game so that market is a growth opportunity for us. It is currently growing but we think there is a further opportunity to grow that."

"We also recognize very clearly that, especially at these younger ages, there are not many four- to seven-year-olds that decide to register themselves for hockey," he adds. "Parents are making that decision so it's key for us for parents to understand that the game they see on TV sometimes at the professional level isn't the game that Hockey Canada delivers at the grassroots level.

"Our game is a friendly game that teaches elements of respect and fair play and working with others."

Hockey Canada also worked with Lpi Group on an interactive, parallax website, celebrating jerseys worn by Canadian hockey players over the years. That's meant to serve as a legacy piece and as a historical look back at hockey's history in Canada. It also makes it possible to purchase online the 100th anniversary jersey, which will be worn by the national team this year.

Those jerseys feature a 100th anniversary emblem, and for any of the other 765,000 Canadians playing in a minor hockey league, they'll be wearing a sticker with the emblem on their helmets, another way the organization hopes to highlight the link between its star athletes and everyone else who just loves the game.

"So a young kid in Yarmouth, N.S. can feel they are connected with a Hayley Wickenheiser or a Sidney Crosby," McIntosh says.