Future-transforming ideas: Gamifying your winter coat
A climate-regulating jacket with a built-in app and GPS? Amin Todai serves up the first (cold) dish in our innovative ideas series.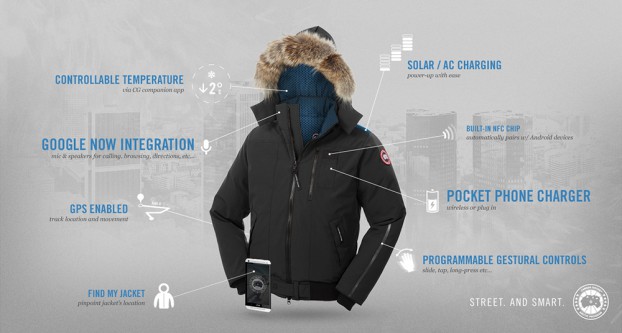 This story appears in the September 2014 issue of strategy.
With tech advancing at light speed, the limits in product innovation are being pushed faster than you can say 3D-printed food. And with new tech comes new opportunities, so we asked some creative minds (from inside and outside the industry) to come up with an idea for a new product or service a Canadian brand could produce. For inspiration, they were directed to the Cannes Lions and San Francisco-based AKQA's Future Lions global student creative competition, which challenges entrants to create an idea that connects an audience "to a product or service from a global brand, in a way that wasn't possible five years ago."
From a closet that handles all your laundry needs to a virtual zoo, check back each day to see what our contributors came back with. Who knows, perhaps these brands will take note and develop these ideas into products. It could happen sooner than you think.
By Amin Todai
Using a variety of recently realized tech, we'd develop a winter jacket for Canada Goose that pairs with a smartphone to offer gestural and hands-free control, internal climate auto-regulation, phone charging and a GPS tracking system that gamifies winter.
Hands-free control will come via built-in microphones and speakers. Users could operate their connected devices and use a voice-recognition program like Siri for hands-free assistance. In addition, users could customize gestural controls, meaning a karate chop to the right could let them skip past that 2 Chainz song that snuck onto their playlist.
Auto-regulated climate control will be achieved by creating an adjustable venting system that subtly modifies according to a person's internal temperature. In addition, using local weather updates and previous personal data, predictive measures could be applied to always ensure optimal warmth.
Phone charging will be handled by a wireless charging pad built into the breast pocket.
And the gamification of winter comes from applying a Nike+ mentality to all cold weather activity. Through built-in GPS and an accompanying mobile app (the Tracket), the Canada Goose SmartJacket will track weather-related elements such as the lowest and average temperatures, distance travelled and snowfall. The Tracket app will integrate with all social properties in addition to a robust website that hosts leaderboards, communities and tips.
Users will also earn badges for doing activities, with the app tracking achievements such as time spent outdoors and landmarks visited, while interested brands could become partners, offering rewards and relevant offers. For example, if someone was outside for a long period of time and then entered a Starbucks, the coffee shop could offer a free hot chocolate.
All of the above is our vision for the "Urban Explorer" edition of the SmartJacket. However, we also envision an "Extreme Explorer" edition, where the focus of the features would be more toward health and safety.
Amin Todai is president and chief creative officer at OneMethod Digital+Design