Google revamps the Consumer Barometer
Travel-related purchases reign supreme in online shopping, and other digital insights from the tech co's free-to-use data tool. Go ahead, you know you want to play with it.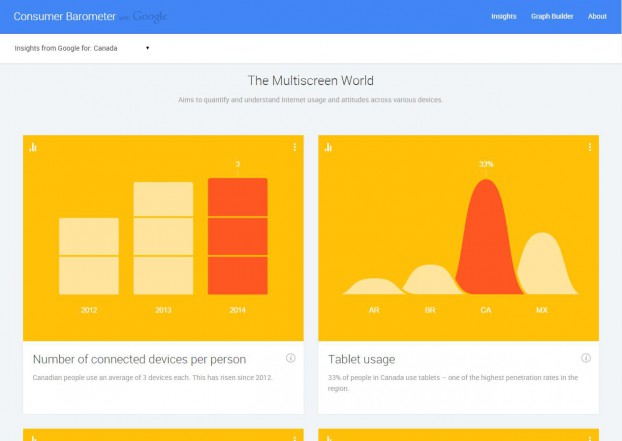 Google has updated its Consumer Barometer tool with more consumer info for 2014 and a brand new interface. The revamped site is meant to give marketers insight into consumer purchasing behaviour and examine how digital platforms influence that behaviour.
The tool takes responses from more than 150,000 respondents. Google partnered with global market research group TNS, London-based digital product studio Hive and data-focused communications agency Graphic for this year's Barometer.
The simplified interface is meant to help marketers create more compelling insights, with data-set around things like multi-screen consumption, online video viewing, consumers shopping and mobile device usage easy to filter. In the Graph section, users can then take the hundreds of questions asked in the survey (what activities do people use their smartphone for? What time of day did people watch online video?) and apply filters for more specific insights. The filters include standard demographic info, but also includes things like how the most recent device used to watch a video and where it was watched affects choices.
The Barometer shows that, in Canada, the average consumer owns three connected devices, with 33% owning a tablet, one of the highest rates in North America. Also, while younger age groups lead the country in daily internet usage, 80% of respondents over the age of 55 say they go online every day. The majority watch online videos alone, though 30% of Canadians watch with someone else, 16% with their partner. More than half of Canadians said they watch videos primarily for entertainment purposes, while 65% of Canadians said they were highly focused on their videos (as opposed to having it on in the background).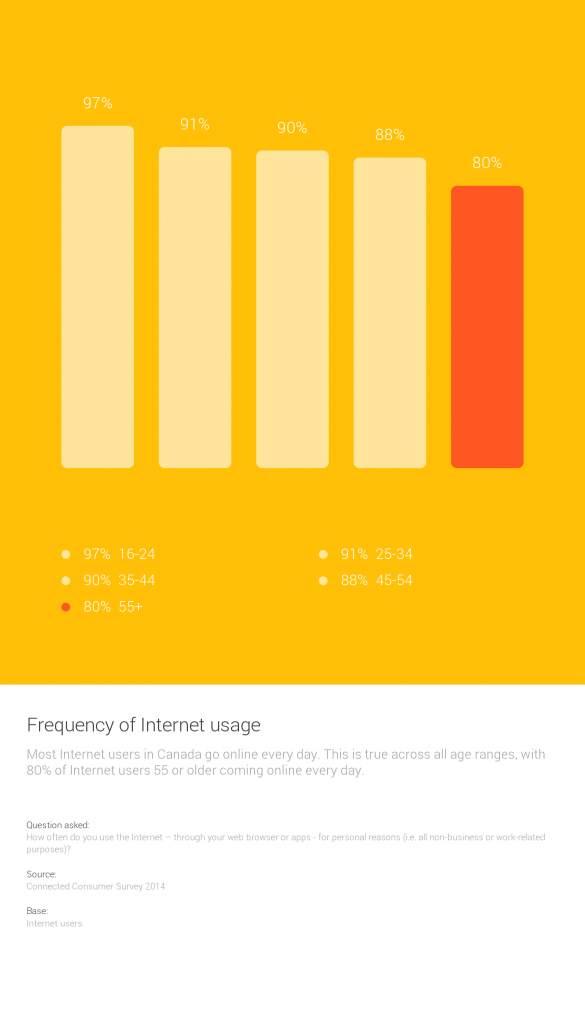 The Smart Shopper section, on consumer behaviour and how the internet influences their research and purchasing habits, is still the tool's main offering. There, marketers can explore what role digital devices play in the purchase funnel, including learning about products, researching them and purchasing them.
In Canada, the most popular category for online shopping is in travel, will 72% saying their most recent flight purchase saying they did it online, with 64% making hotel purchases saying the same. Only 8% said their last appliance purchase was made online, but that was the most popular category for online research.
Currently, the Barometer covers 10 consumer product categories (mobile phones, cinema tickets, televisions, fashion, home appliances, flights, hotels, car insurance, groceries and makeup) with plans for more to be added by Google based on global demand.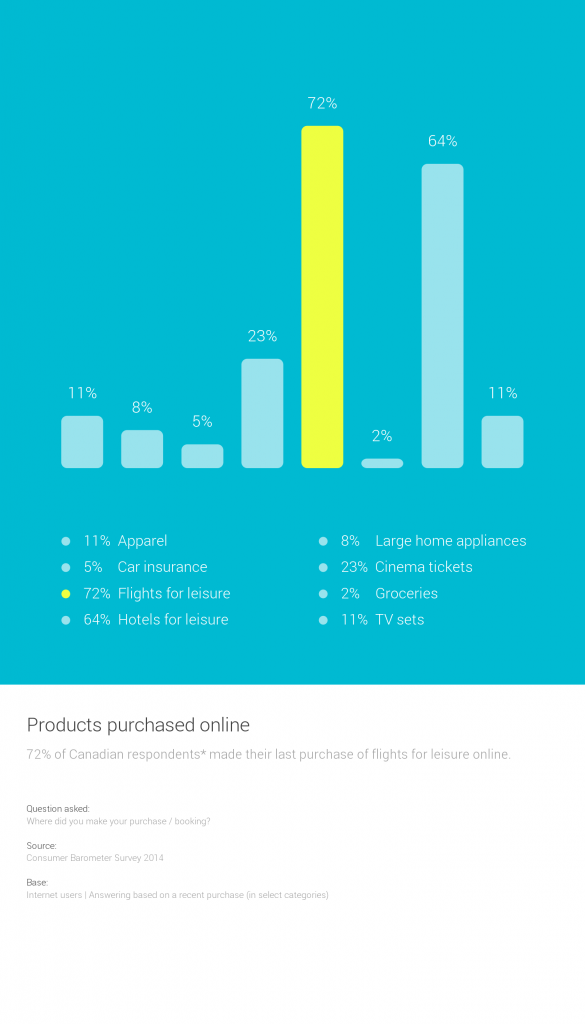 The tool is a free to use, which Andrew Assad, strategy and insights manager at Google, says is part of the company's motivation to create more understanding about how consumers behave online, as it will result in smarter planning and use of digital budgets in the industry as a whole. This is in line with what Adam Green, agency business development at Google, has previously told Strategy, saying good ads are ultimately more profitable to the company than poorly-made ones.