PR AOY Gold: North Strategic does it their way
How the young, fast-growing shop landed the top spot in the competition's newest category.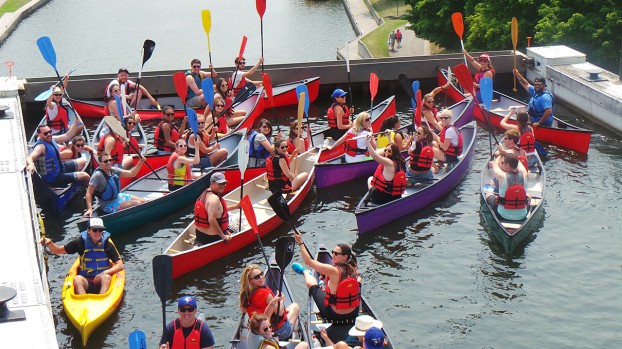 This story appears in the November 2014 issue of strategy.
How does a small independent PR shop that's only three years old nab top honours in our inaugural PR Agency of the Year awards? And how does that shop maintain 100% growth year over year since its inception, opening two new offices and winning major clients against competitors three times its size?
Having started in 2011 with no clients and no employees other than its two founders Mia Pearson and Justin Creally, the company has grown to almost 50 people across Toronto, Calgary and Montreal and boasts big clients like FGL Sports (which includes Canadian Tire and Sport Chek), Samsung, RBC and Ubisoft.
Of course, it doesn't hurt that Creally and Pearson spent nearly 20 years building their reputation by successfully growing High Road Communications, which Pearson co-founded and later sold to FleishmanHillard in 2000. When the duo decided to start North – Pearson had been president of Fleishman and Creally was president of High Road – they knew what they wanted, and didn't want, out of a new venture.
One thing they knew was the type of clients they wanted to work with.
"We like those deep, large client relationships where you're helping them from the executive team right down and across their business," says Pearson. "That's been our model, and it works really well for our growth because those clients stay with you."
B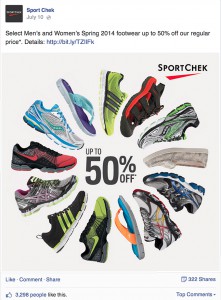 ut, Pearson explains, that doesn't mean they won't take on smaller clients – it's more about the nature of the relationship.
"It's not size of revenue, it's the approach to it – we need to have relationships with the senior leadership team. We need to be integrated into their strategy and they need to have a great story to tell that people are going to be interested in hearing. They have to be bold enough to be ready to disrupt the industry [and] do creative things," she says.
"We're not a process-driven agency – we're very creative. We like to be on the edge of those ideas and we want clients who are going to go there with us. So sometimes it can come in as a small account that's fully integrated and [grow] because of the kind of relationship we have with them."
North is a perfect example of the industry shift in which creative ideas are coming from outside the traditional ad agencies and different kinds of shops are getting more opportunity – if they seize it, that is. (Read our article on "The creative Wild West").
Creally points to a video North did this summer for client Sport Chek, created for online but later aired on TV, in which they filmed three Toronto Blue Jays pitchers and surprised them with visits from their dads for Father's Day.
The agency also gained buzz when it created a series of online spots for Canadian Tire in the spring, celebrating the end of the polar vortex.
"That could have easily come from their ad firm or digital agency," notes Creally. "I think with the right relationships with clients it's okay if there's a bit of a competitive area and some blurred lines. You're all partners, but the best idea and strategy wins."
Being independent allows the agency to be more nimble and go after opportunities as they come up, Creally explains, using the example of Notch Video, the agency's video production division, which offers up a solution to brands that want video produced for online at a lower cost (through which the aforementioned videos were produced).
But perhaps the thing that sets North apart the most – and what Creally and Pearson are most proud of – is a culture focused on attracting top talent and keeping them happy. "We're in a talent war every day," says Pearson.
A key strategy in winning that war, and creating more efficiency within the agency, is a client-billing model that does away with timesheets, which is practically unheard of in the industry. Clients are quoted a price on the outset that can be adjusted if extra projects arise. Pearson says this single factor has made a world of difference, affecting, for instance, the amount of senior talent on an account.
"I think it's changed the work we do as an agency – I think it's gotten better, the teams are way happier and the clients get more value," she says. "It's a simple thing but [timesheets] take up about 10% of people's time to manage, and it gives that time back to everyone."
Pearson says North's culture and ability to attract top talent has helped it win big clients.
"We were seven people when we won Samsung [in 2012] and we competed against all the big agencies. We had to hire another six people in three weeks to service that [account], but they trusted we'd be able to attract those people and we'd be able to do it."
North is also venturing into new territory with initiatives close to Pearson's heart to advance women in business. Noticing that many of the executives the agency works with are women, it put together a three-day corporate retreat for its female clients to help them develop their personal and professional brands. It's also an opportunity for the women to network with female senior marketers at other companies. Pearson says 100% of the execs who were invited signed on.
"We'd like to do it twice a year," Pearson says. "I think [other] agencies should look at that kind of thing too."
Looking ahead, the agency isn't putting a cap on its potential growth, hoping to double the size of its Montreal office to about 10 people, and expand the Calgary office by adding talent, especially on the social media side.
"Usually when you have 100% growth, it's hard to sustain that – there's going to be cracks," says Pearson. "Somehow we've maintained that. It's funny because when we started the agency, a lot of people said 'you'll never sustain it, you can do it when you're small, but wait till you get bigger.' But if your culture is right, you won't have that happen."
New Business
Airbnb, Air Miles/LoyaltyOne, Aldo, Car2go, Cadillac Fairview, Shomi (Rogers/Shaw), Canadian Olympic and Paralympic Committees
Key hires
Victoria Freeman, director of digital strategy; Matt Hartley, senior editor; Sarah Stewart-Browne, VP; Celeste Warren, VP of human resources
Offices
Toronto, Montreal, Calgary
Cases
Sport Chek's flyers go social
Research showed that Sport Chek's target demographic of 18- to 34-year-olds was not reading the company's paper flyer. The retailer had already invested heavily in Facebook and built a highly engaged audience of more than 755,000 fans, but it was faced with the question, "How do we get our Facebook audience into stores to make a purchase?"
Working with North Strategic, Sport Chek partnered with Facebook to develop the global-first "Social Flyer." The agency used organic posts, sponsored stories, as well as albums and video posts featuring inspirational lifestyle and product content to engage the retailer's Facebook fans.
Following the success of the initial launch phase, further market testing saw the brand remove the paper flyer from distribution while the "Social Flyer" ran for two weeks on Facebook. The campaign lifted sales awareness by 40% and purchase intent by 32%. It also increased brand awareness by generating 106 million impressions, which exceeded the initial objective of 50 million. During the period where the paper flyer was removed from market, there was a 14% increase in year-over-year sales and products in the "Social Flyer" saw a sales increase of 34%.
Samsung gets fit with its gear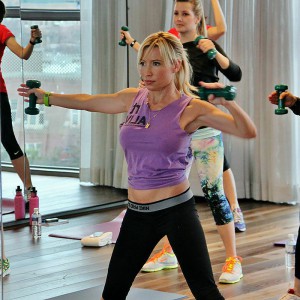 To illustrate technology's role in fitness and highlight Samsung as an innovator in the market, the brand teamed up with celebrity fitness expert Tracy Anderson to showcase the new Galaxy S5 smartphone and Gear Fit (a wearable device that can be paired with the phone).
The agency invited media to try the devices through an interactive fitness class led by Anderson. Twenty-seven journalists from lifestyle media publications such as Elle Canada, Toronto Life, Yahoo! Canada and Chatelaine tracked their workouts in real time during the event, which included three fitness classes.
In addition to the classes, a local media tour was conducted with Anderson, and included interviews with top print, online and broadcast news outlets.
To date, the GS5 and Gear Fit have been featured in 225 stories.
Canadian Tire's ice truck drives awareness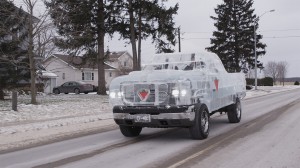 Last winter, Canadian Tire and its agency partners decided to create the world's first drivable truck made completely out of ice, save for the MotoMaster Eliminator battery.

Creating the "Ice Truck" was technologically difficult because of its short lifespan and fragile nature (it began melting almost immediately). This made it hard to show the truck to media or consumers in larger markets. With this in mind, an exclusive media tour was arranged for Toronto Star's auto publication Wheels, which sent a journalist to accompany Canadian Tire for a behind-the-scenes experience on the day the truck was assembled. After witnessing the complex build process and test-drive of the "Ice Truck," he conducted interviews for a feature on the stunt.

North Strategic also engaged local media and residents from the surrounding rural regions to witness the truck attempt a 1.6 km drive. A media relations pitch was initially distributed to Canadian automotive, consumer and social media. However, as media took notice of the truck, PR efforts quickly extended to global outlets.

Battery sales were up 70% over the previous year, and the campaign generated more than 80 million media impressions (197 stories). The TV spot and videos garnered more than 1.3 million YouTube views, and the campaign saw more than 1.2 million Twitter impressions.