Perrier's playful packaging
Aiming to reach a younger demo, the brand launches a street art-inspired look.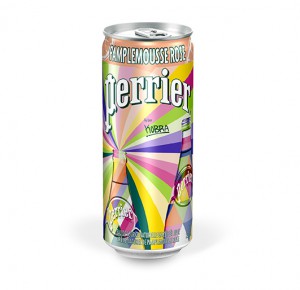 Perrier is bringing a pop of colour to grocery aisles in hopes of catching the eye of young consumers with its new, limited-run artistic packaging.  As part of its global "Street Art by Perrier" program, the Nestlé Waters brand is rolling out limited-run packaging designed by street artists for three of its formats, which is supported by an in-store program featuring POS material, including a large box to hold the product.
Jennifer Semley Robert, marketing manager for international brands, Nestlé Waters Canada, says Perrier's main consumers are 25- to 40-year-old "social trendsetters," who are urban, trend-savvy foodies, so this campaign is designed to woo the 25- to 35-year-olds who still opt for diet carbonated soft drinks and might be considering the brand, but haven't quite jumped on the Perrier bandwagon.
"We're trying to get away from the older perception," says Semley Robert. "We don't want to be the dad's or the uncle's drink, we want to be their drink. So we really want to be able to speak to the younger target."
So the brand chose an international range of street artists – JonOne (an American living in Paris), Brazilian Kobra and Tokyo's Sasu – to amp up (and age down) its relatability.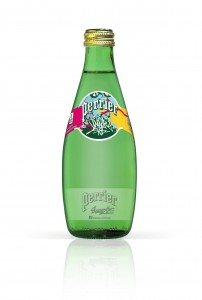 But this is far from Perrier's first foray into the art scene, having collaborated with artists since the 1930s, from Andy Warhol to Bernard Villemot.
Moreover, the current collaboration comes on the heels of last year's Warhol push, where packaging was crafted from the late artist's work in collaboration with the Andy Warhol Foundation. An in-store program featuring a similar custom POP box holding the product ran during the same time period last year.
"I think it's a bit unexpected for the brand that's traditionally known as being pretty conservative, and a lot of people don't know about the arts [tie-in]," Semley Robert says of the current push.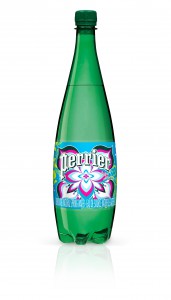 SKUs with the special packaging began to ship mid-September and will be available until the end of December, while the in-store program launched in October in retailers across the country such as Loblaws, Metro and Sobeys.

The "Street Art by Perrier" program launched in Canada with PR events in Toronto and Montreal (Sept. 30 and Oct. 2, respectively), featuring artist JonOne and cocktails made with Perrier, with media and influencers in attendance. The program has garnered four million media impressions in Canada (which Semely Robert says exceeded expectations) and 13 million across North America. Perrier worked with Dacs Marketing & Sponsorship for POS work and A&C for PR.