Molson wants your best shot
What's more Canadian than slap shots and beer? The brewer's famous fridge gets in on the hockey action.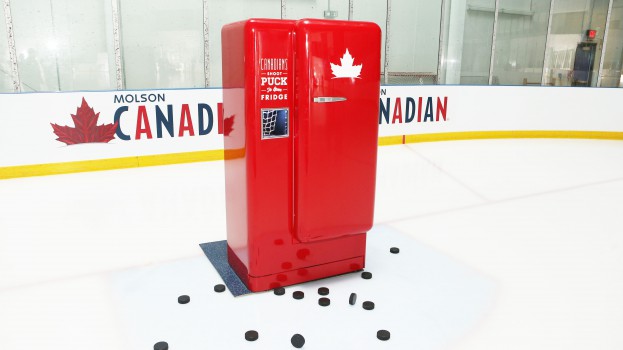 By Marco Vigliotti
In its latest bid to reward patriotism with a cold beer, Molson Canadian has revamped its now famous beer fridge for the 2015 IIHF World Junior Championship in Montreal and Toronto.
This time around, hockey fans were able to showcase how their slap shots – not just their passports – help distinguish them as "true" Canadians.
The Kevlar-reinforced fridge can only be unlocked by fans that can successfully shoot a real puck from eight feet away, and hit a marked target on the fully stocked icebox.
The sharpshooter contest is held prior to games featuring Team Canada, outside of Toronto's Air Canada Centre and Montreal's Bell Centre, as a part of Molson's pre-faceoff festivities.
"Not every Canadian has the accuracy to fire a puck into a five-by-six-inch frame," says Kyle Morrison, assistant marketing manager for Molson. "But the guy that does….the notion is that he'll open that fridge and share its fruits with the masses."
Aside from a chance at glory (and beer, of course), fans that score a goal also have the opportunity to win tickets to see the host nation in action.
Promotions for the beer fridge challenge is also being integrated into TSN's broadcasts of Team Canada games, where footage of fans trying to unlock the Molson fridge will be aired.
Toronto agency Rethink handled the creative aspect of the campaign, while MEC was responsible for media buying. Harbinger managed influencer relations for the project.
Morrison says the famed red fridge has become a "surprising but incredible icon" for the brand, and has "resonated amazingly well with Canadians."
While Molson's prior fridge promotions have targeted a broader Canadian audience, the World Juniors campaign is more narrowly focused on the nation's hockey fans – largely, men between the ages of 25 to 34, according to Morrison.
The beer fridge promotion also represents another component of the company's ongoing "Anything for Hockey" campaign (now in its second year), which encourages fans to share stories of the lengths they have gone to, to take in a game.
"As a brand…we've had a long and rich history with Canadian hockey," says Morrison. "We thought this was a pretty good opportunity to create not only a cool hockey experience but also to highlight that relationship between hockey and [Molson]."