Oikos' daydreams
The Danone brand is tapping into the Mediterranean lifestyle, using a bit of Greek history to reach millennials.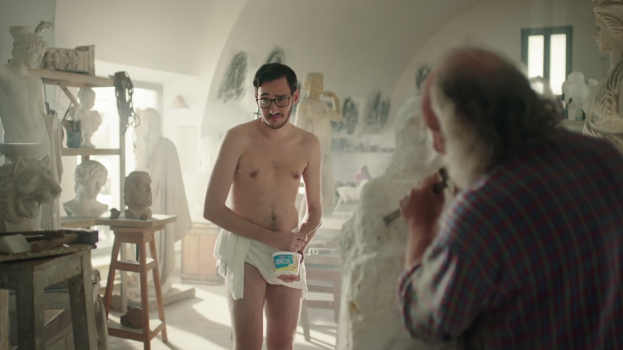 To maintain its position as the top-selling Greek yogurt in the country, Danone has launched a new digital and TV campaign for Oikos with a "choose your own adventure" feel.

The new TV spot, by Saint-Jacques Vallée Y&R, features a man eating yogurt and entertaining a beautiful young woman with Greece as a backdrop. The illusion is shattered when it's revealed it was just a daydream brought on by Oikos. The man reaches for another yogurt, but instead of a beautiful companion, he's confronted with another Greek stereotype – namely he's being sculpted (partially naked), by an old man. The viewer is invited to head online as well to see if he can find his love, with different flavours bringing him into different daydreams.

On YouTube, the brand has 10 different versions of the second half of the video (including everything from Icarus falling from the sky to Poseidon standing on a beach), says Pauline Varga, VP marketing at Danone, and is the largest digital push the brand has undertaken.

Through consumer research, the brand discovered that Canadians love the idea of the Mediterranean way of life, says Elyse Boulet, VP account services at the agency. They love the idea of indulging, but feel guilt over their need to stay healthy, but in the Mediterranean that all seems to blend together. "It's something they dream about achieving, but it's so hard in our society," she says of the inspiration behind the campaign.

The brand's core focus is on late millennials, or folks who believe in healthy living through good eating and an active lifestyle, who are always connected, adds Varga. "We used to call them foodies, but they're much more than foodies," she says. "They like authenticity, nature and are always with their friends and family."

Because of their hyper-connected lifestyles, Varga says a big focus was on creating a unique online component that could be shared. Boulet adds the content will also be re-targeted to people based on where they are in the path to purchase cycle, and whether they've chosen to interact with an ad before. She says, for example, if someone chooses to skip a pre-roll ad, a different version might be sent to the consumer.

The campaign, which rolled out on TV last week and online yesterday, will run for eight weeks, with a media buy from Carat. National PR handled PR, while Montreal-based Bam took care of certain digital elements, including the targeting algorithm and website.