Cause + Action overall winner: Bell's big ride for mental health
This year, Bell took its "Let's Talk" initiative across the country with spokesperson Clara Hughes.
INSPIRATION
Since 2010, Bell has tackled mental health in Canada through its "Bell Let's Talk" fundraising campaign, created to break the stigma around mental illness and support Canadian mental health initiatives. But last year, Clara Hughes, six-time Canadian Olympic medalist and national spokesperson for the program, decided she wanted to do more.
STRATEGY
The concept for "Clara's Big Ride" was to expand "Bell Let's Talk" beyond a one-day event, carrying it into communities around the country. The goal of the ride was to help grow awareness, acceptance and action to create a stigma-free Canada.
EXECUTION
"Clara's Big Ride" was a 110-day national bicycle tour, which began in Toronto and ended in Ottawa. Between March and July 2014, Hughes covered more than 11,000 km and connected with Canadians in 105 communities during youth, school and community events.
Bell, working with agency Lg2, also partnered with Aimia, BMO, Canadian Tire, Cisco, Lundbeck, President's Choice and Samsung to fund the ride, and each week, individuals and groups involved in mental health initiatives joined Hughes for a few kilometres. "Clara's Big Ride" wrapped up at the Canada Day celebration on Parliament Hill in front of 100,000 people.
Events raised awareness and funds for the community, and 158 government officials from across Canada signed a "commitment map" to work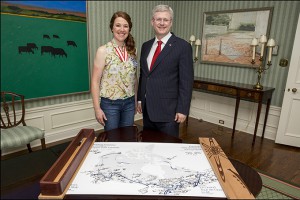 together to create a stigma-free Canada. Prime Minister Stephen Harper added the final signature on Canada Day.

A microsite kept Canadians engaged and gave a real-time look at what people were saying about the program online. The program also gained awareness via PSAs on television and radio, in print and through earned media. CTV, Best Health, the Globe and Mail and La Presse shared the program with the public, and it was also featured on shows like eTalk, Daily Planet, The Marilyn Denis Show and The Social.

RESULTS

In a Nielsen study conducted after the event, 57% of Canadians had heard about "Clara's Big Ride." Also, more than 150,000 Canadians attended events and lined the cycle route. The program reached 18 million people, and one million Canadians watched a documentary about the ride on CTV and CTV2.

JUDGES' COMMENTS

"There's no question that Bell is doing something right. I love that 'Clara's Big Ride' brought an offline, experiential and grassroots element to Bell's overall CSR identity. The strategy was smart, and the campaign struck me as earnest, genuine and understated, but in a really powerful way."
– Lindsay Page, WWF

"This campaign was powerful, real and meaningful. It created a conversation [around] both the brand and the issue that [most] feel a part of. It educated, engaged and inspired."
– Cathy Loblaw, Ronald McDonald House Charities Canada