TD involves the masses
The bank's strategy behind getting consumers to dish out its charitable funds, plus other brands giving power to the people.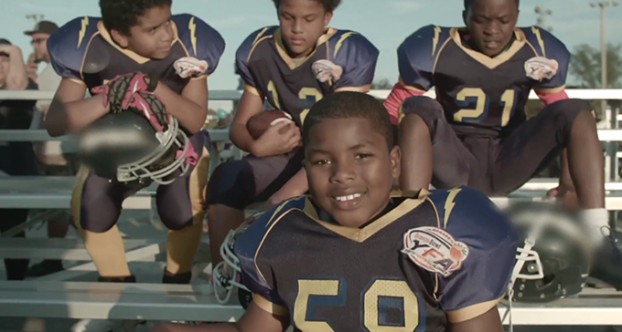 This story appears in the April issue of strategy.
For its "#MakeTodayMatter" campaign, TD, working with Leo Burnett and Diamond Integrated Marketing, gave 24 people across North America $30,000 to infuse back into their communities, which they did through things like buying instruments for a school music program, creating LGBT-safe spaces and launching community transportation programs. Their actions were highlighted in a series of YouTube videos, which collectively saw more than five million views.
"We want to be part of our local communities and the only way we do that is [by] being tuned into the needs of our customers. We can't be out there telling anyone what we think is best," says Chris Stamper, SVP of corporate marketing, community and environment at TD. "Our community giving strategy has always been less about writing a cheque and more about being engaged [with them]."
TD's alignment with helping communities has been built on its pre-existing customer-centric brand image. While "#MakeTodayMatter" was being planned, TD gained attention for its "#TDThanksYou" campaign, where customers who visited ATMs were given gifts and cash, documented in a video that has more than 20 million views.
For "#MakeTodayMatter," TD utilized in-branch customer relationships, as well as local organizations and social media, to pick out people who already had a proven track record of doing good and knew what else their communities needed the most.
"We are guided by those who know what a community needs and how to enable it, so we listen and help solve local-level problems together," Stamper says. He adds that enforcing that stance in consumer-facing campaigns doesn't just engage the public, but the organizations and communities it works with. "What gets played back to us, whether it's the United Way or conservation groups or the local communities, is that it creates an extra level of passion and engagement."
TD could have accomplished this change without recording it on camera, but Stamper says the engagement and empowerment is a big part of the value in its work, as it shows the country what a single person can do for the people around them.
"It resonated with people because they could see themselves doing that," Stamper says. "You don't get that many views and impressions on a video if it doesn't reach people on a deeper level."
More power to the people
TD isn't the only brand looking to empower customers through CSR work.
In December, Telus and The&Partnership launched the "Good Deeds for Wild Things" campaign, giving Canadians a chance to allocate a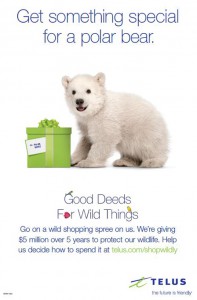 portion of its $5 million commitment to wildlife preservation. Anyone could go to a microsite and divide $50 among different efforts that protected various animals, while Telus customers received special promo offers to increase the amount they could dish out.

And it's not just money being put into peoples' hands, either. In February, Indigo's Love of Reading Foundation launched the "Top10″ campaign, giving Canadians the opportunity to go online and vote for books they think the retailer should donate to the under-funded school libraries it supports.

When she spoke to strategy in February as "Top10″ was launching, Jennifer Jones, VP of the Indigo Love of Reading Foundation, said it wanted to go beyond asking for a donation, instead allowing its customers to involve their pre-existing interests.

"It's a conversation we already know these people love to have," she said. "It makes them think about that one book that might have changed their life and shows them a way to give another child that same chance."