McDonald's brings joy to strangers on a bench
How the restaurant's recent one-day global push fits its new brand promise in Canada.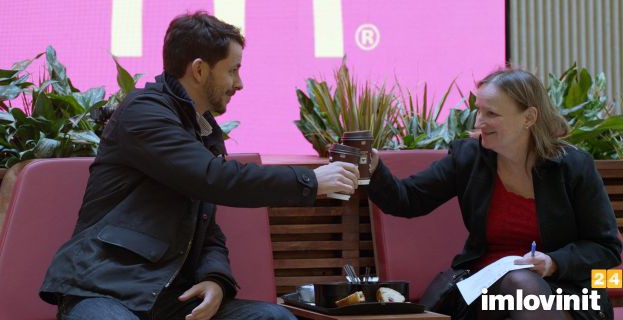 Last week, McDonald's looked to provide 24 moments of happiness in 24 different countries over the span of 24 hours with "#imlovinit24," a campaign you might already know about if you sat on a particular bench in Toronto.
The global effort is the company's biggest brand push since the first "I'm Lovin' It" campaign. In the Philippines, a regular toll booth was turned into a drive-thru that offered free breakfasts. Diners in Sydney, Australia were treated to a coffee cup-shaped PlayPlace ball pit inside McDonald's restaurants, while concerts were held in the U.S. and U.K.
Here in Canada, the brand was looking for a way to connect its moment of joy to the recently-launched "Welcome to McDonald's" campaign, says Hope Bagozzi, senior director of creative, media and digital at McDonald's Canada.
"On the global scale, the idea was to tap into the joyful and playful personality of the brand. How we were founded was on the notion of things like the Happy Meal and a light-hearted brand that brings joy to people," says Bagozzi. "The new campaign shows how our brand is a facilitator, bringing people together and making connections between them. So we wanted our moment of joy to be the epitome of that."
In Toronto, the restaurant set up an unassuming bench in front of a large, static "#imlovinit24″ backdrop. When one person sat down, nothing happened, but when a second person joined them, the background lit up with the words "Welcome to McDonald's," with a panel in the middle opening to reveal free food and coffee.
Photos from the Canadian event, as well as media from activations worldwide, can be found on the #imlovinit24 microsite. Like "Welcome to McDonald's," the restaurant worked with Tribal Worldwide and Montreal agency N/A on the activation.
"It was a bit of an experiment," Bagozzi says. "The new brand promise is all about real people, and this was saying, 'If we put people in an unlikely situation where they are exposed to the brand, does it still bring them together and illicit that moment of joy like those ones we captured at the restaurants for the campaign?'"
She adds that initial customer research has shown reaction to "Welcome to McDonald's" has been positive, with viewers praising the campaign's transparency and honesty by interviewing real people. Last year, Antoinette Benoit, the restaurant's new SVP of marketing told strategy that increasing customer research would be a priority, as would digital initiatives.
That's something McDonald's is doing on a global scale. In February, the restaurant saw a 1.7% decrease in sales worldwide, following a similar 1.8% drop in January and seven straight months of decline to close 2014. Ahead of the campaign's launch, Matt Biespiel, McDonald's senior director of global brand development, told Ad Age that the company is looking to become more of content producer to better reach a millennial audience that moves across screens.
However, Bagozzi says this particular Canadian activation won't be replicated or used in the campaign beyond a few sponsored social media posts, as pushing the same activation would cause it to lose the "spontaneity" that consumers have been responding most to in the dozens of "Welcome to McDonald's" videos it produced, she says.
"The idea was this would be one small thing that wouldn't be on a huge scale," Bagozzi adds. "That's not to say we wouldn't do more things in the future, but not this exactly. If we do more with it, it loses its spontaneity and that 'in the moment' authenticity."