Sun Life: 150 years of making life brighter
How the financial company with humble Canadian roots has become an international powerhouse.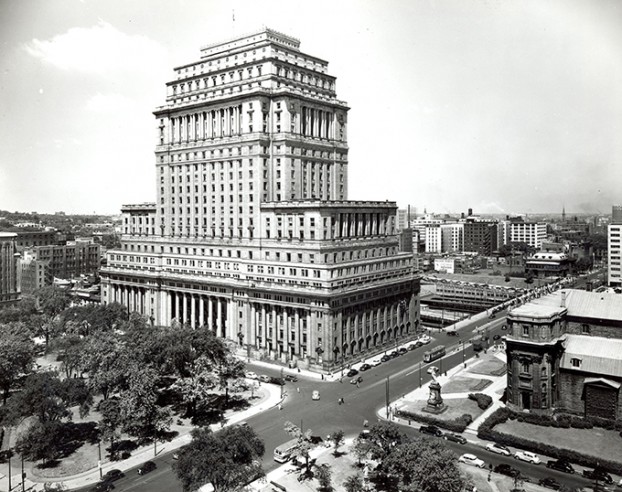 This story appears in the April 2015 issue of strategy.
The Montreal businessman who founded Sun Mutual Life Insurance Company in 1865 likely would not be surprised by what the company has achieved over 150 years. Mathew Hamilton Gault had a dream to build an insurance company that would contribute to the growth and prosperity of this new country. He did that – and more. By the turn of the century, his company had expanded to the U.K., U.S. and Asia.
Gault's vision and values guided growth throughout the decades and live on in today's Sun Life Financial – a Canada-based international organization now serving millions of customers in
dozens of countries.
Over the years, the company's products and the way they're marketed have changed greatly. From the early days of instilling fear in consumers to today's life-positive messaging, the brand has evolved to reflect changing attitudes in society about insurance and finances.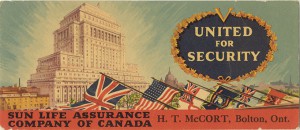 In the beginning, typical turn-of-the-century insurance sector marketing in North America was centred around fear. It was a reflection of the era, when there was war and great economic uncertainty.
In the 1880s, Sun Life touted the fact that it was the only Canadian insurance company offering an "unconditional policy." It published year-end results in newspapers to highlight its financial strength, and in 1896 introduced an early form of content marketing with Sunshine, a magazine distributed to policyholders, the public and employees.
In the early 1900s, Sun Life ads in the Globe and Mail were pointedly male-skewed and exhorted them to live up to their responsibilities. The copy was quite melodramatic with lines such as "Dear little babies – helpless" and asked men if they had prepared for the time when their wife and children could no longer look to them for food and shelter.
During the 1940s, ads took on patriotic stance to show the company's support of the war effort with waving flags and the line, "United for Security." In the post-war years of the '50s and '60s, Sun Life focused on insurance and estate planning for all the newly married couples.
Sun Life traditionally did not use mass advertising to support its brand but rather left it to the company's business areas to handle product and brand promotion.
That changed in the late 1960s when Sun Life's first major celebrity promotion began with the signing of hockey player Jean Béliveau as corporate spokesman in marketing collateral and television commercials.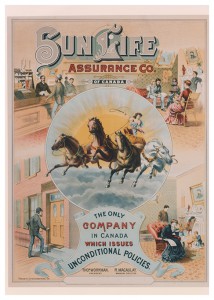 In the early 1970s, the company's marketing function became more prominent when a corporate restructuring made it one of three main divisions. By the middle of the decade, the strategy had switched from promoting products to Sun Life's people and the company. The thrust of these campaigns, by McKim Advertising, was "quality of life," using sponsorships promoting sports, health and well-being.
When you fast-forward to today, the category is remarkably different. Sun Life is now a financial services company with a wide range of investment products, in addition to health and life insurance. Its marketing approach is all about the consumer. Messages are centred around what the consumer wants and needs and less about the company.
To illustrate how Sun Life Financial helps people achieve a bright future, the company launched the national "Life's Brighter Under the Sun" campaign in 2007 with TV spots and print ads in highly visible programming and popular magazines. The company worked with agency ACLC on the campaign, and then Zig, which merged with ACLC in 2008.
This people-first approach also led Sun Life to a big attitude change about retirement. The company used Ipsos Reid to help it track the expectations of working Canadians for the past seven years. The survey discovered the number of Canadians expecting to be working full time past the age of 65 is now greater than those who expect to be fully retired. In addition, one-third of those currently working expect they will outlive their savings as compared with only one in seven retirees.
Mary De Paoli, CMO and EVP, public and corporate affairs, says, "Retirement for people means many different things – including work – so it's a very different message that we now communicate to customers."
The company launched the"Money for Life" platform in 2011 with then-AOR Capital C (now the brand works with FCB) and media by PHD. The campaign aimed to show it's never too early or late to save for retirement.
De Paoli says the feedback from focus group testing after the first generation of "Money for Life" was surprising. Rather than skewing to an older demo as expected, the campaign also resonated with those just starting out. For them, "Money for Life" meant "money for living life" today and money lasting for the rest of their life.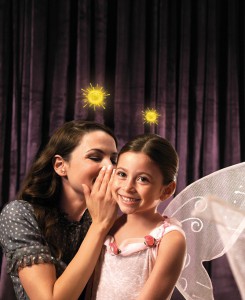 On the company's evolution, De Paoli says, "The insurance category has had to dramatically improve its view of the customer over the years. I think part of it is that the category has expanded for companies like ours to include wealth management. That allows you to approach a customer with a far more holistic view of how you can help their lives and the lives of their family."
The importance of customer service and innovation is reflected in Sun Life's investment in web, mobile and social media, where it focuses on listening and responding to customers, in triaging issues and quickly getting them the right answer or the right person to consult with.
"We've made it one of our highest priorities to constantly improve the customer experience anywhere, anytime and in any shape that the customer wants to interact with us," says De Paoli. "One example is [an elderly] prospective customer came onto our website a few months ago and used our Advisor Match tool. This person found their advisor online, contacted them online and then sat down and moved their business to them – and this person is 90 years old."
Sun Life has made significant investments in its customer insights team to ensure it gets rapid, real-time insights into how to improve its business. It's discovered that regardless of age or definition – millennial, gen-X, boomer, leading boomer or trailing boomer – customers want insurance companies to simplify the language they use to talk about products and services. Secondly, they want the digital experience to be as simple and efficient as possible. And thirdly, customers want their insurance company to value their business, whether that is by recognizing how long they've dealt with the company or understanding what is important to them.
The launch of its Brighterlife.ca website four years ago is one way Sun Life talks with customers. Brighter Life features relevant content for Canadians at every stage of life through sections dealing with money, health, family, working life and retirement, plus tools and calculators to help them manage life and plan a secure financial future.
Sun Life has also taken a page from successful campaigns developed by its Philippines operation that use sports and entertainment celebrities to promote the brand and the value of financial literacy. In Canada, Sun Life currently sponsors a number of sports properties, including the Toronto Maple Leafs, the Toronto Raptors, the Kitchener Rangers, the Montreal Canadiens and the CFL. These partnerships include in-venue exposure, TV spots, social and digital integration, hospitality and fan and employee engagement.
"Ten years ago we would have had a very traditional media plan, predominantly TV but mixed in with other traditional media," says De Paoli. "Today we still have a fundamental investment in TV but it's now also connected to digital, social, sponsorship and live events like our presence in the Grey Cup Parade, or tying TV visibility to the causes that are important to us, such as diabetes."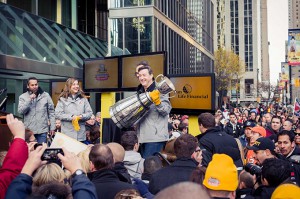 This year, to mark its anniversary, the Sun Life logo now sports the line, "Celebrating 150 years," curving around the sun. Print, digital and some localized marketing is taking place throughout March and April, including rink boards at Leafs and Canadiens games.
To say thank you to consumers, an anniversary contest is running on Facebook with sports-themed prizes such as Leafs tickets, and to highlight its long history, Sun Life has added a collage of company milestones and stories to its website.
The company also continues its philanthropic efforts, having invested more than $11 million in diabetes causes in Canada.
"Sun Life is not solely about products," says De Paoli. "Our brand is about building healthier communities, about being a sustainable company. It's about our local but also our global story – and it's about how we can help people in all facets of their life."
Sun Life around the world
To reach 150 years as a Canadian company is quite an accomplishment but many may not know that 2015 also marks Sun Life's 120th year of operation in the Philippines where it is the number one provider of insurance products. Sun Life has been in Asia since the early 1890s.
CMO Mary De Paoli explains that back then the same philosophy around Asia held true as it does now, that it's rich in promise and opportunity. "In the boardroom back in 1891, the company persuaded businessman Ira Thayer to go to Asia to start an insurance business. [They said,] 'Get on a train, go across Canada to Vancouver, get on a boat to Asia and take this trunk full of policy applications to a country where you don't know anyone, don't speak the language and we'd like you to start an insurance business. By the way, good luck, let us know how it goes' – and that's exactly what he did."
With an annual salary of $4,500 plus $6 a day for expenses, Thayer set up a business in China in 1892 that went on to prosper for the next 54 years. Sun Life grew to become the biggest foreign insurer in China until the Second World War when it shut down operations. The company returned to China in 1995.
Sun Life entered the U.K. in 1893, the Philippines and the U.S. in 1895 and by the end of that century had expanded throughout the West Indies and into Bermuda, South America, Hong Kong, India and Japan. Today, Sun Life also has operations in Ireland, Indonesia, Malaysia and Vietnam.
De Paoli says, "Building a brand around the world is so important because we're all much more connected and will be even more so in the future. There are so many new Canadians from Asia and in particular the Philippines, Indonesia, India or mainland China. When they come to Canada many of them know the Sun Life brand."
 The history of the Sun Life logo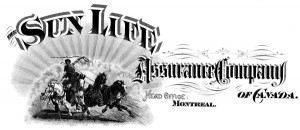 1874 T.B. Macaulay, Sun Life's president from 1915 to 1934, wrote in his 1893 trademark registration renewal letter that this logo represented the classical legend of Phaeton and the Chariot of the Sun.

1890 This symbol was used in all printed material and pressed into the gold seal at the bottom of all Sun Life policies from 1890 until the 1960s when computer printouts became the norm.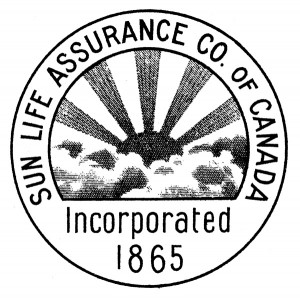 1907 This logo often included the slogan "Prosperous and Progressive." The slogan was dropped during the years following the Great Depression.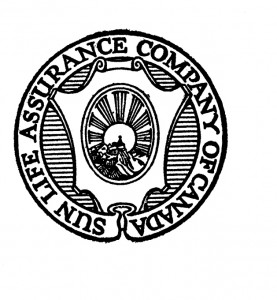 1915 This logo was used in a variety of printed material but was discontinued during the Second World War because of its resemblance to the Rising Sun flag, the symbol of the Empire of Japan during late 19th and early 20th centuries.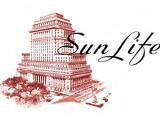 1946 Employee Austin Wright designed this logo depicting Sun Life's Montreal head office building. At the time, it was the largest office building in the British Empire. Its basement was the secret storage location of British securities during the Second World War. Variations of the building's image were used in Sun Life's printed material for 20 years.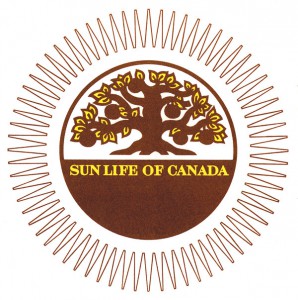 1965 The Tree of Life logo was created by Montreal designer Allan Harrison.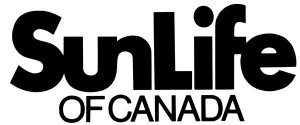 1974 Developed for the U.S. market by advertising agency Ingalls & Associates, this stylized logo quickly caught on in both Canada and Britain.

1987 The firm Stewart and Morrison designed this logo and introduced it at the company's 1986 annual general meeting.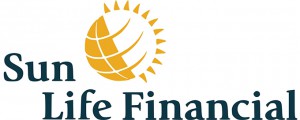 2000 The company introduced the now-familiar Sun Life Financial logo to mark the company's evolution from a life insurance provider to one of the world's top financial services organizations.