The next big things in retail
As omni-channel becomes the name of the game, and the lines between physical and digital blur, here are some trends to watch.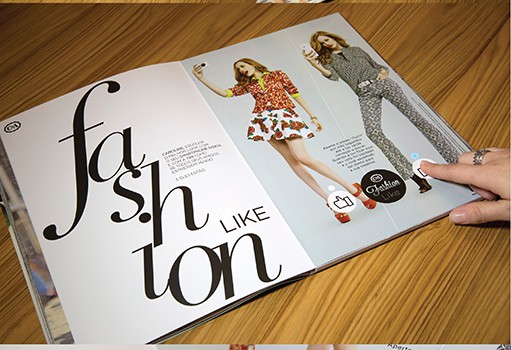 This story appears in the May 2015 issue of strategy.

Social comes in-store

Some forward-thinking retailers and brands are leveraging social media's ability to influence purchase decisions at the brick and mortar level. Agency Razorfish published a whitepaper on the topic, citing examples like Nordstrom, which has been identifying popular products on Pinterest, both in-store and online.

Back in 2012, DDB Brazil and retailer C&A's "Fashion Like" program brought an item's popularity on social media to the next level. Digital hangers identified how many "likes" an item received on Facebook in real time.
The campaign continued last year with "Fashion Like the Ad" (pictured above), for which a magazine ad depicted two looks, prompting readers (who were pre-selected to receive a copy of the magazine) to choose which they preferred. Clicking on one of two buttons integrated into the magazine sent their preference to their Facebook timeline, C&A's fan page, as well as to in-store displays.

Next-level customization

Personalization is getting much more sophisticated. Tory Burch in the U.S. with its Client Book tool is a key example of a retailer integrating its channels to enhance the in-store experience, says Brian Clarey, VP of client partnerships, Razorfish. Sales associates are able to provide a "concierge experience" of sorts, recognizing consumers' history and preferences, via the retailer's app, which can lead to "a much more informative interaction," Clarey says.

Meanwhile, in March, Sephora in the U.S. announced it will roll out beacons across the country, sending timely and personalized notifications to consumers who opt in. The beauty retailer also offers customized lessons in makeup contouring via mobile by analyzing a photo of a user's face to help assess its shape.

Lightening-speed delivery

Mobile enables consumers to buy pretty much anything anywhere, and the gap is closing on how long they must wait to receive their purchase. (Drone delivery, anyone?)

In Canada, JoeyCo, which considers itself to be the "Uber of everything," facilitating the delivery of anything from dry cleaning to groceries (via a team of freelance couriers), is in beta testing. Meanwhile, retail heavyweights like Best Buy, Walmart, Loblaw and Canadian Tire have been testing or adopting ship-to-store models, where consumers purchase items online and retrieve them at a physical location. And it's a trend analysts expect to gain steam.

The need for quicker, cheaper and more convenient shipping has been viewed as preventing Canadians from shopping online (although it's not the only reason), says Suthamie Poologasingham, senior advisor, e-commerce & omni-channel, J.C. Williams Group.

Third parties aggregators are getting in on the game too, she adds, such as Penguin Pick-Up by Smart Centres and Deliv in the U.S. The latter is a same-day delivery system that integrates into e-comm platforms but is also offered in store.

Even easier payment

Imagine never waiting in line to pay for something again.

SelfPay is a platform that's letting shoppers avoid those lines and pay anywhere in store. An app lets them scan items and pay with credit, debit or via digital wallet, and as they leave, they show a staffer their receipt, who confirms it with a companion app. Edmonton's Lux Beauty Boutique reportedly uses the system.

Payment through mobile via digital wallet is something that has been buzzed about for some time, but has yet to see widespread adoption.

Alexander Peh, head of market development and mobile, PayPal, however, expects that to change in Canada. But there must be a value-add for consumers, he notes (i.e., paying with an app can offer benefits like ordering ahead and rewards).