Canadian Young Lions winners revealed
Winners from Bensimon Byrne, Konrad, Leo Burnett, PepsiCo Canada, Procter & Gamble, Olive Media and M2 will be heading to Cannes this June.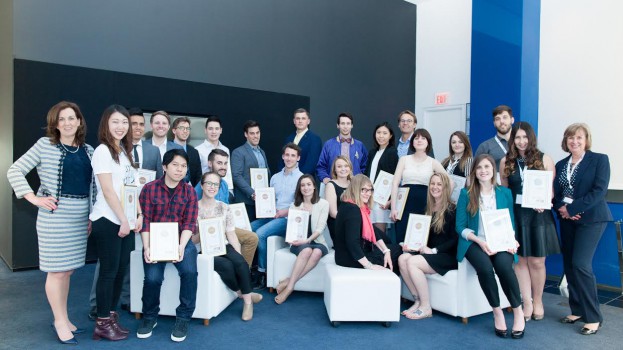 Pack your bags, you're going to Cannes! The winners have been announced for the 2015 Young Lions and Young Marketers competitions, presented by the Globe and Mail, presented at the CMDC's 20/20 Vision Conference.
The competition saw marketers under the age of 30 and creatives under the age of 28 produce a brief or ad for the anti-bullying organization No Place to Hide. Team members were briefed to create a campaign to launch the No Place To Hide initiative to help make the internet a safe place for everybody, whatever their age, gender, ethnicity or social class. Print, Cyber and Media teams had 24 hours to complete the project, while Film teams had 48 hours. Young Marketers had 24 hours to create a two-page brief, with the three-to-five shortlisted teams presenting to judges in Toronto.
Taking the top spot in Print was Carly Ouellette, an art director intern from Bensimon Byrne and Carol Hung, an art director from K9 Strategy + Design. Their campaign showed a "like" symbol and comment bubble made to look like a gun with the tagline "Likes and comments can be lethal."
Ben Prout, an account director from Konrad Group and Hannah Smit, an art director from John St. took top spot in Film. Their project showed a child writing out a comment online, and a mother commenting that "whore" is misspelled. The short finished with the tagline "If you're not part of the solution, you're part of the problem." This is Smit's second trip to Cannes as a Young Lion, she went in 2013 with Kyle Lamb, bringing home Silver for Canada.
Winning the Cyber competition was Sally Fung, designer and art director at Leo Burnett and Jason Soy, copywriter at Leo Burnett. Their project asked people to check if they were a cyber-bully by entering their Twitter handle into the ad.
Megan Metzak, national account manager at Olive Media and Celia Gibb, senior communications strategist at M2, took the prize in Media. Metzak and Gibb said the inspiration for their project was to give people the option to say no to cyber-bullying as many times as possible using their mobile phones through their media plan.
This year's winning Young Marketers were Telis Carayannakis, associate marketing manager at PepsiCo Canada and Michael Holmes, assistant brand manager at Procter & Gamble. The team used Old Spice as the brand for the project, staging a "Meantervention" that aimed to make "cyber-bullying as uncool as B.O."
In all 287 teams entered into the Cannes Young Lions and Young Marketers this year, up from 276 last year. The winning teams will represent Canada in the global Young Lions competition in June.
Photo credit: William Suarez