Natrel opens a Milk Bar
The brand brings its focus on product innovation to retail with a flagship coffee shop in Montreal.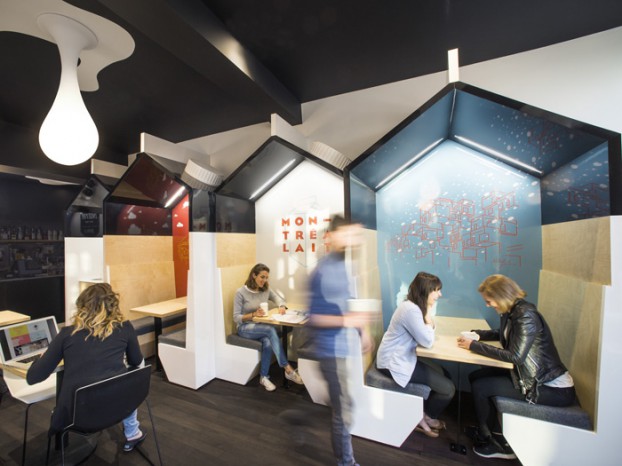 Natrel is bringing its innovation-focused brand repositioning to retail, partnering with Quebec coffee chain Java U to open the Natrel Milk Bar.
The Milk Bar serves Java U's coffee and features a milk station stocked with Natrel products, as well as a full food offering, some of which features sauces, creams and dressings made with Natrel products. Located in Montreal's Sud-Ouest borough, the design and visual architecture of the café was handled by Lg2boutique's design team, led by resident architect Helen Fortin. The space's décor is meant to emphasize the benefits of bringing milk and coffee together, which will hopefully encourage customers to think differently about how they use milk, something Caroline Losson, VP of marketing for Natrel at Agropur, says gives the Milk Bar a different atmosphere from other coffee shops.
"We always had the dream of having some kind of retail footprint to be able to have a lifestyle-focused space for people," she says. "All we needed was that hook and that opportunity with Java U, because people don't get up in the morning and say they're going to get a glass of milk."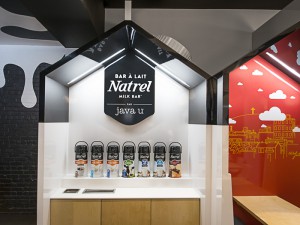 Aside from the retail space, Losson says the Milk Bar will also be "an innovation hub" for the company, a place where Natrel can test new products.
"It's really the completion of the brand repositioning," she says. "We need to have people think about milk differently and have different milk offerings, and the Milk Bar is a space we can leverage to do that, and really is the expression of the Natrel brand as we want it to be today."
Last year, Natrel's parent company Agropur announced it was repositioning the Natrel brand, focusing on product innovation, enforcing its status as a "natural" product and following trends to enhance and put more marketing behind its organic and lactose-free offerings, as well as increasingly popular alternatives like soy and almond milk.
Losson says that focus has allowed Natrel to perform well in a category that is in overall decline, but keeping up with changing tastes as traditional white milk consumption continues to fall will be an important area of growth for the company going forward.
"In general, we're a pretty traditional industry when it comes to innovation, whether it's for regulatory reasons or just the fact that it takes really long to develop new products with milk because it's a fresh product," she says. "So [the Milk Bar is] an important pillar for us. It's going to be a growth engine to identify new opportunities, whether it's through simple line extensions or entirely new categories that we'll be extending the Natrel brand into."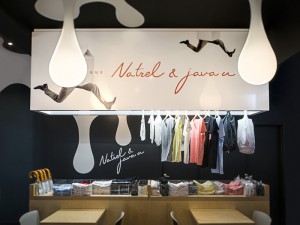 The Milk Bar will also be the home of the Montrealait Clothing line of clothing and merchandise. The cotton used to make the shirts in the collection has been treated with an organic, milk-based protein to make it extra-soft. Those who can't make it to the Milk Bar in person can order the merchandise from its website starting on May 28.

Losson says, now that the company is pleased with what it has accomplished at its flagship location, it has begun to think about the potential of opening more Milk Bar locations in Toronto and Vancouver next year.

Lg2 also handled creative on a campaign promoting the Milk Bar in print and OOH in Montreal, as well as on social media, with Dentsu on the media buy.