This story appears in the June 2015 issue of strategy.
There's a lot of value in offering up more than a good product. So to resonate with consumers, some brands are wisely bringing them on board, and making them the central part of the story.
It can be tempting as a brand to simply sponsor an event and hand out product samples – but it's not the most novel idea. This could've been an easy option for Kraft's liquid water enhancer, MiO, which had racked up awareness but needed people to try it. Instead, it added a whole new perspective to an already entertaining experience.
Working with Taxi, it brought its new platform, "Make It Original," to life at Toronto music festival NXNE. Concerts usually only have four or five cameras capturing the action, but the brand was prepared to change that and hand fans the reins – literally equipping them with their own camera. The "MiO POV" app let festival-goers live-stream concert footage they captured on their phones onto the mainstage screens to share their perspective of the event and become participants, not just viewers.
"MiO POV" was downloaded and used by nearly 10% of the audience, despite being offered for just a night, which translated into more than 45 minutes of footage, repurposed for promo videos. The brand also distributed nearly 64,000 samples at NXNE.
Similarly, Ikea engaged a desired demo with a campaign focused on their participation.
Purchasing Ikea furniture can be seen as almost a rite of passage for many young people moving into their first apartment. But once they reach 35, many feel they've outgrown the retailer, and that it just doesn't understand families.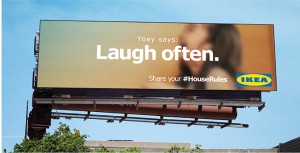 Working with Leo Burnett, Ikea launched a campaign to show its relevance by demonstrating it knows how modern families live.
After examining the relationship the 35+ crowd had with their homes, an idea emerged around how each household had a set of unwritten, but known rules. Enter the "House Rules" campaign, which asked consumers to share their house rules on a microsite and social media, spurring responses around room-specific behaviour or policies around things like leftovers and pets (such as, "Try not to laugh every time the dog runs into the screen door").
Divisive rules like "Shoes off at the door" were used on social media, setting a record for the most engagement the retailer generated through a post, while it also incorporated the most popular ones into mass advertising, like "Laugh often."
Ikea saw a 12% same-store sales increase versus the prior year (the home furnishings category only grew 1%), plus an additional 5% during the retailer's Holiday #HouseRules period. Top-of-mind and spontaneous awareness for the brand increased 10%, while there was a 12% spike in those who had made a recent purchase, versus a year ago. And the program generated more engagement than any of the retailer's social campaigns.
But Ikea isn't the only brand to encourage consumer participation based on something they hold near and dear.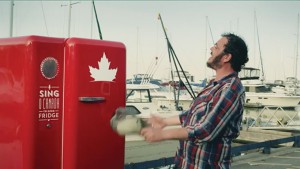 Molson Canadian's Beer Fridge had gained attention for its international exploits from Europe to Indonesia and its distinct breed of Canadiana (only Canadian passports could be used to open the fridge to indulge in a taste of home, namely a fridge full of Molson). But for its homecoming, the program's passport concept lost its relevance.
Working with creative agency Rethink and media agency MEC, the idea was to build off prior Beer Fridge programs and continue to tap into consumers' national pride. So for Canada Day, the Beer Fridge was set up with a new twist to showcase Molson's roots and connection to the country – the key to unlocking it was to sing the national anthem via a built-in speaker. Belt out a spot-on rendition of "O Canada," and the beer inside is yours.
Not patriotic enough? No beer for you. (Heck, go buy an import!)
The fridge was set up in public places four weeks before Canada Day, with the initiative garnering more than 1.9 million views in the lead up to and on Canada Day long weekend, with year-to-date views surpassing 2 million.
Like MiO and Ikea, Molson demonstrated how winning consumers over isn't hard when you put them at the heart of a smart campaign.
The hardware
Molson Canadian "O Canada Beer Fridge" Rethink/MEC Silver Experiential Engagement // Kraft "MiO POV" Taxi Canada Gold Tech Breakthrough, Silver AToMiC Collaboration // Ikea "House Rules" Leo Burnett Bronze AToMiC ROI, Silver Transmedia