Razorfish hires omni-channel-focused director
The agency has hired Indigo's Jim Reynolds to bring client-side experience to its growing digital retail offering.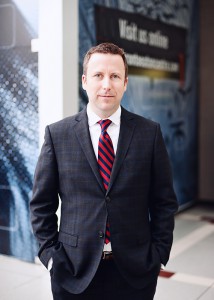 Digital agency Razorfish Toronto has hired Jim Reynolds as its new director, client partner as it continues to strengthen its omni-channel and digital offerings for retail clients.

Reynolds will be responsible for leading relationships with and providing strategic direction for the agency's retail client base. He will report to Brian Clarey, VP of client partnerships, who says Reynolds will initially be focusing on the accounts for Walmart, LCBO and The Source and will plug in to work for other clients as needed in the future.

"We've been very deep in retail, and fortifying that capability with a guy like Jim has been high on our priority list," Clarey says about hiring Reynolds, which aligns with the agency's goal of providing tech and digital solutions to retailers.

Reynolds joins the agency from Indigo Books & Music, where he was director of e-commerce product management. He has also had senior positions related to e-commerce and digital marketing at Walmart Canada and Sears Canada and consulted for Kanetix and President's Choice Financial.

"What Jim can bring is a real understanding and empathy for what retailers are facing," Clarey says. "He has had the experience of living those challenges day-to-day and he can blend his knowledge with the solutions and capabilities we bring to the table."

Over the last 18 months, the agency has seen a three-fold increase in RFIs related to commerce solutions from clients in North America. Those kinds of assignments currently represent about 25% of its revenues, although it anticipates that portion to grow to 40% in the coming years.

Clarey says, in response to that demand, Razorfish will be looking to grow its team working in retail, particularly with those who have experience in customer service innovation and data services. He says that expertise, along with the client knowledge someone like Reynolds brings, will help the agency create more responsive experiences for customers, be it transforming the in-store environment, the e-commerce platform or reaching them on mobile.

"We're going to be making our platforms more intelligent and provide more personalized experiences, which is especially important on the retail side," Clarey says. "Connecting that data, which was previously locked away in other parts of the company, to the experiences we are creating in their other channels improves the quality of those experiences and is one way we're standing out from a lot of our competitors."

Razorfish Toronto was created last fall when what was then Nurun's Toronto office, along with the office in Quebec City, was brought in to the global Razorfish network by holding company Publicis Groupe.