IGA and Unilever cook up a shopper program
Culinary artist Melanie Marchand takes centre stage in the evolving Quebec campaign.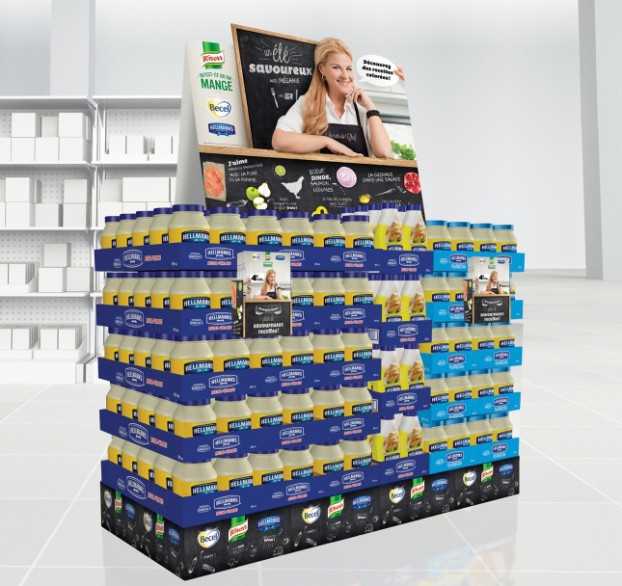 Unilever and IGA in Quebec have teamed up for the sixth year in a row to promote a trio of the CPG co's brands, with culinary artist Mélanie Marchand playing a key role.
Unilever worked with Montreal agency Bob to develop a shopper marketing program to promote Hellmann's, Becel and Knorr, which kicked off on Thursday, featuring in-store displays, coupons, recipe booklets with cooking tips, plus flyer and magazine support. Marchand is featured prominently in the campaign for the second year now, with a new theme revolving around a cooking lesson with her.
This year's campaign builds off last year's "photo novella" concept with the booklet, but takes it up a notch with elevated creative, explains Dominic Prigent, account director for shopper marketing at Bob. A more premium photoshoot with Marchand (who was also given more freedom this year to choose from Unilever's recipes and build tips around them for the booklet), along with higher quality paper and a more dynamic presentation differentiate this year's push.
Prigent sees an opportunity in the market for this more engaging kind of pamphlet (it goes through essentially a day in life of cooking with Marchand and her tips, with recipes on the back), versus the typical ones offered with just recipes and ingredients.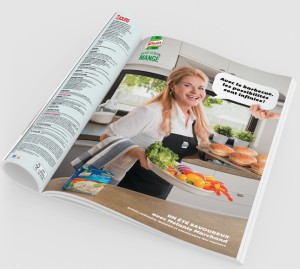 Additionally, this year's program features a blackboard motif within the creative which is a nod to restaurants, but ties into the cooking with Marchand concept – conveying how consumers can make what is close to restaurant-quality recipes with ease. But while typically restaurant blackboards feature written menus, the campaign's blackboards are intended to be more visually engaging, with images of food such as pomegranates and tomatoes. And it's simple, says Prigent, so you can see a few ingredients (such as salmon, pears and lime) and comprehend the recipe.
Another change this year is a large grouping of palettes (referred to as an "arch") in about 20 locations.
The program, which Prigent says improves each year and has been successful, targets mothers between the ages of 35 and 55, who are busy, want to cook easy dishes and like to add their own twist (which the program facilitates, he adds).
Using Marchand, who is a mother, a Quebecer and fairly well-known, allows the campaign to be elevated, he says, as she has a "joie de vivre" and connects with people ("people buy people," he adds.) And the idea was to use Marchand and the creative to go beyond "food porn" type promotion.