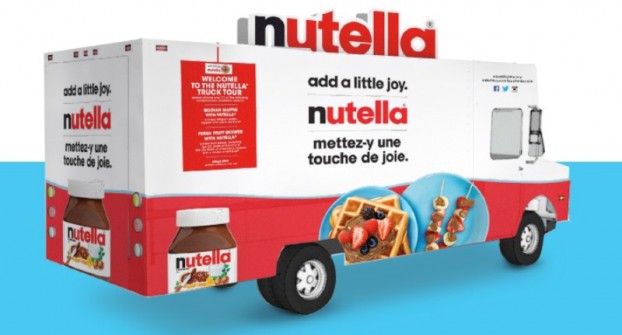 Nutella is kicking off a Canadian road trip with its branded food truck visiting four cities this summer.
Along with guest appearances from Italian-Canadian celebrity chef Stefano Faita (pictured), the Nutella Truck Tour will begin June 27 at the Toronto Zoo before visiting Quebec City, Edmonton and Saint-Jean-sur-Richelieu, QC later this summer.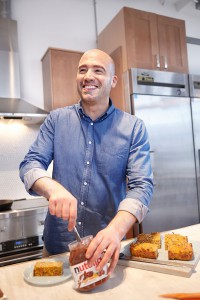 Each stop on the truck tour will include complimentary all-day breakfast options (a Belgian waffle or a fresh fruit skewer with the spread) along with interactive activities such as personalized Nutella jar labels, a claw machine game for prizes, a photo opportunity with a giant jar of the treat and limited-edition Nutella-themed prizes.
Faita has also created five new breakfast recipes that involve the chocolate hazelnut spread as part of the promotion. The recipes are hosted on a Nutella microsite (Addjoy.nutella.ca) and include a breakfast panini made with ricotta cheese, pear and Nutella; a croissant French toast topped with the spread, yogurt and raspberries; a buckwheat crepe filled with Nutella, banana, coconut and toasted macadamia nuts; a German pancake with apricot and the spread; as well as a breakfast apple cake topped with Nutella.
The "Add Joy" microsite allows Canadians to share their own Nutella recipes and play an interactive game for a chance to win a "spife" (a spoon-knife hybrid branded with the treat's logo).
The brand also recently surprised commuters in Toronto and Montreal with an impromptu Nutella breakfast, created by Faita.
In addition, Nutella recently partnered with Tim Hortons on a new line of pastries that use the hazelnut spread, as well as with grocery chain Longo's on a "Nutella Crêperie" travelling pop-up kitchen.
Boom! Marketing, Paradigm Public Relations, Noise, Touché! and High Road all worked with the brand for the Nutella Truck Tour campaign.