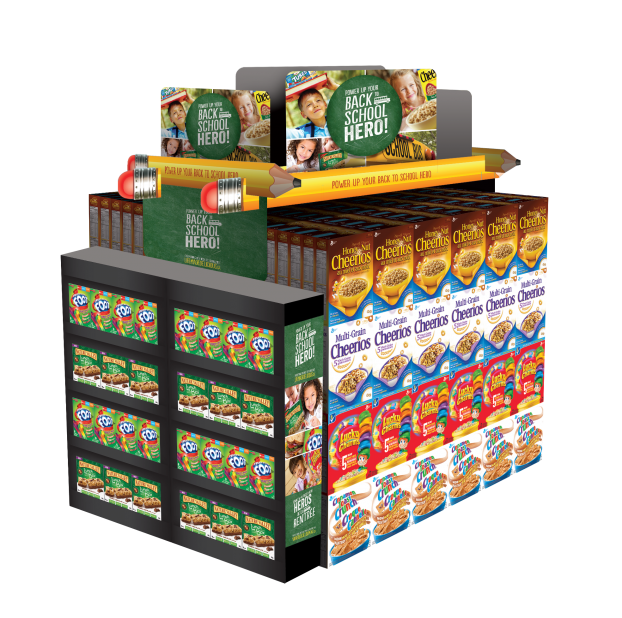 Every parent wants to help their child succeed, and with back-to-school promotions in full gear, it's an insight General Mills is betting big on with a cross-category program that represents a number of firsts for the CPG co.
The program, which kicks off this month, entails in-store POS (with a palette to combine cereal and snack products, as well as dairy aisle messaging around yogurt), its first-ever TV push for back-to-school, plus digital, including blogger outreach. It's also the first time General Mills has put a concerted effort into uniting the snacks, cereal and yogurt categories, its inaugural foray into branding its back-to-school marketing and also the first time it has featured POS in different parts of the store for this time period.

Bringing all three categories together offers numerous breakfast and lunch box options, tapping into the hope, optimism and new routines September brings, according to the brand.
Jason Doolan, director of marketing, snacks, explains the new program's creative is themed around the premise of "Power up your back-to-school hero."
"In each kid there's a hero waiting to be unlocked," says Doolan. "Mom's got an opportunity to really set those kids up for success."
Among the products featured in the program are General Mills kids' snacks, such as Fruit by the Foot, Nature Valley granola bars, including the Lunch Box peanut-free offering (new flavour SKUs were recently added to the lineup), cereal such as Cheerios and Cinnamon Toast Crunch, as well as yogurt, including its refreshed Yop. (Updated in the spring with new packaging and formula, the redesigned bottle is resealable and features a new wrap that allows consumers to see its flavour without needing to pick it up.)
General Mills worked with Mark Graham Design for in-store, Cossette Media for the media buy and Tribal on digital. The TV spot was produced internally.