How do you get $2 into a glass booth?
A stunt by National Bank aims to show the unique situations where Interac e-transfers can be used.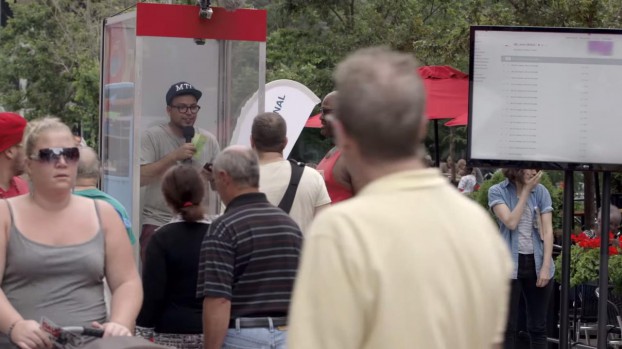 National Bank is promoting Interac e-transfers as a secure way to get any amount of money to someone in any situation – even if that someone is a total stranger trapped inside a glass booth.
During the Just For Laughs comedy festival at the end of July, National Bank and agency Sid Lee locked comedian Mehdi Bousaidan in a glass booth with a pair of tickets to that night's gala performance. Valued at over $125, Bousaidan was giving them away to anyone that could figure out how to get $2 to him. After many failed attempts at finding cracks or holes in the booth, attendees finally got the idea to ask Bousaidan for his e-mail address or phone number so they could send him the money by e-transfer.
"Many people have adopted the Interac e-transfer, and we imagined a fun way to reward them, while promoting the convenience and security aspects of this method of payment," said Stéphane Alozy, VP and partner at Sid Lee, in a press release.
The stunt is part of a broader campaign by the bank – which includes pre-roll, social and print – emphasizing all the different people who accept or "take" Interac when they are using e-transfers. Media on the campaign is being handled by Adviso.
Earlier this month, RBC also launched a campaign promoting e-transfers, portraying the bank as the hero against the "villainous" fees other banks charged for the service in fairytale-like animations.