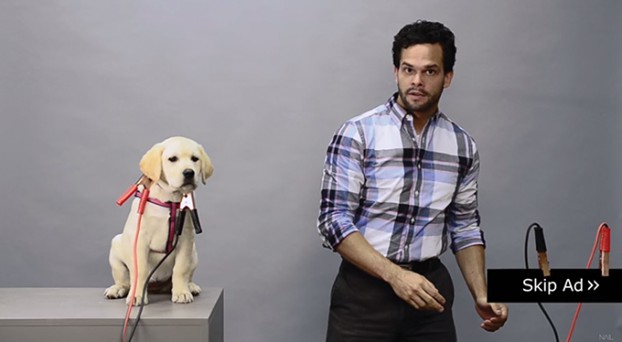 This story appears in the September 2015 issue of strategy.
Pre-roll is like the timeshare spiel you have to sit through to get that free trip to Hawaii – except that you have the option to skip the elevator pitch after five seconds. Good news for viewers, but not for marketers, especially if 94% of people say they press the skip button (according to research by MetrixLab). Pre-roll almost needs to be skip-proof, such as Geico's "Unskippable" spots, which kept people watching through to the end of the frozen scenes. But what other ways can brands keep viewers from skipping out? Here are a few examples.
Dare viewers to stay put: In the U.S., agency Nail Communications created pre-roll that saw a puppy connected to jumper cables with a man warning viewers that if they skip the ad, they'd electrocute the pup. When viewers didn't close the video after the five-second mark, the man explained that because they saved the puppy, the agency would help save more canine lives by donating a portion of its YouTube spend to the ASPCA.
And in Belgium, the Loterie Nationale's Lotto game initiated an old-fashioned staring contest with its audience, promising that if they played until the end, they'd be given the chance to win tickets to electronica festival Tomorrowland.
If you can't beat 'em, join 'em: Volvo, Grey and Havas Media in Canada hyperlinked 40 pre-roll ads to six billion hours of YouTube content. Each of the ads showcased a vehicle feature and was linked to matching content. Watching a video about a tornado? Volvo showed pre-roll of how its XC60 can track the weather and turn on its wipers when rain falls. A video of someone twerking? The brand showed how it can keep the junk in your trunk from shaking with its grocery bag holder.
Create a new "skip" button: Instead of being given the option to skip the Australian Federal Police pre-roll for its Missing Persons division, people were asked to indicate whether they had or hadn't seen a person who had gone missing. The spot featured a photo of a man, woman or child's face and asked if the viewer had seen them, with the skip button modified to show two options: "Yes I have" and "No I haven't." In just five days, 238 people clicked the first option and provided new information on cold cases.