Honda unboxes a new campaign
The car brand and Grip drive the unboxing phenomenon down a new road.
They say good things come in small packages, but a video for the 2016 Honda Pilot shows how big packages can be even better – not to mention the thrill of opening them.
The video, by Grip, taps into the unboxing phenomenon, often reserved for tech products (whereby people record themselves opening a new product and post it online). It's a key component in the campaign, with PHD handling media, to support the launch of the new, redesigned Pilot, which also features OOH, print, digital banners, "Glove Box Interview" videos with the lead product planner and dealership POP.
"It was just a way of taking those unboxing videos and doing something hyperbolic with it by unboxing a vehicle – of all things," says David Crichton, creative partner at Grip, adding it's about that ta-da moment.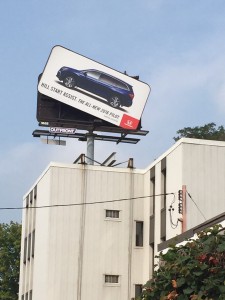 The video's hand-held quality and raw feel was a way to convey things subtly, such as when the narrator notes, "That's so Honda, overly protective," ensuring the points are delivered but not in a heavy-handed ad speak way, he adds.
The video and other campaign elements are an attempt to play into each medium, Crichton says. OOH aims to convey the vehicle's features in an innovative way, as the Pilot's hill assist function is taken to new heights (or should we say, angles), depicted via a slanted billboard recreating an incline. Another billboard communicates the vehicle's capacity by positioning an eight-seater couch next to the Pilot.
As for the "Glove Box Interviews" with chief engineer Marc Ernst, the brand aims to offer consumers a look into what went into the development process, as research was conducted to create a vehicle to meet Canadian consumers' needs.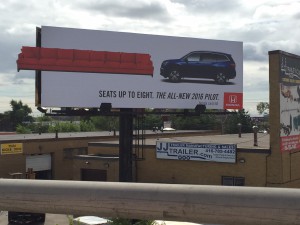 "We wanted to give consumers a bit of an inside look and understanding of how the new Pilot came to be, especially since our engineering team had some great stories to share about the process," says Kate Lucek, advertising manager, via email.

This latest campaign for Honda stays the course of previous work the agency has done for the brand, says Crichton. Last year, a campaign for the brand's Fit showcased how much space the vehicle offers, with OOH featuring a funnel full of stuff – everything from a cooler to a bike – to illustrate how much you can fit into the vehicle. Earlier in 2014, a social-heavy campaign for Honda featuring rival neighbours Phil and Steve saw the creation of separate Facebook pages for the pair, and drove nearly a 15% year-over-year sales lift.