Reitmans spins off Hyba line
Working with AOR Marketel, the brand's activewear banner breaks out on its own, with a new brand positioning and campaign.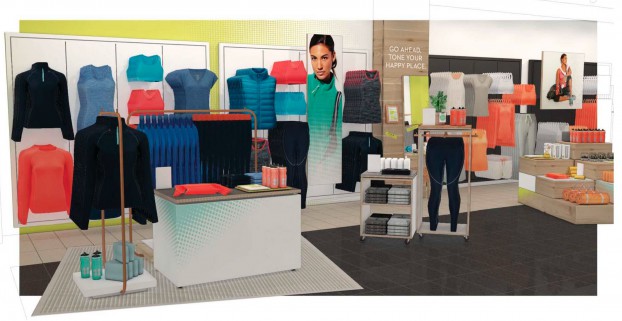 Reitman's activewear line Hyba is touting its accessibility as it branches out into its own banner next month, with 17 locations slated to open across Canada. Marketel and its marketing-to-women division Marketelle have been enlisted as AOR to craft the brand DNA and a campaign, hitting the market on Monday.

"Hyba speaks to the majority of women who are seeking to become more active without the pressure of becoming a top athlete," said Jackie Tardif, SVP for Reitmans and Hyba, in a release. The brand, which Reitmans has carried for the past two years, eschews highlighting things like the number of calories one has burnt or how far they've run, she said.

"It's about bringing the fun back in fitness; it's moving while doing the things you already love doing," which consumers say is relatable, she added.

And the brand aims to address a gap in the market.  "The truth is that the world of activewear is a very elusive and unattainable world for the average woman," said Diane Ridgway-Cross, EVP and managing director, Marketelle. She says there is no activewear brand on the market today that is accessible in its portrayal of activity, price points, array of sizing and brand attitude and demeanour.

As such, a spot entitled "The Movement" aims to be a rally cry around bringing the fun back into fitness, featuring the mantra "Moving is fun. Fun is the Movement." and women posing questions like, "When did burning calories take over belly-laughing?" The campaign, which kicks off Sept. 21, also includes the launch of a website, slated to feature brand-related content and enable women to partake in what it's calling the "Movewear Movement."

Touché OMD is handling the brand's media, while the spot was produced by ALT Productions and directed by Jean-Marc Piché, with La Mejeure on sound.

Reitmans recently announced it had selected Tank to help revamp the brand in a competitive climate (it revealed plans to shutter its Smart Set banner last year) and unveiled its new spokesperson, Meghan Markle, of Suits fame, in a new campaign. Prior to that, Marketel worked with the brand on a jeans campaign.