Rejuvenating Reitmans
How the mid-priced retailer is staying in the game by asking a new generation to reconsider the brand.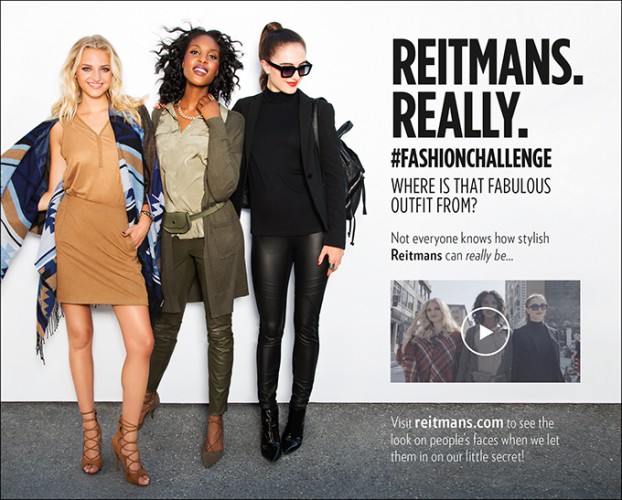 This story appears in the November 2015 issue of strategy.
"Where'd you get that?"
It's a pretty simple question. But the answer, in one case, has sparked not only a new campaign for a legacy retailer, but a position as a purveyor of fashion that deserves a second look.
Reitmans has been working on a re-energized image for about the past four years, so it may continue to survive in Canada's dog-eat-dog mid-level fashion industry.
While stores like Jacob, Mexx and Reitmans-owned Smart Set have gone under against trendy fast-fashion brands and growing e-commerce, the Reitmans banner is working to evolve enough to stay fresh and relevant, while still maintaining its place in customers' lives.
"We're not dropping all the basics and classics, but we're injecting a lot more fashion and styling into the assortment," because customers are asking for it, says Jeannie Vondjidis Miller, VP of marketing and visual presentation, who joined Reitmans in 2014 after working agency side with shops including Cossette and Taxi.
But while Reitmans enthusiasts may have noticed the changes in its product line, not everyone had. That led to the "Reitmans. Really." campaign, launched in September by the brand's recently named AOR, Tank.
As part of the new campaign, the retailer took its clothes to the streets, asking passersby to guess where they originated, only to be incredulous at the answer. The surprised reactions to finding out that the clothes came from Reitmans, and not high-end or fast-fashion brands, were captured on camera for English and French TV spots and online videos.
"It's rooted in a truth," says Valya Kruk, EVP, partner and chief strategy officer at Tank. In other words, Reitmans was completely aware that people were genuinely surprised that a 20-something's skirt or blouse came from the store and not from Zara or H&M.
"We found a way to make sure that the product speaks with no sort of advertising tricks around it," adds Alexandre Gadoua, ECD at Tank. Rather than making bold claims that Reitmans is fashionable, letting real women respond to the clothes spoke for itself, he says.
As part of the more fashion-focused evolution, Reitmans also teamed up with actress Meghan Markle as the new face for the brand in out-of-home ads and a "Reitmans. Really." TV spot,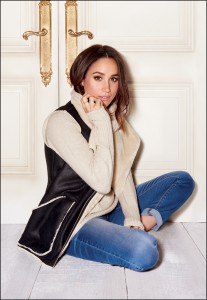 featuring a pair of friends in a restaurant craning their necks to check what the fashionista is wearing and surprised to learn the outfit is from Reitmans.
"She's a great ambassador for the brand because she's not just a pretty face," Vondjidis Miller says of the 34-year-old star, who is also a UN Women ambassador. "She's smart, she's a fashion icon, but she gets it that women can't spend a thousand bucks for a jacket but want the look."
Injecting just the right amount of (practical) fashion and styling into the nearly 90-year-old brand is allowing it to reward its loyal core customer, but still skew to a slightly younger demographic and bring in new shoppers.
"Our first priority is still our core customer. We're still focusing on making sure our base, our loyal customer, is happy," Vondjidis Miller says, referring to women over age 30.
Continuing to offer business-casual lines and basics like its Modern Comfort Pants, for example, has been key to Reitmans' continued success, she says.
Reitmans also has a diverse customer base, with its 337 stores across Canada ranging from small towns to major urban centre locations, meaning the brand has to appeal to a wide range of women, she points out.
Because of the diversity of the base, that also means its competitors are varied, she notes, ranging from Costco to Zara to Hudson's Bay.
"I'm sure they have some loyalists but in all likelihood, the loyalists aren't going to be the ones who will carry them forward," says Jim Danahy, a retail analyst and CEO at consultancy firm CustomerLab.
"This positioning campaign, while useful, is still going to have to rely heavily on the goods," he says of "Reitmans. Really."
"The tale will be told in their assortment, since this is a retailer that doesn't stock other people's merchandise," he says. "They're a mid-market player with a specialized assortment and they're going to have to hope that they can win with style."
It's working on it. In terms of product, Reitmans' designer team travels worldwide for inspiration and it's now moving from a more commodity-based store to one that's collection-based, Vondjidis Miller says.
For instance, in 60 stores, as well as online, Reitmans is also now offering a new line called Willow & Thread made up of more premium workwear.
Focusing on fit has also been important, with its range of sizes being a key differentiator, Vondjidis Miller says (the plus-size section in-store carries up to size 22, and size 20 is available online as well).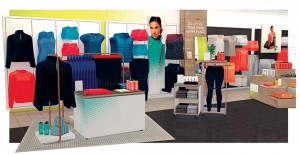 "If you're past a size eight, forget it," she says of mid-level competitors. "The fact that we have developed an offering that can fit so many women has put us in a different place."
Outside of workwear, Reitmans is also placing more emphasis on activewear, a segment where the retailer has seen growth. In September, Reitmans announced the spin-off of its Hyba activewear line, giving the brand its own store locations – with 17 set to open across Canada – along with continuing to support it in Reitmans locations and online (the retailer has offered online shopping since 2012).
To promote the line, Reitmans retained Montreal's Marketel, with the agency's marketing-to-women division Marketelle considered the perfect fit for the brand that aims to appeal to women of all sizes, Vondjidis Miller says.
A 60-second video spot, called "The Movement" is all about promoting fun alongside fitness, encouraging women to add the joy of moving around to their everyday lives. The Hyba campaign aimed to show its variety of sizing and "regular" women, in the hopes of differentiating from competing brands.
Back in March, Reitmans also worked with Marketelle to launch its new line of jeans, focusing on the struggle to find the perfect pair and turning that into a cheeky, slightly risqué campaign about "#DenimLoveStories." That campaign included a TV spot featuring a 30-something woman making her way to the bedroom with her beau, only to not want to part with her jeans when the time comes.
Like the "Reitmans. Really." campaign, the jeans push skewed slightly younger, still focusing on making women feel comfortable, but with a humorous tone. The campaign was in part about positioning Reitmans as more style-centric, but still playing up its array of styles and sizes. "Overall, we're known for our great quality of fit for our pants but a little bit less for the 'fashionability' of our jeans," Caroline Pilon, marketing manager at Reitmans, told strategy when the campaign launched.
Reitmans has had a certain light-heartedness since launching its first major advertising campaign in 2004. "We're maintaining that that's part of the personality of the brand," Vondjidis Miller says.
But previously, under its "Designed for Real Life" tagline, the focus was more on practicality, poking a bit of fun at the fashion industry with its "Armand and Albert" characters (created by then-AOR Taxi) beginning in 2007.
Back in 2012, some were sad to see Armand and Albert retire, but it did signal somewhat of a shift for Reitmans. "The beginning of what I would call the re-energizing of the brand did start then," Vondjidis Miller says.
It seems to be working. While the brand didn't disclose specific numbers, Vondjidis Miller says traffic is up in-store and online and response to the "Reitmans. Really." campaign has been positive.
In the coming months, Reitmans will be focused on speaking to its customers in more modern ways, in part by investing more in digital, she says. For example, Reitmans-owned Thyme Maternity recently opened a concept store in Toronto's Yorkdale Shopping Centre, outfitted with iPads and animated videos. In the past few years, marketing spend has shifted more toward digital initiatives, although overall budget has remained steady, she says.
To further woo customers, Reitmans is planning to launch a loyalty program, which is currently taking shape and is expected to launch in the spring.
All of which is critical to keeping the legacy brand going. "It's very important that we keep injecting new energy into it," Vondjidis Miller says. "By elevating our fashion and our styling, I think we have a winning formula."