Beyond moustaches
How the Movember Foundation is using new ways to encourage donations in Canada.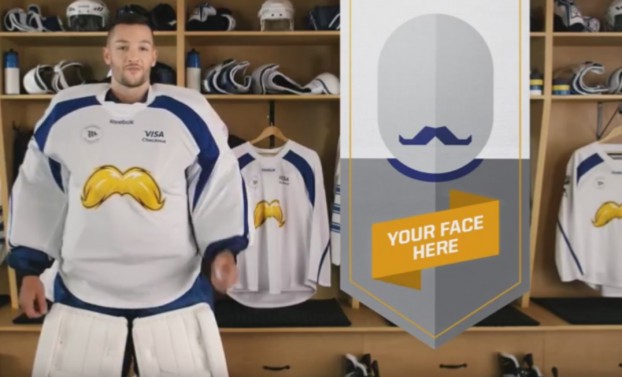 The beginning of November brings with it legions of men around the world growing moustaches. A new campaign and a new partnership are just two examples of many ways The Movember Foundation is hoping to keep Canadians interested in supporting their fundraising efforts this year.
A new series of videos by Sid Lee play on an observation that some of history's greatest achievements were done by people with moustaches, and proposes that having a little hair on their lip made it easier to reach new heights. Without a moustache, comedians bomb, astronauts get left behind on Earth and the best things Einstein can come with are are jokes.
The new global campaign was a joint effort between the staff in three of Sid Lee's offices, led by Los Angeles managing partner Nicolas Van Erum, Montreal ECD Kristian Manchester and Toronto VP of strategy Dustin Rideout. About a year ago, Sid Lee expanded with an office in Los Angeles by sharing office space with its client The Movember Foundation, which itself had recently expanded into L.A. from Australia.
In addition to being used to re-launch the Movember Foundation's "Man of the Year" award given out to top fundraisers in different regions, Manchester says focusing on personal achievement for the "Mo's of Achievement" campaign takes the humour the foundation's core audience has grown to expect and builds off of it to get them interested in the foundation's other growing fundraising efforts.
"It's been going on for a while and there might be some fatigue for some people," Manchester says of the agency's first campaign with the foundation. "This was to go from what Movember has been, a movement with a lot of attitude and fun, and transfer that into the next 10 years and legitimize what they're doing in becoming the biggest men's health foundation."
Meanwhile, the Movember Foundation as a whole has been looking to diversify and legitimize its efforts, primarily through a new initiative this year dubbed "Move." The global initiative is meant to drive donations for Movember in ways that go beyond growing a moustache, namely by doing some kind of physical activity every day in November, which is tracked and supported in a way similar to those growing facial hair. Other companies partnering with the foundation in Canada as part of the Move initiative include Harley Davidson, which gave a free motorcycle to the winner of contest for those who signed up early for Movember, GoodLife Fitness, which offered free memberships in November to those who also signed up to fundraise during Movember, and Visa, which has launched its own Movember initiative as part of its partnership with the NHL.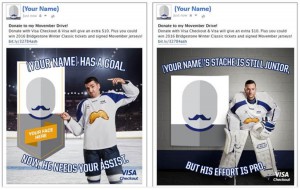 In November, Visa will also be launching a series of tongue-in-cheek social tools to create memes featuring NHL players Patrice Bergeron, Duncan Keith, Jonathan Bernier and James van Riemsdyk that can be shared to encourage people to donate to the cause. BBDO developed the campaign with Jam3 developing the web platform.

It has started with a simple image, with a picture of the moustache-growers' efforts added to one of a player with a headline offering words of encouragement. Later this week, a tool will allow people to insert their name and photo into a somewhat cheesy video of the player asking for support on the fundraiser's behalf, and on Nov. 12, fundraisers will be able to use voice recordings featuring the players to call their contacts and solicit donations.

"The easiest part for participants is growing the moustache. The hard part is asking for donations, and many people never get around that hurdle," says Nic Lopez, head of emerging products, marketing, at Visa Canada. "NHL stars are relevant to Movember participants, so we think they help make it fresh and helps people stand out in their fundraising efforts, especially from those who grow and don't fundraise."

In addition to showing its support for the cause, Visa is also promoting its Visa Checkout online payment platform. For every Movember donation made using Visa Checkout, the company will donate an extra $10 to the cause.