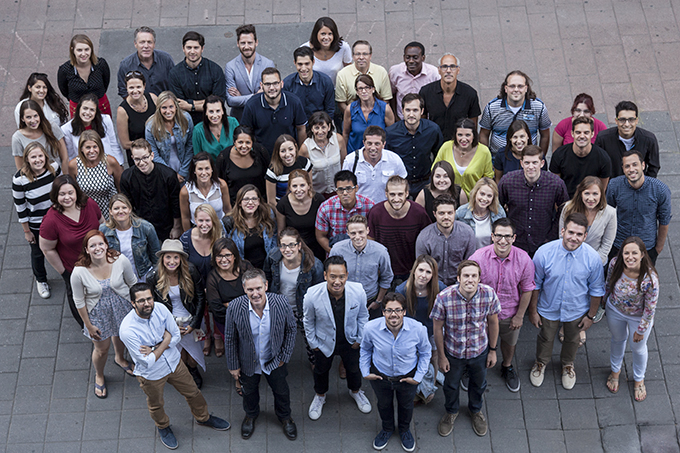 The past year has been a tumultuous one for media agencies. Dubbed "reviewmageddon" by some outlets, many agencies are leaving 2015 with fewer clients and a little worse for wear due to the sheer number of accounts that are under the microscope.
Then there's Touché!
Karine Courtemanche, president at the Omnicom agency, which has offices in Toronto and Montreal, admits it's tough to complain about the current environment when her team is riding a winning streak. "We have had a really good run over the past couple years, so it's tough for me to say that it's more difficult."
This year marks the first Media Agency of the Year Gold for the agency. So what makes 2015 special?
In the past year Touché! has increased its revenue by 35%, which was fuelled by account wins, including Desjardins, Metro, Cogeco and SiriusXM, all handled jointly by the Toronto and Montreal offices. Montreal also picked up the Tourism Québec and Ministère de la Santé et des Services sociaux (Quebec Health Ministry) accounts.
A focus on being hyper local in its approach, especially for retail accounts, is one piece Alain Desormiers, CEO and founder at Touché!, says has helped his team continue to generate new clients, noting the agency has doubled in size over the past three years.
"Like almost everyone, we have found 2015 to be special in terms of the intensity of the pitches," he says. "Although honestly the last three years have been quite something in terms of business development. We have been called on for a lot of new business opportunities. And there is almost always a pitch on the burner."
Courtemanche says that constant growth is necessary.
"Everyone realizes that with business growth comes growth opportunities internally," she says. "So we have tried to rally everyone behind the vision of growth that we have, there isn't the option of keeping with the status quo anymore. We have found that we are different, we believe that we are very oriented towards creativity and how data can fuel creative – that's our positioning."
What's impressive about Touché!'s run is the relatively short amount of time the agency has had a presence outside of Montreal. Opening its doors in Toronto in 2013, the team has since grown from a staff of 15 when it opened in 2013, to 50 now. That growth meant moving to a new larger office this spring.
"We are starting to look and feel like a real agency in Toronto," she says.
The move was timed alongside an internal reorganization at Touché!, creating a business intelligence unit to focus more concretely on data. The agency took its entire digital unit and divided it into three categories: strategy, buying and business intelligence.
"We made it more clear around the boundaries, and what each team should be delivering. We have so many big, data-driven clients now," says Desormiers. "I think 2015 has been a big one in terms of putting data at the core of everything we do."
The new business intelligence team, which is made up of eight people, has more of an emphasis on accountability and buying, says Courtemanche, focusing on buzzword areas like viewability and ad fraud. Each of the business intelligence unit members reports results to the entire team so that the strategists can use the data to inform future campaigns.
"Our restructuring is more about the requirements of the new business," she says. "The clients are, as they should be, obsessed with data. And we want to be structured in a way where we can move where they need us to go."
Though Touché! used existing staff to reorganize the digital team, the agency also grew overall last year, adding 22 new people. The agency also boasts about its small turnover rate, noting it was 15% last year.
What's next for Touché! as it closes out 2015? Desormiers expects the current level of account reviews to continue. And talking with Courtemanche it sounds like there is no chance the Touché! team will be slowing down.
"We truly believe that there is growth, or you're declining, there's no in-between," she says. "If you're not growing, then you're declining."
New business
Desjardins, Metro, Cogeco, SiriusXM, Tourism Québec, Ministère de la Santé et des Services sociaux (Quebec Health Ministry).
Staff
105
Cases
Sport Chek celebrates basketball stories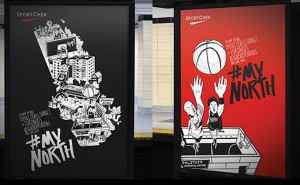 Canadian sporting goods retailer Sport Chek wanted to establish its credibility in the emerging basketball market. Amateur basketball players live in a microcosm, where passionate rivalries are defined by neighbourhoods. There are nine such neighbourhoods in Toronto and the "no outsider" rule is in effect at all times.
Sport Chek's "#MyNorth" campaign and apparel line (a nod to the Raptors' "#WeTheNorth" tagline) celebrated each neighbourhood. The retailer partnered with the Raptors' broadcaster TSN to produce documentaries featuring the neighbourhoods and player stories, and working with Touché!, it executed a guerrilla campaign that had creative representing each community's colours.
It used 500 media locations, like basketball boards, bleachers and street furniture, to install detachable posters and magnetic stickers. By making the campaign creative detachable, each person was able to take home and proudly represent their neighbourhood's colours.
At night, digital projections celebrated each area and the retailer dominated the subway path. Sport Chek invited players to share their personal stories using the hashtag #MyNorth, which were broadcast during the Raptors games and on the arena jumbotron. To encourage social sharing, an entire section was offered to fans at each of the 41 Raptors home games.
In the end, the campaign generated 15 million shares on social media and the apparel line sold in less than two months.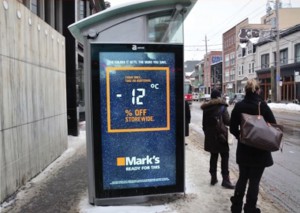 Mark's literally freezes its prices
In the winter of 2015, Canada was hit with extreme weather, which had a negative impact on retail. So Mark's launched a weather-triggered campaign, with the idea to promote in-store discounts linked to that day's temperature, using real-time weather feeds. The lower the temperature dropped, the deeper the discount.
Touché! and the retailer partnered with The Weather Network to be the first advertiser to access the network's weather feed. The brand was able to automatically activate weather-triggered ads in outdoor and mobile media, as well as on Facebook and weather websites across Canada.
In another media first, Mark's dominated city pages of The Weather Network. Page dominations are usually bought for a full 24 hour rotation and reserved months in advance. But Mark's set up weather triggers, such as the first snow storm of the season, and at any time during the day, page dominations were activated when triggers took place.
Discounts were different in each market and more than 67 million impressions were delivered. Where weather was active, sales were up 21% over the previous year.
Canadian Tire motivates motorists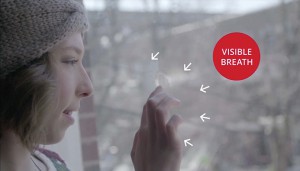 Every year, Canadians wait until the first snowfall to change their vehicle's summer tires to winter tires. Almost everyone rushes to the store to get their tires changed, and business is lost as Canadian Tire can't meet the compressed surplus demand.
The idea behind "Winter is coming" was to communicate to motorists that when temperatures dip below 7°C and their breath becomes visible in the cold air, then it's time to make the switch to winter tires.
Canadian Tire and Touché! partnered with Skype and placed ads on the program. In the ad, users were invited to "exhale into your microphone for a winter tires reminder" and when the microphone picked up the action, the screen frosted up, mimicking the frost on a cold window. It also supported the Skype ads with an online campaign.
Canadian Tire experienced an 11% increase in snow tire sales year-over-year, and 38% of the tires were installed in the three weeks preceding last year's schedule. Microsoft awarded the concept a "Best Of" Award in recognition of the innovative use of technology and for doubling previous engagement benchmarks on its network.