Sport Chek takes on the 'retailer playoffs'
The brand positions itself as a destination for gift-giving, not just sports gear, ahead of the holidays.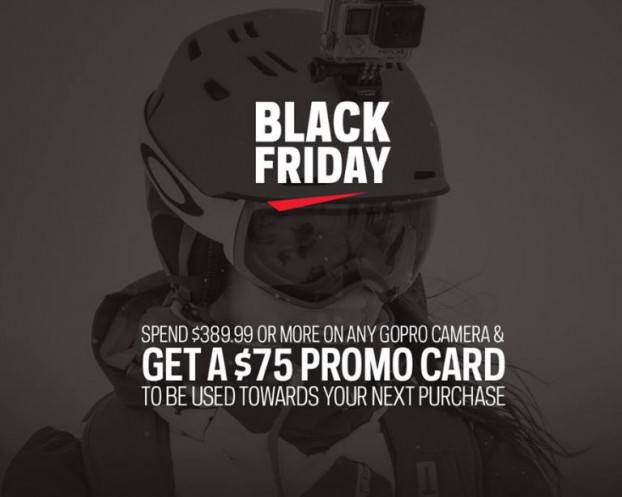 With the U.S. dollar riding high and Canadians embracing the Black Friday hysteria, this year's Black Friday sales at Sport Chek are expected to be the biggest yet.
The retailer has planned accordingly by tasking Touché! with strategizing a digital-first Black Friday approach, focusing on search, as well as short, deal-focused videos on Facebook and dynamic emails. It is spending the same as last year, but has reallocated funds previously spent on TV and print into more digital channels, says Frederick Lecoq, SVP of marketing and e-commerce, FGL Sports at Canadian Tire.
In a first for the company, Sport Chek is working with New York-based marketing automation company Bluecore to create dynamic emails that will customize blasts based on factors including past purchase behaviour on its site and how people interact with the company's ads. Previously Sport Chek had sent the same digital email to its list of one million database subscribers.
Last year's Black Friday sales amounted to about 70% of what the company made on Boxing Day. This year he expects today's sales take to go up to 80%, or even at par with what has historically been the biggest sales day of the year.
"Right now Black Friday growth is about three times higher than Boxing Day growth," he says. "It means that Black Friday is becoming something more established."
Lecoq says Black Friday is an increasingly digital and social play, noting that, as a marketer, you're looking for a share of wallet, not a share of voice to reach consumers for this shopping occasion.
"People have a budget for the day that they want to spend," he says. "So you need to ramp up your distribution pretty quickly so you can make the most of the traffic in your store by noon, because that's when people are going to be spending more than 50% of their daily spend for the day." 
Aiming to bridge what Lecoq says is traditionally a two-week gap between the sales of Black Friday and Cyber Monday and when holiday shopping resumes in earnest, Sport Chek is launching a new campaign targeting gift buyers beginning today.
Called "Gift of Sport," the campaign aims to present Sport Chek as a destination for gift buying for the first time.
"We felt we had the right products for holiday shopping, but never really marketed it," says Lecoq. "You can lose your year if you drop a week in the next month. It's the retailer playoffs. So anything you can do to drive incremental sales we'll take."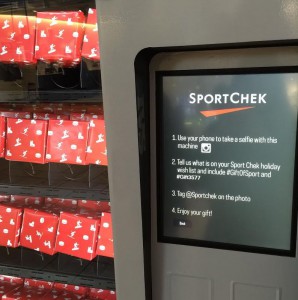 Sport Chek's holiday campaign begins in high-density areas around Toronto today, including the CF Toronto Eaton Centre and Union Station. Sport Chek has placed social media vending machines in those locations that are stocked with over 300 products, which are released when passersby interact with the machine by taking photos and sharing them on Twitter or Instagram. Prizes include gift cards, athletic goods and hockey game tickets.

"The social vending machine is aimed at breaking through during a noisy period," he says. "Everyone will be distributing flyers and will be on TV, so we want to stand out."

In addition to that experiential element, the holiday campaign includes three videos with the tagline "25 Days of Giving," in which Sport Chek athletes including Steven Stamkos and Mark McMorris surprise fans with gifts.

Sport Chek's "Gift of Sport" runs through to Boxing Day.


From Media in Canada