Marketers of the Year: Modernizing milk
Agropur's Caroline Losson is on a mission to make Natrel more than just a milk brand.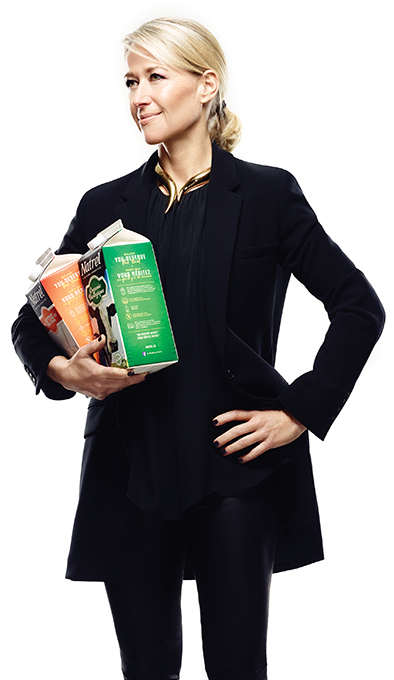 This week we're profiling our six Marketer of the Year winners. Check out the previous two, Jason Doolan from General Mills and Labatt's Kyle Norrington. And stay tuned the rest of the week to read the other profiles. 
This story appears in the December/January issue of strategy.
If you think of your favourite lifestyle brand, your mind probably doesn't immediately go to milk.
But perhaps soon that won't be the case, if Caroline Losson has any say in it. Following a rebrand last year to highlight Natrel's more premium positioning, the VP marketing at Agropur is using her passion for creativity to help push the 25-year-old brand into the modern era, especially as milk consumption in Canada has been on the decline.
Take the brand's recent Latte Art challenge in Montreal. Working with Quebec coffee chain Java U, Natrel brought together 10 local baristas to compete by creating masterpieces in their mugs.
"It is our role to reinvent the relationship between people and milk, and have them think about milk differently," Losson says. "One of the key pillars is to reposition, to have people think about Natrel being the best milk for coffee."
Hosted by local TV celebrity Pénélope McQuade, the contest was judged by an international panel and the winner was given a trip to Japan to help perfect their latte art technique. Digital videos featuring some of the judges also provided social media content long after the event.
The challenge was an extension of the Natrel Milk Bar in Montreal, a branded café also in partnership with Java U, featuring Natrel's products, a full food offering made with dairy and even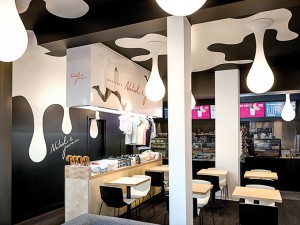 selling its Montréalait clothing line.
"That's a long-time dream of mine," Losson says of the Milk Bar, which opened in April and was designed by Lg2boutique. "I really wanted to…have that live interaction with people."
The Milk Bar's opening led to more than 8.2 million media impressions and sales are up at the café by 47% over last year, when it was a regular Java U. Lg2 handled creative for the print and OOH campaign promoting the Milk Bar, with DentsuBos on the media buy.
Natrel now has plans to open two more Milk Bar locations next year, in Toronto and Vancouver.
The café also serves as an innovation hub for the brand, where Natrel can test out new products (Losson's team of about 30 includes both marketers and research and development staff).
In part, the Milk Bar idea was inspired by Chobani's Greek yogurt bar in New York City, Losson says. Danone and Nutella have also done similar initiatives.
Claude Auchu, partner, VP and creative director at Lg2, says that attention to trends is a strong point for Losson, who he says is constantly sending links to her partners.
"When she sees stuff and she travels, it helps her to be ahead of the game and it helps us, as the creative agency, to be able to see a bigger picture," he says.
For the Milk Bar, the team at Lg2 and Lg2boutique had more of a brand cooperation in mind between Natrel and Java U, not the full takeover that resulted, complete with product-inspired décor and menu.
"It was one of the rare moments when the client is saying 'You haven't worked hard enough, you have to push further…and build something that's really a new experience'," Auchu recalls.
That drive is part of Losson's strategy to make Natrel about more than just milk. "Give people a product and they're just getting into the product, but if you let people know how this product will enhance their lives, then they're hooked [on] your brand," she says. "That's what we're trying to do with Natrel – really make it relevant in people's lives."
Building a brand is something Losson picked up from previous positions with Molson and Coca-Cola. "Coca-Cola was great in terms of being ruthless when it comes to branding guidelines and positioning and making sure that you're consistent," she says. Meanwhile at Molson, Losson learned to bring brands to life in a relevant way.
For Natrel these days, that's being done through digital. Five years ago, when Losson came on board, Natrel had virtually no digital media spend, and now about 30% of total marketing dollars goes toward digital and social. Since then, its Facebook followers have grown from about 4,000 to more than 149,000.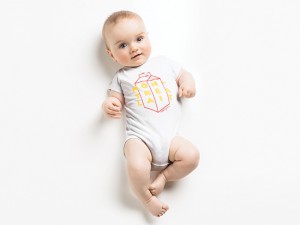 Part of its digital strategy includes driving to a slick website, featuring recipes and lifestyle content. It also has a Natrel Boutique, featuring the Montrélait T-shirts and accessories for sale. Overall, the brand is hoping to speak more to the coveted millennial target, many of whom happen to be foodies, Losson says.
"Everything that we do, we try to make sure that it's integrated," Losson says. "We avoid doing one-offs."
These latest initiatives stem from the repositioning that Natrel underwent last year, aiming to make it a more innovative brand "inspired by nature." Prior to that, it was just too similar to its competitors, Losson says. "It was always a premium product, it was just not perceived as such."
To begin, the brand worked with Lg2 to revamp its packaging with a new look and stronger materials.
"I felt it would be the first and the most important step in the deployment of the new brand positioning," she notes.
Natrel's strategy seems to be working. As of August, roughly a year into its rebrand, it was the number one premium milk brand in Canada (which includes filtered, organic and lactose-free), according to Nielsen. It has also been voted as the most trusted premium Canadian dairy brand in the Gustavson Brand Trust Index, which is based on an online survey of about 3,000 Canadians.
It has also been combatting a changing milk market through product innovation, and a focus on its lactose-free line, which has a patented process and is touted by Natrel as the only lactose-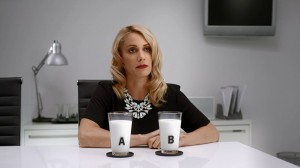 free option in the market that tastes like fresh milk. With about 40% of Canadian households having some degree of lactose intolerance, it's an important segment for the brand, she says.

In September 2014, Natrel worked with Lg2 and DentsuBos on a targeted digital campaign around the superior taste of the lactose-free option. Featuring 12 different 30-second messages, the campaign led to 17.5 million unique views, with 66% of coupons redeemed. As of November, Natrel Lactose Free had 60% market share in that segment, a 6.9 point increase from last year, according to Nielsen.

The brand has also introduced new flavoured milk options like Maple, Caramel Latte and Dark Chocolate, that can also be used in cooking (again, going after that millennial foodie target).

Losson is now looking at new strategies to keep the brand relevant. Going forward, Natrel will also be developing new cream products and continuing to tap into the foodie movement with its marketing.

It's also working on ways to go after Canada's diverse ethnic population. For example, it created online recipes specifically for the Chinese New Year and the Jewish holidays in September.

Natrel does engage deeply with data analytics, pre- and post-testing all of its marketing campaigns, tracking trends and using syndicated market research. But it begins by just engaging with people, according to Losson.

"I encourage people to just go, stay in a store, observe people, talk to people, understand what our product, what our brand means to them," she says. "I am a firm believer that it starts with listening to people."