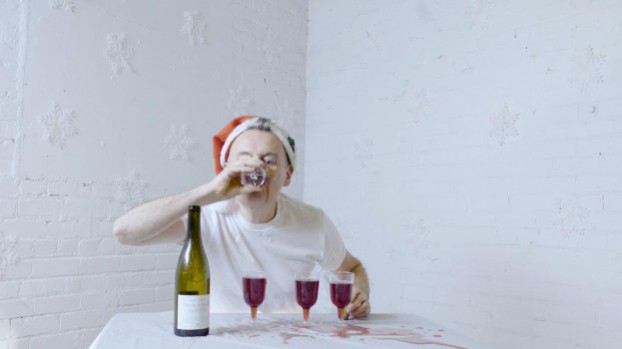 There is nary an agency that's saying "bah humbug" to the creative holiday "card" trend (we mark this with quotes because, well, there are very few simple fold-out cards. We're talking agencies creating apps, books, clothing, videos, inventions, etc. to spread their holiday cheer these days). We're not complaining, but we'd just like to note that there was a flood of them the past two weeks, so much so that we couldn't keep up, and we decided to spread them out into a three-part series. Here is the second batch, stay tuned for more tomorrow, and if you missed the first group, click here.
Diamond turns client's shirts into pillows and banners into bags
We're big fans of recycling, so much so that we would go through the rubbish to throw incorrectly discarded pizza boxes in the recycling bin [Ed. note: Jen actually did this the other day]. So to say this holiday initiative by Diamond Marketing makes us warm inside is an understatement. For this year's gift to clients, the agency took their trash and turned it into treasure.
Each year, hundreds of marketing activations take place, with a whole heap of posters, signs and boards just piling up in warehouses and collecting dust. Instead of discarding them the traditional way, Diamond decided to turn the work they "no longer need into something that somebody does" by recycling out-of-date print ads into paper, old banners into a bag, and leftover t-shirts into pillow cases. In the end, the agency managed to created more than 100 bags of upcycled gifts for charities in Canada. Watch the video below to see the making of each item.
Instead of giving gifts, Will Creative decided to consume them on camera
Warning: this video is not safe for those who are squeamish at the sight of people eating and drinking.
The creatives at Will have proven to be very generous during the holidays. They could have easily just sent a gift bag of goodies, like champagne, cake and whipped cream to their clients this year. The problem with doing that is there is a high possibility that said client would associate their post-consumption feelings of regret with the shop. So, Will did something genius. It gave clients the ability to have their cake and eat it too, kind of, by asking them what their holiday vice was and then sending a personalized video of one of Will's staff consuming it (in all the wrong ways) as quickly as they could on camera. We can't think of anything more generous (while strangely infuriating) than the gift of watching someone else enjoy your present.
Cundari's timer app lets families "give presence" to a worthy cause
The consensus this holiday season is that we don't spend enough time with our family.
Coming from a pack of five siblings who live in four different countries across the world, I'd give a kidney to spend the holidays with all of them again. But, admittedly, what would probably happen is we'd end up spending a good portion of the occasion behind our phones, because that's what we humans do now. Cundari wants to put a stop this and get people to spend more time with their loved ones this season, so it created an app called the Family Timer, which tracks the amount of time you spend away from your phone. But it gets better, because for every second that you spend with your family and not your phone, the agency will make a donation to a Syrian refugee family in Canada, who probably know the value of being with loved ones better than anyone. Not a difficult task if you ask us. You can download the app here or here, and remember to use the PIN code 2015 to ensure your time is converted into donations.
BBDO sees your adult colouring book, raises one colouring tablecloth
This colouring tablecloth from BBDO could either be a fantastic tool to bring the family together or the one thing that tears them apart. I might relate to the latter, as I come from a family of obsessive compulsive neat freaks, and after one too many eggnogs, a slip of the wrist could lead to colouring outside the lines and the resulting reactions probably wouldn't be pretty. But, for those who aren't as methodical, this is a great activity if you're bored of the annual Christmas puzzle or card game. The tablecloth features a holiday design, and the best part is that the markers are washable, so you can colour in the lines again and again until you're sick of seeing family and tell them it's time to go home.
 Sid Lee's quirky pre-roll ads are sure to give you a laugh
If you get a kick out of jokes that are uncomfortably awkward, then you'll love this collection of holiday videos from Sid Lee.
The agency did something pretty bold and took a contentious adblocker and "soaked it in the magic of Christmas" by creating "The Christmatizer." The browser plugin automatically replaces every pre-roll ad that comes up on YouTube with videos made by Sid Lee. And they're not your ordinary holiday videos. They're the most bizarre (but kind of brilliant) things we've seen this season. There are men in rubber suits, swaying back and forth as they imitate a human fire. There's also some turkey-fisting, poorly dubbed music and hairy armpits. Now that's holiday cheer.
You can view some of the videos below, or go through them all here.
Rethink hacks and hangs phones onto Christmas trees
This is the third holiday card we've come across that puts an emphasis on spending time with the family. And rightfully so, because, honestly, no one really wants to have to fake their death to get family members' attention.
Rethink's solution to get people to unplug this holiday season comes in the form of a Candy Cane tree ornament. It was fashioned out of a pen and includes a custom headphone jack that you can hook up to your phone and then hang on the tree. When connected, the ornament pairs with a site created by Rethink to have different animated characters be displayed on the screen. For example, there are things like snowmen, gingerbread men, and even nutcracker ornaments in the likeness of Rethink founding partners Ian Grais, Chris Staples and Tom Shepansky.