Nissan gets in the mud
Why the brand has veered away from exclusively featuring winter weather in its new creative.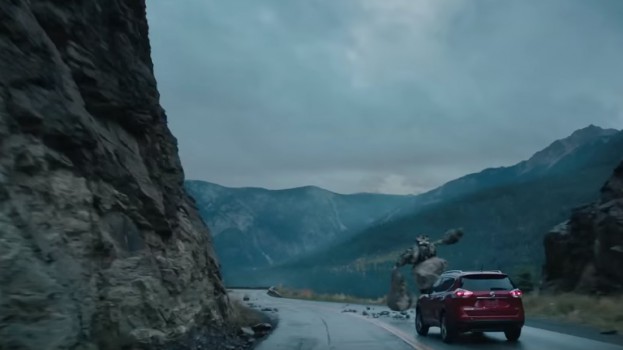 The newest spot in Nissan Canada's "#ConquerAllConditions" campaign hopes to show Canadians that its all-wheel drive can help them tackle whatever weather gets thrown at them, even if it isn't the snow they might be expecting.

In the "Rocky Road" spot, which debuted yesterday during CTV's Super Bowl broadcast and was created by Juniper Park\TBWA, we witnessed a scene familiar to those who have seen past executions of the "#ConquerAllConditions" campaign. The forces of nature that cause terrible road conditions, in this case mud and rockslides, become personified as monsters, which someone in a Nissan Rogue dodges and avoids to rescue other drivers in another vehicle.

"We've got a formula we think is working for us, so we wanted to evolve, but also didn't want to stray too far," says Steve Rhind, VP of marketing for Nissan Canada. "One thing we found is that, while the campaign gets a reaction from people, some of the spots have gotten a bit dark, so to speak. What we wanted to do was make it feel a bit more positive. It's subtle, but the sound effects and the monsters themselves are a bit more lighthearted and not as intense as some of the others, so Nissan isn't always showing you these dark, scary things."

The "#ConquerAllConditions" campaign debuted in 2014 to help launch the Nissan Rogue in Canada. Since then, the campaign has turned angry snowmen, icy bridges, snowy trees, potholes and mud into monsters trying to dramatically stop drivers in their path.

"We really wanted to break through and get noticed with something big and dramatic," Rhind says of the campaign launch. "We know that all-wheel drive is the number one reason for purchasing an SUV or crossover. When we tried to figure out why that was, we came to the idea that it gives you the confidence to deal with what Canada will throw at drivers from a weather perspective. The campaign was us trying to bring that confidence to life to get peoples' attention."

Last year, the scope of the campaign was expanded to include the company's other SUVs and crossovers, with spots focusing on the Murano, which was launched in Canada, as well as the Juke and Pathfinder. The campaign was, and continues, to be expanded to in-dealership messaging.

Rhind says a big difference going into the "Rocky Road" spot was the decision to not exclusively feature winter weather, as previous iterations have.

"We heard back that once you get closer to spring, people don't want to hear about or see snow," Rhind says. "It's a bit of a challenge because, with snow, everyone in Canada can see that and relate to that really quickly, whereas the other weather conditions maybe don't feel as severe right away, but we're trying to get the same, dramatic reaction from people."

Rhind adds that not focusing on as much as snow will also allow the brand to use the spot later in the year. Like past years, the spot will continue to air post-Super Bowl through March, but with options to bring it back periodically during the spring before evolving the creative again for the fall. Media was handled by OMD and features a digital buy that will be targeted to potential customers in areas currently under some kind of weather alert.