CIBC banks on flexible chequing
A new campaign aims to show how a lower-fee account can help eliminate stress.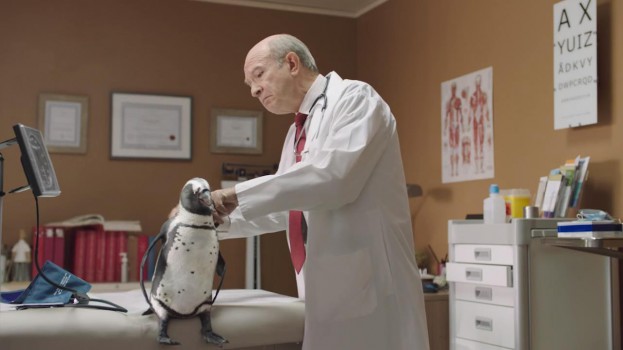 CIBC's latest campaign is sending a message to Canadian consumers that its newest chequing account really helps deliver on the promise of "worry-free banking."

Launching today, the campaign is supporting the newly-launched CIBC Smart chequing account, which uses a flexible fee structure (ranging from $4.95 to $14.95 per month). The first spot, which will be televised and stream online, features the bank's penguin character, Percy, at the doctor's office, learning his blood pressure has gone down because his new chequing account removed much of the stress of banking. It then moves on to a more intimate part of his physical.

The spot features the "smaller" Percy puppet, which CIBC tends to utilize more in broadcast ads, as opposed to the larger one that is used in social activations and more "real-life" situations. A second spot, showing Percy waking up from a nightmare about bank fees with his wife, will debut in the near future. Juniper Park\TBWA handled creative on the campaign, with Mediacom handling buying.

In addition to the two spots, hundreds of pieces of digital, social, print and in-store creative has been produced for the campaign. Angela Sarino, senior director of marketing communications at CIBC, says banks have tended not to produce many mainstream campaigns around chequing accounts, as there has been little variation in the kinds of products offered or differentiation between the institutions offering them. Besides being a new product in the Canadian marketplace, CIBC wanted to put a lot of effort into letting consumers know about it  because of how it fits into the bank's larger "Banking that Fits Your Life" brand positioning.

CIBC wanted to convey the emotional benefit to the consumer, which is that the account offers worry-free banking, Sarino says. The campaign is targeting people who are using unlimited banking accounts and who are already used to paying monthly fees somewhere around $14.95, she says, but also those who might feel constrained by having to count transactions to stay under a limit, something she says is a common behaviour for those without unlimited accounts.

Many clients also end up making more chequing account transactions than they think, because of the ease of things like tapping their card to pay, and end up paying more in fees than they intended, she says.

Sarino adds that being able to reduce fees based on behaviour brings added value to those currently using unlimited chequing accounts, as does offering unlimited e-transfers, which research suggests consumers would use more often if there weren't a fee involved.