Social Lite ready-to-drink launches in Ontario
The vodka cocktail brand is expanding with help from Arlene Dickinson.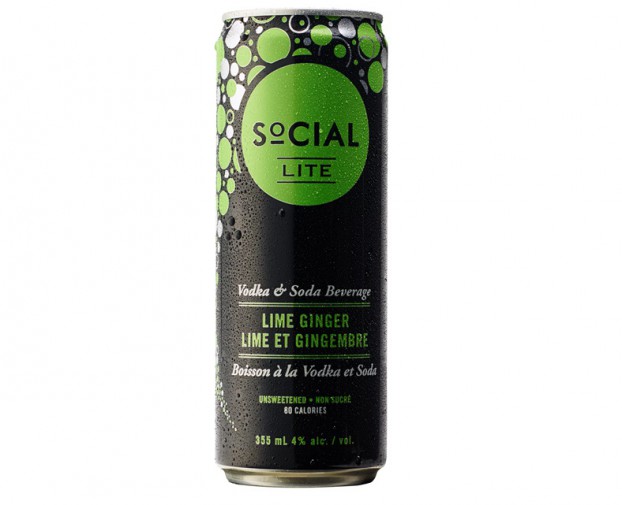 About a year after debuting on CBC's Dragons' Den, ready-to-drink cocktail brand Social Lite Vodka is launching in Ontario at the LCBO.
The brand, first made available in Western Canada just over a year ago, claims to be the first ready-to-drink sparkling vodka cocktail that has no sugar or artificial sweeteners.
After the brand appeared on Dragons' Den in March 2015, Venture Communications' CEO and "dragon" Arlene Dickinson came on as a Social Lite partner.
Social Lite has been working on evolving the visual identity and packaging for the brand, calling more attention to its fun personality and "effervescent" flavours, along with 80 calories per can – its main differentiator, she says. It's been working with Venture on packaging and start-up the Hatchery on its overall positioning and visual identity.
Currently, the brand has two flavours – lemon cucumber mint and lime ginger – in British Columbia and Alberta. It will be launching the latter flavour in Ontario this week with the updated look on the packaging. The refreshed packaging will be used in all markets where Social Lite is available this summer.
While the brand does resonate with millennials, in particular, the target is more of a psychographic one: people who are health-conscious but also like to socialize and pick up a drink, she says. The 80 calories and no sugar promise is meant to speak to those who want to remove the guilt from their social moments and does tend to skew female, she says.
Through summer, Social Lite's founders will be doing product sampling, including surprising people in cottage country, participating in festivals and taking advantage of the LCBO's programs to promote itself in-store.
The brand is also currently working on stepping up its game with social media and digital advertising, working with both the Hatchery and freelancers in Toronto.