UBC tells its research stories
"Today's Assignment" shows the people of B.C. how their university is making a positive impact off-campus.
The University of British Columbia is showing the province's residents what world-leading research is happening in their own backyards.
Created by DDB Vancouver, "Today's Assignment" finds images that illustrate some of the university's high-level and unique research, complete with a custom URL that connects to a dedicated web page with more information. The research areas range from concussion prevention and HIV/AIDS transmission to honeybee conservation and app reward system Kiip.
The creative is running until the end of June in print and out-of-home in Vancouver and Kelowna, where UBC's campuses are located, as well as in digital and social channels. Media buying was handled by OMD's Vancouver office.
"We wanted to find stories that had a research impact that had happened already so people could better relate to them," says Kari Grist, managing director of communications and marketing at UBC. "They're stories that are relevant for today and for people whether they're on campus or somewhere else in the world. University rankings have put us as one of the world's top research institutions, but we're not sure that people always appreciate what a powerhouse UBC is in this area."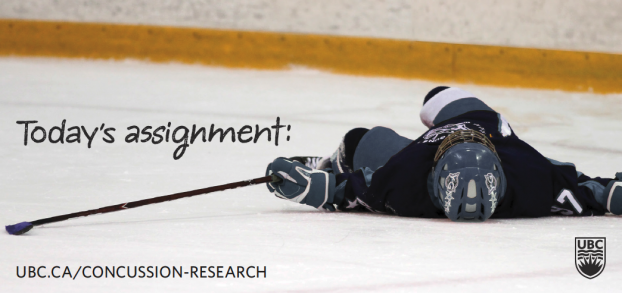 Grist says this is the first time since the 2010-2011 academic year that the university has put a paid media buy behind its marketing. Some of its past campaigns have touched on UBC's research, but in more general terms and not touching on specific areas. Grist says the university has told some of its "research stories" on its website and on social since then, resulting in a great deal of interest and engagement, part of the reason it felt it should put a paid buy behind them and communicate them in a way that had a positive impact on the university's reputation.
"As a category, post-secondary doesn't tend to do breakthrough marketing work. It tends to be pretty conservative," Grist says. "But we are doing breakthrough work on the research side, and the role of the university is to ask difficult questions and find the answers to them. So we felt we needed a strong and bold and evocative platform to break through and bring that to the forefront."
While most post-secondary institutions in Canada tend to focus on student recruitment in their advertising, "Today's Assignment" is more about connecting with the communities UBC operates in and around, particularly what Grist calls "business influencers." She says UBC has primarily engaged potential students through social media, email marketing and an on-the-ground presence at events like education fairs, which it continues to do.
"Universities are multi-faceted and we have multi-faceted stakeholders," Grist says. "Aside from the important work of teaching 60,000 students every day, we're also making research breakthroughs every day. This might provide a nice benefit to our recruitment, but the big goal was to remind people of what we're doing by making it relevant to people who aren't necessarily coming to school."