AToMiC Awards: Removing the friction
These social campaigns broke barriers to action with devices and narrative techniques.
This article appears in the June 2016 issue of strategy.
Food donations made Uber easy
Part of Uber's appeal, particularly among the young professionals who are the ride-sharing platform's principal boosters, is its direct payment method: no money changing hands, no waiting, no friction. The consequence of this, and digital payment in general, however, is less cash on hand. You may want to give money to the person you walk by, asking for change, but you're no longer used to carrying any.
To coincide with Hunger Awareness Week, Uber wanted to make it simpler to help. The "Uber Hunger" campaign used its Uber Eats delivery platform to bring food to those in need.
"It takes a little more for you to go in and buy a lunch for somebody and [then] connect with them," says Joel Holtby, CD and partner at Rethink, Uber's agency in Canada.
While some may object to this depersonalized giving (a bit of messy, human interaction might have a bigger impact on both parties, and lead to thinking about longer-term solutions), the immediate benefits are obvious. Users could either wait at the destination to deliver the meals themselves or leave it up to the drivers, using the app to direct them to the recipient. More than 800 meals were delivered in Toronto that day, and the campaign was covered in Canadian and international media.
The hardware
Uber "Uber Hunger" Rethink Gold Cause and Action
Bringing Back a life with an iPod
Music can reach Alzheimer's patients in a unique way, offering a path to otherwise irrecoverable memories through the songs they used to know. The Alzheimer's Society of Toronto and J. Walter Thompson built on this insight to conceive the "Music for Memory Project."
The organization solicited new and used iPod shuffles, devices chosen because of their simplicity and lack of visual distractions to the musical experience. The organization worked with families to load the iPods with patients' favourite music, allowing them to rediscover parts of their identity the disease had made inaccessible. Giving an iPod, which donors could imagine being used by a patient, created an easy connection to the cause.
With more than 300 donation boxes at music stores around the city, the campaign garnered over 2,500 devices. Designers created posters for the cause and Toronto's Horseshoe Tavern hosted a charity concert, headlined by Spirit of the West's John Mann, who was recently diagnosed with the disease.
The hardware
Alzheimer Society of Toronto "Music for Memory Project" J. Walter Thompson Canada Gold Cause and Action
Implicating the audience
The Ontario government's public service campaign on sexual harassment, by Leo Burnett, took on the bystander. Rather than targeting inappropriate behaviour directly – by shaming attackers or speaking to victims – the ads showed cases of sexual harassment and called out the audience as passive witnesses. Viewers couldn't simply dismiss the ads as not applying to them (which can be an obstacle for effective cause campaigns) when assailants in the spots were thanking them for not speaking up.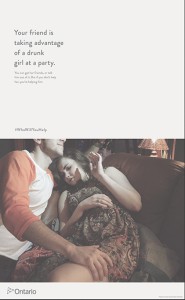 The message was flipped in its second iteration, showing an alternative ending where the audience had intervened; the would-be victim in the spot expressed gratitude that is also instructive, thanking the viewer for having helped in specific ways (telling the bartender, notifying HR, etc.).
The video's message proved to be universal, with viewers creating their own translations in Turkey, Brazil and China, leading to more than 120 million social impressions.
The hardware
Ontario Women's Directorate "#WhoWillYouHelp" Leo Burnett Bronze Cause and Action