The ride of a lifetime
As luxury auto brands offer more affordable vehicles and creative for a wider audience, they're maintaining premium status through tech and heritage.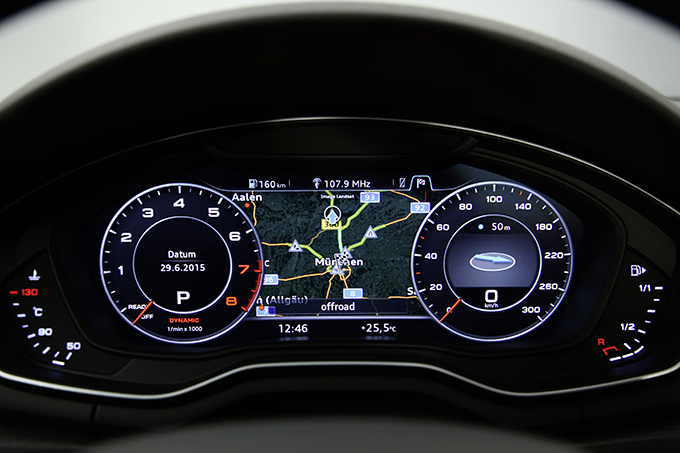 This article appears in the Summer 2016 issue of strategy.
When a company like Tesla introduces a $35,000 car, you know luxury has gone mainstream. However, a wider market brings a new set of challenges. What gives a luxury automotive brand staying power is its allure as a status symbol. But if you put the features, design and performance into an affordable package, are you priming the pump to bring in new buyers, or diluting your brand's badge value?
Earlier this year, Mercedes-Benz Canada ran a campaign, by BBDO Toronto, promoting its 4Matic four-wheel drive system, which included an aerial shot of 11 cars, crossovers and SUVs parked on an icy, Canadian lake.
That's a range of models that would have been rare to see from a luxury auto brand not too long ago. Larry Futers, president and CEO of luxury-focused branding agency 7 Communications, says premium car brands now need to stretch and apply the same prestige messages about heritage and performance to product ranges that have expanded to meet various consumer demands, from lower price points to things like starting a family and needing a larger vehicle, like an SUV. But even as brands respond to those demands with new models and price points, don't expect to see creative with sales promotions or kids going to soccer practice in their campaigns.
"The hero cars are still the performance models because the roots of the company are built around performance, and often that isn't synonymous with SUVs," Futers says. "If they're launching a $35,000 small SUV, do they want [affordability] to be the dominant message? Would that water down what it means to drive one [of these luxury brands]?"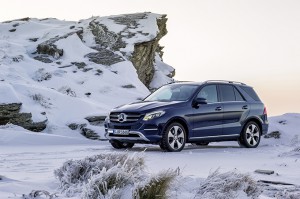 While luxury cars have been surging in the first quarter of the year, the sales aren't coming from the same places they used to. The top two luxury cars in Canada, the Mercedes-Benz C-Class ($43,000 – $83,700) and BMW 3-Series ($40,000 – $67,500), have seen their sales slide by roughly one-quarter through April, but both companies' overall sales have gone up – by 13.1% and 12.2%, respectively – because surging sales for their SUV and crossover lines have more than made up for it. And even though Audi's total units sold are just over half of Mercedes-Benz's, its sales are up a staggering 25.4% compared to last year, driven by a 46% increase in its Q-series crossovers and SUVs.
Toronto ad agency Heroes & Villains partner Emma Hancock has worked on numerous automotive campaigns throughout her career, at agencies including Dentsu and TBWA, and writes about cars and auto shows on her website TheCarGurl.com.
She says "the big three of luxury" are on an upward trajectory, not just because they've expanded their selection of SUVs and crossovers – which are well suited for Canadian driving conditions – but also because they made them available at prices that compete with non-luxury brands.
"The idea of getting a luxury car is still a reward for many of us," Hancock says. "What's changed is that the day when someone can realistically give themselves that reward has come a lot sooner."
BMW, Mercedes-Benz and Audi's newest SUV models are all meant to compete at the lower end of their price spectrum, starting between $34,000 and $38,000. By comparison, their first SUVs, launched in the late '90s, were also their most expensive, ranging from $65,200 to $70,800.
It's not only the affordable lineup that's desirable: technology and customer service are also important as they contribute to the category's aspirational and luxury status.
Daniel Weissland, who took over as president of Audi Canada last year, says Audi has improved its dealership experience.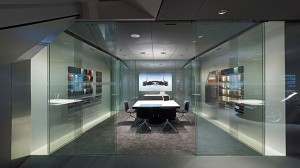 Now available in several markets, including its dealership in midtown Toronto, the Customer Private Lounges have a 3D configurator that allows potential buyers to customize every detail and option.
Audi is also exploring the next-gen tech inside its cars, like a traffic jam assist feature, which adjusts cruising speed when approaching slow-moving traffic and can also allow for hands-free driving.
"The next generation of drive assistance will be predictive, a system that uses information the driver does not have access to yet," Weissland says, such as a navigation system that maps a new route before you even hit a traffic jam. He calls it "a small but critical first step in this giant leap" to autonomous driving.
Technology has been a priority across all auto brands. Mercedes offers a system like Audi's traffic jam assist, dubbed "Distronic Plus," and all three brands have shown off self-driving concepts at San Francisco's CES the last two years.
"These companies are trying to be first out of the gate with their tech because you can't be seen as a copycat when you are trying to be an 'original' with your design and the experience you offer," Hancock says.
Gavin Allen, VP of marketing for Mercedes-Benz Canada, also mentions innovation as a differentiator – particularly when it comes to the stories it tells in its marketing. However, he and Hancock say heritage is equally important.
"These brands have caché their competitors are trying to get, and it starts with heritage. But that's not just about being around for a long time," Hancock says. "It's about being a part of pop culture, where these brands have been and still are aspirational and symbolic of status."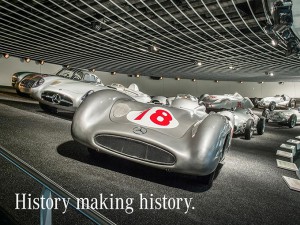 Allen says Mercedes-Benz has been shifting to include more digital and social in its marketing mix, which is better-suited to showing its vehicles in contexts that are relevant to different consumers. It's also using analytics to increase the reach of those stories. The social content evokes the print ads of advertising's past, using photo-heavy creative to emphasize the brand's history and the allure of the signature Mercedes design – with simple taglines like "when actual horsepower was our competition" and "great genes" – as much as the performance other brands are primarily concerned with.
BMW has also been speaking to a broader audience, creating entertaining online films that focus on performance. Since 2011, the "M Powered Films," created by BMW's creative agency Cundari, have shown how its vehicles can make tight turns at high speeds on rooftop heli-pads and the deck of an aircraft carrier, or manoeuvre through impossibly small holes in walls on a racetrack. BMW is betting on its performance ability to communicate luxury because that's where its heritage is. But Aldo Cundari, the agency's founder and CEO, says doing so in a way that connects to the aspirational side of the brand makes its content more shareable.
"We can push out as much as we want through analytics and data, but if that ad isn't entertaining, we don't build advocates that share our story on our behalf," he says. "Even if they can never afford a BMW, advocates are created by content that resonates, and in the luxury segment, it's always the aspirational side that sells."
While the "M Powered Films" focus on the high-performance M line of cars that sit in the upper end of the price range, those kinds of campaigns help to create a halo effect on lower-end, value-driven models, says Sean Barlow, Cundari's CCO.
Futers notes that, even if consumer demand and sales volume is at the lower end of the portfolio, it can still be difficult for luxury brands to make money selling those models, as they need to pack the same premium features into a more affordable package (so as to not devalue their luxury status). Rather, he says it's a long-term strategy: getting a driver into one of these "entry-level" models introduces them to the prestige of driving a luxury brand, which can make them reluctant to go back to a non-luxury brand.