Enter the branded podcast
Millennials are hooked on the digital version of old-timey radio serials. Here's how brands are playing along.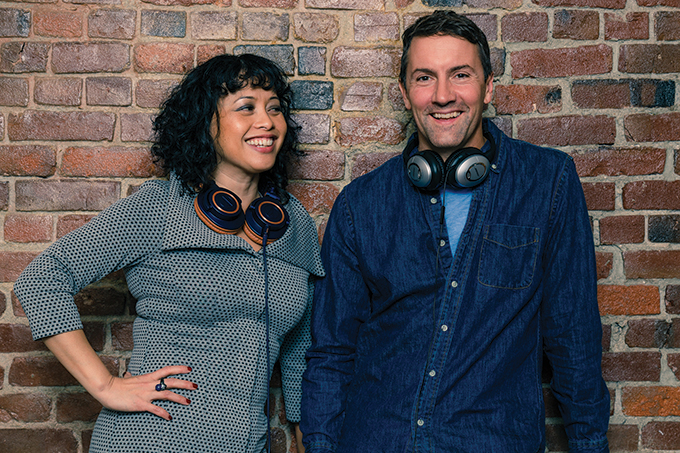 Pictured: Pacific Content's Jennifer Ouano and Steve Pratt.
This article appears in the Summer 2016 issue of strategy.
It begins with a celebration of Mondays, of those who can't wait for the week to begin. There are some motivational lines about starting a business, and a hook about one entrepreneur's unconventional path: "The most influential people in my life, to date, have been murderers," we hear him say.
The host tells us we're listening to TGIM, "the essential podcast for ambitious entrepreneurs like you." And then the kicker, subtle but unmistakable: "From Shopify."
The February launch of TGIM (Thank God It's Monday), the online shopping platform's branded content podcast, demonstrated a relatively new play for marketers: branded content with intimate, flexible storytelling in a space where more and more Canadians are spending time. The CRTC's 2015 Communications Monitoring Report said 21% of Canadians listened to podcasts in 2014, and Media Technology Monitor's spring 2016 forecast showed that number rising, with 23% of Canadian adults listening to a podcast at least once in the previous month.
 Consumers – particularly millennials – are cramming their media consumption into all available moments, whether it's at the gym, walking the dog, cooking or commuting. And podcast hosts are often speaking directly into a listener's ear, creating a unique relationship. It's easy to see why brands are joining the podcast party.
After experiencing an initial boom more than a decade ago, the medium entered a new phase when Serial, the exceptionally popular NPR real-crime show, aired in October 2014 and quickly gained millions of listeners (it became the first podcast to reach five million downloads on iTunes, getting to 80 million within six months of its first episode). The show's launch coincided with an update to Apple's mobile operating system, which started to automatically include a podcasting app, thus lowering the barrier.
Netflix had also changed media consumption, says Steve Pratt, founder and co-owner of branded content podcast company Pacific Content in Vancouver. Consumers became more comfortable streaming (better mobile data plans also helped) and more accustomed to à la carte content.
As podcasts' popularity grows, ads are becoming more invasive, often interrupting shows several times, Pratt says. They're also getting more expensive: rates for popular shows range from $15 to $40 per 1,000 listeners – roughly three to five times what a traditional radio spot costs – with the top shows going for $100 or more, The Financial Times reported in December.
Of course, going the branded podcast route means absorbing the costs to create your own content and build your own audience. Shopify wouldn't say what the show costs to make, while Pratt would only offer that Pacific is a "premium-quality service, so the podcast is going to be an investment."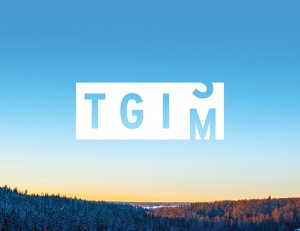 Shopify content marketing manager Mark Macdonald says its strategy with TGIM is to build "a media asset that you control for the long term as opposed to renting some ad space temporarily. We really view it as an investment in our audience, our content and our merchants."
Tom Eymundson, the CEO of Pirate Group who has worked with companies to develop branded podcasts, says developing a high-quality, five-minute episode (with announcers, licensed music and sound effects, and creative provided by the client) would cost somewhere in the range of $6,000 to $10,000. That's roughly what it costs to produce a 30-second radio spot, he says, before the media buy.
Pratt was among the first to go all in with branded podcasts. The former director of digital at CBCMusic.ca left the public broadcaster in 2014 to start Pacific Content. The plan was to develop all forms of branded content.
"Then Serial came out and we realized that we all had experience podcasting and that there was no one taking a Red Bull-like approach to the world of audio," he says.
Red Bull and GoPro make great content "that epitomizes the brands' voice and values and is geared toward its target audience," but with "a very light touch" when it comes to the branding, Pratt says.
So why not try the same thing in podcast form? It's a less crowded space than Facebook, Twitter and YouTube, and a good way for companies willing to get in early to differentiate themselves, he says.
The first brand Pacific pitched was Slack, a San Francisco-based workplace communication platform. The company agreed. Fourteen months and almost 30 episodes later, the Slack Variety Pack, a half-hour show about office culture and workplace innovation, has more than 4.5 million downloads.
"It's building long-term relationships with potential customers; it's giving them a really fantastic first touch with the brand; and because it's such an intimate medium, it creates a lot of emotions with the stories that you can choose to tell," Pratt says.
For Shopify, Macdonald says, TGIM is a natural evolution from the brand's blog, which provides advice to online entrepreneurs. The podcast can reach a segment that prefers to access Shopify's resources in audio format. The focus is on building an audience, since "providing a call to action or tying it back to something can be challenging sometimes," he says.
Shopify's strategy is to get iTunes subscribers (the show has more than one million listens and downloads, across platforms), but it's also providing thorough show notes there with the hope of driving listeners to the Shopify website.
"If there's a segment on cash flow in TGIM, then in the [iTunes] show notes we'll provide a link to our blog posts on how to manage your cash flow, which also contains a free cash flow planning spreadsheet," Macdonald says. The show can "bring people into the Shopify ecosystem and start a relationship with us."
It also posts individual segments of each episode on the blog and shares them on social media, and it's working with audio app Stitcher to have the shorts shared there as well.
Most of TGIM's development was done when Pacific visited Shopify's Toronto office for a full-day workshop to learn about the brand. Pratt and his team took the reins on creative from there, though there's still week-to-week interaction: Pacific's producers are on Shopify's internal Slack for easy communication, and Shopify makes use of its network to help secure interview subjects.
While Shopify and Slack's shows are half-hour, magazine-like series with four to seven stories per episode, the show Pacific makes for Envoy, a U.S.-based tech company, is only five minutes long.
Quebec-based banking co-operative Desjardins has done a mix of short- and long-form podcasts this year, the latter a callback to the old "brought to you by" sponsorship model from early radio and TV.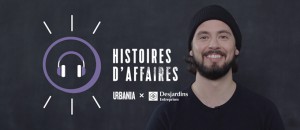 The brand partnered with Montreal-based magazine Urbania to showcase the province's entrepreneurs in a five-episode podcast series (each in the 20-minute range) called Histoires d'affaires.

The magazine's spring 2016 issue featured profiles of 50 Quebec entrepreneurs, and it wanted to use the extensive interviews in another format. Urbania developed all the content, with no editorial role for Desjardins. Media agency Touché brought the two together.

"When we heard the stories that they were working on, we thought, 'That's actually the kind of stories that we [experience] with our clients and that we want to share with them,'" says Karen Lafleur, Desjardins' project leader for the collaboration with Urbania.

Partnering with the magazine meant the young, entrepreneurial audience the brand was trying to reach was built in, and Urbania also became a partner in disseminating the content through co-ordinated social media efforts.

"Presented by Desjardins Entreprise" appears prominently, in French, on the podcast's web page and, as with TGIM, Desjardins gets a "presented by" readout in the show's introduction. It doesn't interrupt after that. The co-op also creates shorter clips from the episodes to share on social.

For its own five-minute episode podcast, La série entreprendre, Desjardins worked with LaPresse+ to make short videos that it then repurposed in podcast form.

Although the program discusses the co-op's offerings, featuring Desjardins clients and employees, Lafleur maintains it's less aggressive than other marketing, focusing more on telling a story and demonstrating expertise. Desjardins wouldn't share the programs' costs, and said it hasn't done audience or ROI measurement for either series yet.

Pirate Group's Eymundson says the risk of losing the audience by being too assertive with the branding – which applies to all branded content – is heightened because of podcasts' intimacy.

"Most of them fail because sponsors can't get out of the way of themselves," he says.

Pratt says sponsored podcasts work for brands "of a certain size and certain mindset to be able to invest in a decent top-of-funnel strategy," since the podcasts aren't going to result in direct sales within a short time frame.

For Shopify, Macdonald says the audience strategy is longer-term business building: "We're viewing this very much as a marathon instead of a sprint."

As podcasts grow in popularity and more media outlets get in on the action, the competition will only get stiffer for brands competing in the space.

Macdonald says Shopify is already looking at potential topics to build other podcasts around.

In late 2015, the brand brought Shopify Masters, which had been an unofficial podcast featuring interviews with Shopify merchants, under the brand's banner. That show is more actionable, case study-style content compared to TGIM's more general interest.

Though Macdonald acknowledges that, as far as content goes, "it's never been noisier than it is now," he's confident the brand will find an audience if it sticks to its mandate of free but valuable content without an immediate sales pitch.

 "I really don't think people are viewing it through a lens where they're saying, 'OK, this is from a brand and so maybe I should take this with a grain of salt,'" Macdonald says. "A lot of the stories that we're featuring on the TGIM podcast aren't even people that are using Shopify. They're just really compelling stories about entrepreneurs. We feel like that comes through."