Are foodies losing faith in big companies?
Consumers prefer buying from local producers than mainstream supermarkets, according to a new study.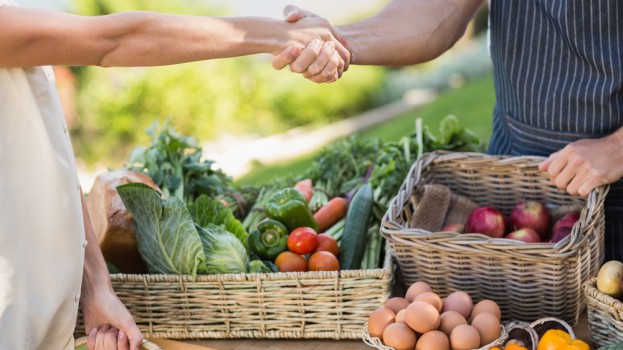 Consumers are more conscious of what's in their food than ever before, but they are also turning away from extreme diets so they can enjoy a range of options, according to the latest Havas Prosumer Report.
In February, Havas and Market Probe International surveyed nearly 12,000 consumers in 37 different markets, including Canada. Like previous Prosumer Reports from Havas, the results of the study were broken down not just between demographic groups, but between "prosumers" – influential consumers who set trends and influence the behaviours of those around them – and the general, mainstream population.
Across the board, the majority of consumers do not trust large food companies to provide them with healthy food – only 46% of prosumers and 36% of the general population do.
This is important because healthy eating is important to purchase behaviour. When asked to rank the criteria that influences their food buying decisions, 30% cited nutritional value as the top criteria, compared to 26% that said price and 23% that said ingredients.
Expanding that lens, 52% put nutritional value in either the top or second spot, same for ingredients, with cost for 45%.
Eighty-five percent of prosumers and 71% of the mainstream say they are more health-conscious when it comes to food choices than they used to be. Furthermore, 77% of prosumers and 71% of the mainstream believe junk food and poor eating habits are one of the biggest threats to humans as a species. Consumers are also highly conscious about risks associated with the consumption of artificial ingredients, GMOs and sugar.
Zeb Barrett, VP of strategy at Havas Worldwide Canada, says one of the main areas Canadian respondents differed from the global participants was that they feel more secure in their food, but that may be a result of the work they're putting in to learn about their nutrition.
"Canadians tend to be slightly more aware of the nutrition and health value of the food they're eating," he says. "It's a 7% difference, which isn't insignificant. There's still a big number of Canadians, nearly two-thirds, who believe their food is increasingly contaminated, but that's certainly a better position than the rest of the globe."
While eating organic has been cited as a food trend, the report suggests the pendulum is swinging towards placing more of an emphasis on food from local producers: 72% of prosumers and 60% of the mainstream say they'd be willing to pay more for local products, while 60% of prosumers and 51% of the mainstream say they prefer buying from local producers than a supermarket.
"Proximity gives consumers more confidence and trust," Barrett says, adding that tapping into this might be a way to get consumers to increase their trust. "I don't really know where any of the stuff in the supermarket came from. That local producer, I can shake the guy's hand and get the confidence that comes from human connection and community, even if that trust is unfounded. That's why you see brands, on mass-packaged meat, putting pictures of the farmer to make it seem less faceless and less mass-produced."
The trend also seems to be towards enjoying a more moderate diet, with just over half of every age group describing their diet as "balanced." On the other hand, the number of people who describe their diet as gluten-free, dairy-free, raw, vegan, paleo or pescatarian were in the single digits across age groups, and 49% of consumers described those kinds of diets as "fads," while 57% said it was best to eat everything, just do so in moderation.
While previously-trendy diets are becoming less of the norm, many people are still expanding their tastes, with 63% of prosumers saying they consider themselves a "foodie," while 69% say they enjoy shopping for food and 61% stating that going to restaurants is one of their favourite activities. And while prosumers are leading the charge behind expanding food tastes – 81% say they like to experiment with new ingredients, 69% say they like trying exotic foods and 65% say they are more adventurous with their choices than they used to be – they aren't that far ahead of the mainstream population: 46% say they are more adventurous than they used to be, and 60% say they like experimenting with new ingredients.
Most of all, food is something that consumers believe they should be enjoying, and in the company of others whenever possible. Eighty percent of the mainstream say taking time to enjoy the food they eat is beneficial to their health, with 83% saying they should eat with their family at least once a day and only 31% saying they prefer eating their meal quickly.
Featured image via Shutterstock