Belairdirect saves the day
The company's knight is still in medieval times, but now he's talking about accident forgiveness.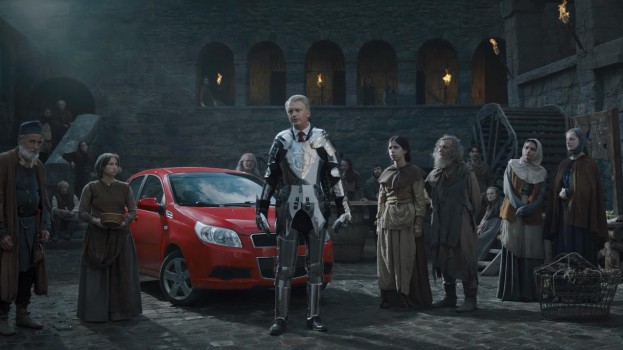 Belairdirect's latest spot shows how it can help you avoid extra costs after a car accident – even if you and your carriage were at fault.

Continuing a campaign launched earlier this year, Belairdirect's business man knight spokesperson again finds himself in medieval times.

This time, he's moved from telling the people of the era about the insurance company's "Quick Quote" service to talking about its accident forgiveness promise, which ensures a customer's first at-fault accident will not impact the amount of money they pay for their insurance premiums (or, in the case of the unlucky carriage driver in the spot, "500 potatoes").

Sid Lee Toronto again led creative on the campaign, with PHD on the media buy. The 15-second version will run as pre-roll until Oct. 9, with a 30-second version airing on TV nationally until Nov. 13 (and until Nov. 30 in Quebec).

Accident forgiveness is a long-running service from the company, but the new ad serves as a "reminder" of the service and how it simplifies the auto insurance process, according to Martine Bouthillier, marketing manager at Belairdirect. It also continues the strategy behind the campaign's launch in May, maintaining the brand's tounge-in-cheek tone while using the medieval environment to inject novelty into its own platform stand out from the marketing of its competitors.