Celebrating National Coffee Day
From Snapchat filters to paying it forward with a cup of Joe, here's a look at how brands are commemorating the occasion.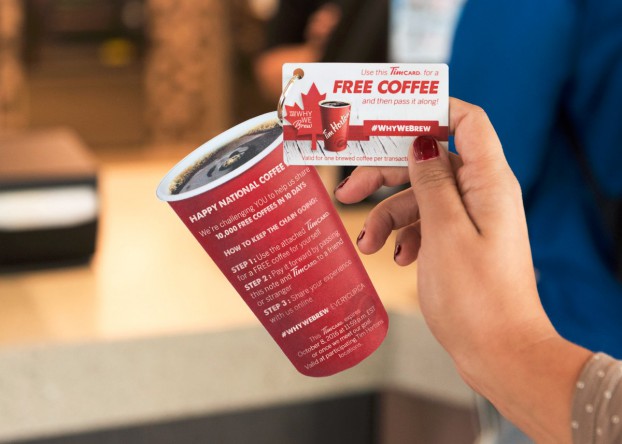 Today is National Coffee Day in several countries, including the U.S., U.K. and right here in Canada. Not only is it an excuse for coffee drinkers to celebrate their love for their favourite caffeinated beverage, it's an opportunity for brands to encourage and reward that love. Here's how a handful of brands are making it easier for Canadians to get a cup of coffee and helping them share that love with their followers on social media.
Tim Hortons pays it forward
Starting today, Tim Hortons will deploy 100 special Tim Cards in locations across the country that entitle the holder to a free coffee. After they use it, they can pass the opportunity to someone else, be it a friend or complete stranger, in order to "pay it forward" and keep the chain of free coffee moving. The goal is to give out 10,000 free coffees over the next 10 days, after which the cards expire.
Tims is promoting the giveaway with a paid social buy promoting the "#WhyWeBrew" hashtag on Twitter, which was also used as the tagline in a spot the restaurant released last month, focusing on people who lead by example to give back to their communities.
Tim Hortons also has a special Snapchat geofilter that's available when you're inside one of its locations, allowing users to add a "Happy National Coffee Day" banner to photos taken with the app.
Nescafé gets social
Speaking of Snapchat, Nescafé is currently sponsoring a facial-recognition filter on the platform that recreates how that first cup of coffee in the morning makes you feel. The filter, with creative by OneMethod, starts out grey and dreary (contorting your face to create a frown), but when you open your mouth, Nescafe coffee is poured in, the sunshine breaks through the clouds and coffee beans rain from the sky.
In an interview with The Drum last fall, Carsten Fredholm, head of Nestlé's beverage strategic business unit, said the company was looking to get more involved with up-and-coming social platforms like Snapchat and Periscope. That was following some innovative new executions it did globally for International Coffee Day last year, including a VR app that puts users into a coffee field in Brazil.
For this year's International Coffee Day, the brand's global execution will continue "Good Morning World" (a concept debuted in a 360-degree video last year), encouraging people to record videos of themselves starting the day with a cup of coffee that gets passed to them from the left of the screen, before passing it off to the right. The videos are being stitched together on the campaign microsite, creating the effect of people from around the world passing the same cup across countries and continents. And, for every video that gets added on or before Oct. 1, the company is donating a new coffee plant to a farmer somewhere in the world.
Krispy Kreme, Starbucks and 7-11 give back
For some of us, just getting a cup of coffee is enough to commemorate the day, but being rewarded for your regular purchase does make it feel like more of a celebration.

If you happen to live near one of the seven remaining Krispy Kreme locations in Canada, you can get a free glazed donut alongside your free cup of coffee all day today.

Others are helping you get the most out of loyalty programs today.

Starbucks Rewards members who spend more then $20 on an order today (we hope you're sharing with your office) get 30 bonus stars. Those who have 7-11′s 7Rewards app have been able to get a free small coffee all week long – but if you don't have the app, downloading it this week will get you an entry into a contest for a $7,011 cash prize, and you'll receive 10 bonus entries into the draw for every coffee purchased this week.