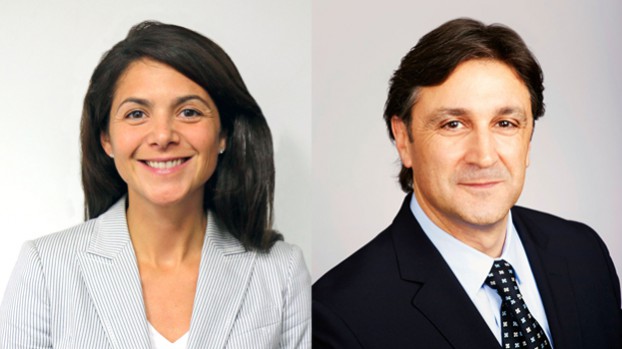 Mercedes-Benz Canada has named Virginie Aubert as its new VP of marketing.
Aubert (pictured above, left) joined Mercedes in 2006 as marketing communications supervisor and was promoted to her most recent role of national manager of marketing communications in the summer of 2014. During her time at the company, Aubert has worked on a number of campaigns and marketing initiatives for Mercedes-Benz, including the recent "Drive of a Lifetime" 360-degree video experience, as well as for Smart, AMG and Dream Cars divisions. In addition to leading marketing programs within Canada, Aubert's new role also includes product management duties.
Aubert takes over from previously VP of marketing Gavin Allen (pictured above, right), who has been named the company's new VP of sales.
Allen has been VP of marketing in Canada since February of 2013 after 12 years as general manager of marketing communications in the company's Australia and Pacific region. Since coming to Canada, Allen has worked closely with the national sales team and dealer networks, as well as on strategies for the company's connected car platform and local initiatives as part of the global "Best Customer Experience" platform. In his new role, Allen will be responsible for new car, pre-owned sales and corporate sales, as well as remarketing.
Allen is taking over for Mercedes vet Neal Bodack. Bodack, who has held various titles during a 28-year career with the company, was named general manager of dealership Mercedes-Benz Durham last month. He will also be a partner and member of the senior leadership team of dealership network Zanchin Automotive Group, which acquired Mercedes-Benz Durham late last year.
Both appointments are effective immediately.
"We have a tremendously talented pool of employees and I am in a very fortunate situation to be able to quickly and aptly fill two critical jobs with two very accomplished, highly dedicated and well-proven individuals who happen to currently work mere metres from my office," said Brian Fulton, who was named president and CEO of Mercedes-Benz Canada earlier this year, in a press release. "They are both very adaptable and highly dependable and I know that their current solid working relationship will continue to yield strong results in both their new areas of responsibility."
Despite the many shuffles in the corporate office this year, Mercedes-Benz remained the top-selling premium automotive brand in Canada through the end of June. While sales in the Canadian automotive sector went into a decline over the summer after three years of record-setting growth, Mercedes-Benz posted its best July and August sales results ever, with July sales up 11.5% month-over-month and August results up a further 7.3%. The company's total year-to-date sales were up 8.5% compared to the prior year at the end of August.