Campbell's brings the Cantina to Montreal
The brand brings its pop-up soup kitchen to a new city to carry the message behind its "We All Soup" platform.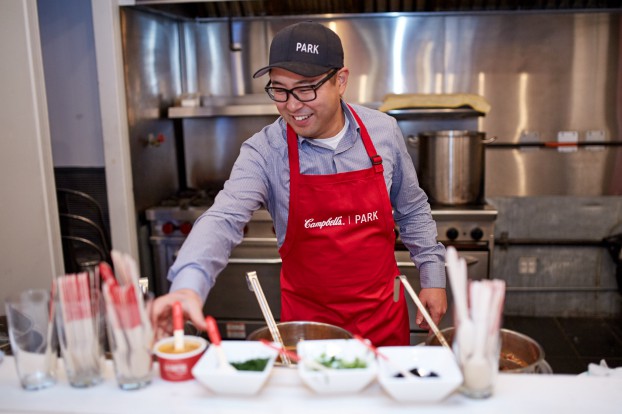 Pictured: Chef Antonio Park at the recently opened "La Cantine par Campbell's" in Montreal.
Any Montrealers who were envious of the free Campbell's soup Torontonians got to sample last winter can rejoice, as the brand has brought its pop-up to the city just in time for the cold weather's return.
In February, Campbell's launched The Cantina in Toronto's Queen Street West neighbourhood, serving free soup recipes by Toronto chef Matt Dean Pettit and inspired by Campbell's products for three weeks.
Starting this week in Montreal, the brand has set up "La Cantine par Campbell's" for people to try one of four recipes by Antonio Park, the chef behind Montreal's Park Restaurant and Lavanderia and a judge on Chopped Canada. All of the recipes focus on "fusion" and combine two culturally different but well-loved dishes: Chicken Tortilla Daikon Soup, Creamy Tomato Hot and Sour Soup, Vegetarian Miso Mushroom Soup and Vegetarian Tom Yum Pho Soup.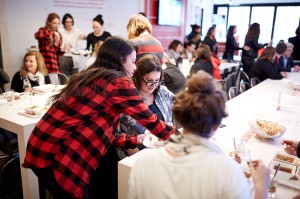 Similar to Toronto, visitors eat at a large communal table with other visitors and take the recipe home for themselves, but Melissa Mendoza, senior brand manager at Campbell Company of Canada, says one of the key differences is that "La Cantine" has been tailored to better fit the local market. In addition to enlisting the services of a local chef in Park, a different Montreal artist will visit the pop-up every week for the four weeks it is open to create their own artistic interpretation of the iconic red-and-white Campbell's soup can. Each work of art will be put up for auction, with the proceeds going to a local charity.
The other charitable element that has been added to the execution is that for every tweet with the hashtag "#LeMondeEstSoupe" ("#WeAllSoup"), Campbell's will donate a can of soup to Moisson Montreal food bank.
In addition, Campbell's has set up a specialty Cantina booth at the Christmas Market in Toronto's Distillery District. While not a full "Cantina" set-up, the booth will serve Park's recipes in a smaller setting that's more appropriate for the Market, which brought in 550,000 shoppers looking for hand-made and artisinal gifts and products last year.
Campbell's worked with Diamond Integrated Marketing to bring La Cantine to life in Montreal and Chalkboard for the Christmas Market booth in Toronto. Environics is handling PR for both executions. There is a small social buy to promote La Cantine, but, much like last year, the brand is relying heavily on word-of-mouth to get people to visit.
Mendoza says that in addition to a great deal of positive feedback on social media, the company wanted to expand the program because of sales results it saw in February. Sales at stores close to the Toronto Cantina grew faster than the rest of the market, especially when it came to products that were featured in its recipes.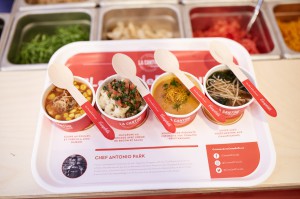 "One of the objectives we had was to shift perspectives of the Campbell's brand, particularly among millennials, who were our core target," Mendoza says. "We did research that suggested that it did move the needle in addition to what we saw on social. It ended up being a great way to drive two-way engagement and bring our 'We All Soup' to life in a physical activation. It is the best opportunity we have to connect and drive that level of engagement we are looking for."

The primary objective of the original Cantina, which is continuing in Montreal, was to provide an on-the-ground presence for its "We All Soup" brand platform and prove the message behind it – that soup can be a unifying force – by allowing people to experience it for themselves in person.

"The insight is that the world pulls us apart and we tend to focus on what makes us different, and Campbell's believes in the power of individuality, but also the strength of belonging and bringing people together on their common ground," Mendzoa says. "We feel like we can own that because there's soup in every country and culture. That really resonates with consumers and we communicated that in a big way through video, but to bring it to life on the ground and give people a chance to experience it physically is particularly powerful."