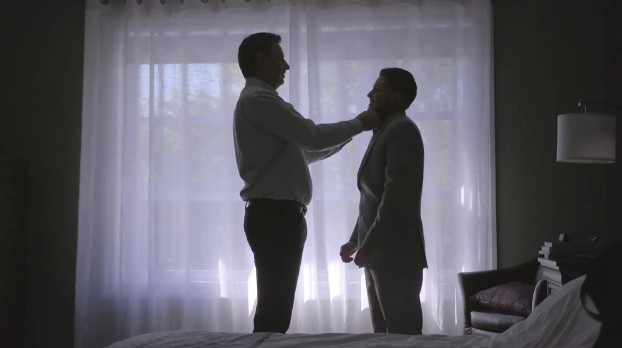 Valin Confections has used one of its bespoke suits to help facilitate a bonding moment that should serve as an example for any parent looking to support their trans children.
In a new video created by Lg2 for the the Quebec City tailor, a father tells the story of raising his daughter Alison, who eventually came out as trans and now goes by Alex. Over the course of the video, Alex's father discusses how it was hard at first, but that he always wanted his children to be happy. He then helps Alex get dressed in a Valin suit that he can wear on their first "guys' night out" together.
The spot doesn't end with a link to Valin's website, but rather encourages parents to visit enfantstransgenres.ca (gendercreativekids.ca in English), a joint project between several Montreal-based LGBT organizations that gives parents and other caretakers resources to better support and connect with trans and gender-nonconforming children.
Valin is an independent, boutique maker of bespoke men's clothes based in Quebec City. In 2013, owner Simon Valin approached Lg2 looking for a new way to give back to the community and marginalized groups. The result was a campaign that had Valin donate tailored suits to visitors of Portage, an organization that supports recovering drug addicts. Many people who came to Portage for help were in the process of turning their lives around, but found it difficult to find employment, and were given suits to help dispel prejudice from potential employers and gain some self-confidence.
"We asked ourselves how could a store like Valin help a group or a person, and how what his business does can be a solution for someone," says Luc Du Sault, VP and CD at Lg2. "It was a fantastic experience and he said if we have another chance to give, we should let him know. Someone here at the agency knew Alex and his father, and we thought giving a gift that could be used during a father-son night out would be a great way to do something special for them."
Du Sault says that the story was purposefully told through the eyes of the father because parents' perspective and role in a trans person's life is often untold, even though they can be a vital support system.
"We had to tell a great story, but this is also a new angle on an issue we've talked about a lot lately," he says. "This dad is an example of the adjustment parents need to make in themselves if they want their children to feel accepted, and hopefully it will show other parents the right way to behave."
To combat inevitable cynicism about a brand's true motivation when they try to get involved in a cause, Lg2 centred the story around the night out the suit helps provide. It's also why Valin's branding is relatively sparse throughout the video and why the call to action is for parents to learn more about how to provide a loving, supportive environment for their trans children.
"The first motivation is to help and give a parents and an example for them to follow," Du Sault says. "Valin was glad to help and make this film, but no one wanted it to be a commercial. Yes, the brand is paying for this and wants the video to get out there, but [Simon Valin] isn't looking for huge results. He just wants to give back. That's why we didn't make the brand very visible in this, because it helps show this is coming from the right place."